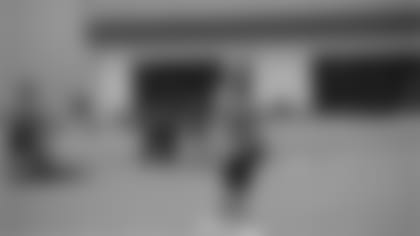 New Orleans Saints Assistant Head Coach/Linebackers Joe Vitt
Thursday, August 02, 2012
Is there any update on Jabari Greer?
"We sent him to Philadelphia to Dr. (William) Meyers yesterday. He has a groin injury. He's going to get some surgery today. We've been through the procedure before. Really, we're looking potentially, he's going to start working some during the Texans week, and he'll definitely be ready for the regular season. Some guys are quicker than others. That's where he is."
That injury has happened a lot here and you guys have been quick to get the players back on the field.
"I think our training staff does a great job with that. We've had great success with Dr. Meyers in Philadelphia. We've had a number of our players go through the procedure and have come back really full speed, and would really come back quicker if it was a non-surgical procedure."
Do you ever envision what the moment will be like when Drew Brees eventually gets to Canton?
"I'm on the back-nine of my career right now and I can see the clubhouse, and at 57 I'm not buying a lot of bananas. He's got a lot of playing time ahead of him. He has a lot of completions and a lot of touchdowns yet to throw. It'll be special and it will be emotional."
Do you find during the time of installment of defenses that you're doing a lot more teaching?
"There's no question. There was a premium put on teaching in the spring, and really we've kind of extended one period of our training camp for another teaching period. We have a teach-pass period, we have a teach-run period, and when you're installing a new defense, the teaching aspect of it is critical. I learned this a long time ago from Chuck Knox, our players are going to be smart enough to learn if we're good enough to teach them. These periods are critical for us."
Do you find that it's harder without the second practice to teach?
"We've adapted. This is the second year we've gone through this process, although this is the first year of this new defense. Actually, we're getting more meeting time. We've got meeting time in the afternoon, then we've got meeting time in the p.m. also. It's worked out well so far."
Are you asking your players to wear those pads that they're going to have to wear during the regular season?
"Yeah, so far we're working our way into that. There's been no response yet. That's the world we live in and we're going to try to adhere to it."
This weekend there will be replacement officials there, and if this thing keeps going then they will be there for the regular season. Do you have any thoughts on that?
"My thoughts are that we're going to play the hand we're dealt. Over the years that we've been here, we're the sixth least penalized team in the National Football League. We feel like we have a great rapport with the league officials and we have great respect for them and their body of work. It's not easy what they do. We will treat these officials with the same respect that we've treated other officials with. It does no good to argue and complain and disrespect them. It's not going to get a call turned back. We have to worry about our job, play hard, play fast and that's what we'll do. That's been our protocol here."
Are you going to look at this Sunday's game like a scrimmage?
"I don't want to say that. I want to say that it's on the same schedule as our scrimmage would be. This is a little different now because it's a nationally televised game and it's against another team, but thus far the install and the prep would have been the same as the Black and Gold scrimmage as far as those installs go. Are we treating it like a scrimmage? Absolutely not, but it's the same install, it's the same time to report for training camp that we did before. We didn't bring in any of our guys earlier. It's a long season."
Is that the difference with having five preseason games instead of four preseason games?
"I'm telling you what Sean (Payton) thinks about this too, I think anytime you have a chance to take your football team to the Pro Football Hall of Fame and go through the Hall and see those who have played before you and the great players that played before you, and now go back and see the display that they have for our world championship, and I think you have to take full advantage of that. Now to go play against a quality football team on national TV will give us a pretty good indicator of where we are."
Can you talk about how many reps your players will be taking?
"We will discuss that tonight as we always do. The Thursday before a Sunday game or the Wednesday before a Saturday game, we'll discuss play time tonight."
Will that fifth extra preseason game enter into your thinking?
"It's going to enter into it some. We'll discuss that tonight."
The league apparently has announced that the Redskins and Bills have been cleared of any wrongdoing. When you see things like that and what happened with the Giants after the playoffs, do you feel like the Saints have been unfairly singled out in this thing?
"Well, what I think right now isn't going to have any outcome on what takes place right now. I think we're going through this process. I haven't seen the article. I believe what you say, but my mind is in a football mode right now and I'm going to kind of stick with that thing. I know that (Jonathan) Vilma's case right now and the case that we testified against is in the judge's hands and we'll see where this process takes us."
Did Nick Toon get nicked up today?
He's got a little bit of a foot injury that he suffered in practice. We took him into an evaluation and we'll find out about that now."