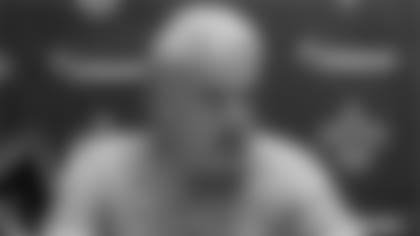 New Orleans Saints Assistant Head Coach/Linebackers Joe Vitt
Post-Practice Media Availability
Thursday, August 23, 2012
Opening Statement:"We have really had a good week of practice. Today, we tried to get into our regular season mode, to get the computer reports and the scouting reports all squared away. Today was our final day: we did short-yardage, our goal line and our red zone (work). We did our two-minute last night. It has really been a great week. I think our players are really excited about playing this game. We will play our veterans just a little bit more. Our players were really excited this morning when we announced to the team about Aaron (Kromer) taking over. Aaron has been with us since (before) our championship season and has done a great job with our offensive line and our offense. Everybody knows Aaron. Aaron is going to continue on what Sean (Payton) has built here. He knows the program. He knows what we do and how we do it. He understands the teaching and the practice progression. It was a great pick by Mickey (Loomis). We have a highly qualified coaching staff and we always preach to our players to always put the team first. With so many people to choose from, the coaching staff was really proud of Aaron. We are happy for him and it is going to be exciting for him and for our football team."
Do you start ceding any duties to him before your suspension begins?
"Yes. That is kind of why we've done this. Now, all of a sudden, me and Kromer are together on the sideline. (We will go over) some game day procedures, talking to the officials beforehand, going over the procedure for a replay review, going over some procedures postgame when you get the injuries and you have to talk to the media, things like that so he can start to set the routine of practice. That is why Mickey chose to make the announcement now, so we'd have two full games together."
Will you be sad to cede those media responsibilities?
"Yes, it is going to make me sick."
Did you give him any pointers on how to deal with us?
"I am a bad teacher. I am the wrong guy,"
How much pressure do you think he will be under once the regular season comes along?
"Aaron is like me and Aaron is like Sean, this is all he has ever done. If somebody is going to come in here and ask Aaron to do open-heart surgery next door, he is going to get nervous. He doesn't know how to hold a scalpel, or fly an airplane. He, like myself, is very comfortable with our players, we are comfortable with the process that takes place here, very comfortable with the way our install goes and how we segment our practices every week. Is there going to be added pressure not to let people down? Sure. Listen, you embrace some of those things."
What challenges do you think he will face with the defensive side of the ball? What advice will you give him?
"I think we have a distinct advantage here. Spags (Steve Spagnuolo) is six or seven months removed from being a head coach. I think Aaron will go to him during the course of the week and get some suggestions. Both of those guys have a great relationship. They're both here for one reason and that is to win. Nobody could teach Sean how to do it, nobody could teach Bill Parcells how to do it, nobody could teach Bill Walsh how to do it. Your first time in there, you will get a feel for it and you'll quickly adjust. I don't think there is a manual on it. I think you have to jump in and do it."
Is Marquis Johnson going to play?
"He's had a better day today. He has a good chance of playing."
"He ran well yesterday. We will see."
"He took snaps today. We are integrating him into the defense so we could see him, maybe, later on in the second half."
"(He) Practiced yesterday. (He) Practiced again today. We will take a look at him and see if there is any post-practice swelling and make an evaluation before the game. (He) Really had a more productive week than we originally thought in the beginning of the week. He is coming along real well as is Tom Johnson."
Do you have a time table on Adrian Arrington yet?
"We think that he is going to be ready for the Redskins. That is the time table. You must be his agent, you ask about him every day."
"Andy Tanner has been walking better. He has not been outside at any practice with us yet. He is still in the training room but he is out of the boot. He is not limping and he is really making good progress."
What about an update on Mark Ingram?
"Physically? I think he is ahead of schedule. I think our trainers have done a great job of monitoring him. I think he has gone as much as three back-to-back practices and then (we) take him out for a day. As we are getting closer to the end of the process, we held him out a little earlier in the week. He put (in) two back-to-back practices this week. I see the quickness and the explosiveness in practice and now I think it is a confidence factor on his part. He is progressing well. I am excited about him."