New Orleans Saints T Jermon Bushrod
Media Availability
Monday, November 12, 2012
Jabari Greer talked to us a few minutes ago about what it would mean psychologically for this team to get back to a .500 record. Can you discuss this?
"Absolutely, the way that we started out this season, for us to be in this position right now is hats off to our guys for not packing it in, for continuing to take this thing one day at a time, one week at a time, and continue to grind.  We have an opportunity to go (to) .500 this coming week.  That's really our focus.  We're going to continue to take this thing one day at a time, keep grinding and see where we can go from there."
Have you seen a difference in the offensive line's play with Coach Aaron Kromer being back and tutoring the line full-time?
"I just think we're playing more together.  We're just fighting to play more consistent up front.  At the end of the day, the first few weeks, we weren't getting the job done.  We had too many breakdowns here and there.  We were just too inconsistent and we weren't gaining enough positive yards on first down.  If we continue to get this running game going and continue to put our offense in second-and-five, second-and-six, we can open up our playbook a little bit and that's what we're looking forward to."
Do you think the team has developed its identity at this point in the season more on a consistent basis of where you want it to be?
"Yes, it'd be nice.  You don't want to get into these games and be one-dimensional.  We just have to continue to keep up these positive plays.  We can't have these first downs where we're getting negative yards because you know what's going to come next.  We're just putting our backs against the walls.  We just have to continue to fight to be more consistent, to be as balanced as possible and whatever plays are called up, just fight to get positive yards."
Do you take pride in how angrily Chris Ivory is running?
"Yes, it's a thing of beauty.  It's a thing of beauty when all of those running backs are back there and we give them a hole to hit or a sideline to get to and the things that they can do when they can get out there and make a couple people miss and the speed that Chris showed and the power that all our running backs showed to make plays.  Hats off to those guys."
When you have success running the ball early, how much easier does it make it the rest of the game?
"It doesn't make it easier, but you kind of keep the defense on their heels a little bit.  Like I said earlier, we have a lot more plays.  We have a pretty thick playbook, so when we can get in situations where we can throw play-actions or throw with three-step protection or maybe run a draw or just run the ball again for a few yards and see if we can get third-and-short and then our playbook is still wide open.  But when you get yourself in those second-and-eight, second-and-nine, second-and-twelve, third-and-nine, you know what we're going to do.  We have to get a first down so we have to throw the rock."
What does a win like yesterday do for the psyche of the team, especially after the start of the season?
"We just feel like we're never out of it.  We spotted them ten points early and we could have hung our heads knowing that these guys were undefeated coming into our house.  We could've just backed down, but there was no doubt in our mind that once we got the ball back and we scored seven that our defense came up with literally big stops all day.  They were extremely clutch.  We just fed off of them.  They fed off of us.  We fed off of special teams.  We just played a complementary game."
Was it good to see Charles Brown picking up where Zach Strief left off?
"Charles is a good player.  Unfortunately, we did lose our (offensive team) captain in Zach.  Charles has proven that he can get in there and get the job done in the past, and he did a great job yesterday.  He's just a player who when (he) receives his opportunity, he's going to try to make the most of it.  I'm very happy with the way he played yesterday."
When the team was 0-4, were you confident that you would be in the position that the team is in now?
"We had no choice.  We had no choice but to turn it around.  It's not a good feeling when you come into the locker room week-in and week-out and you don't win a game and you can't be joyful with your teammates the way you know how to be.  And that's honestly what we all wanted, and when we got that first win it was like, 'We have got to get back here because it feels too good to win.'  All that hard work you put in, you just want to see your team be successful.  We're going to continue to take this thing one day at a time."
Can you talk about the importance of getting ready for a team who's been struggling like Oakland has been?
"We can't worry about what they have going on.  They're a good team and they've played some good football just from what I've seen on TV.  Obviously I want to do my film study as well, but we just have to focus on getting to our right places and making sure that we're in the right places at the right time.  We just have to worry about us.  If we continue to do that and we continue to play as a team and try to cut out some of the mistakes, I think we'll be alright."
Coaches talk a lot about staying on an even keel.  After an emotional game yesterday, how do you get ready for another NFL team that has struggled?
"We just have to go out there and keep our eyes on the prize.  It's no let-down.  Our goals are still in front of us.  Even the way that we did start, if we can continue to keep doing some special things and we worry about us, I really think we can be alright.  Our team has the mindset and the attitude and there's no other place that I'd rather be right now."
Have you looked at the standings yet?
"No, I don't pay too much attention to that."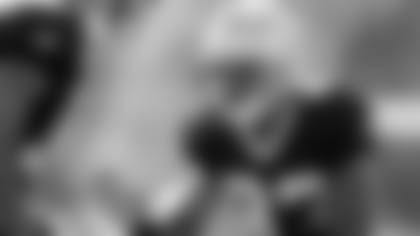 New Orleans Saints Cornerback Jabari Greer
Media Availability
Monday, November 12, 2012
Can you talk about the importance of getting one game back closer to .500?
"That's important. We realize how slow we started at 0-4 and being able to come back to be 5-5 at this point in the year is big and we understand the opportunity we have going against a good team like Oakland. Having that momentum after the game gives us confidence that we can win those close ones, come through and finish games when we need to."
Was this a confidence boost?
"We play a momentum game. If you have it, you become a better team. Anytime that we can have the confidence to finish out games, have three-and-outs and sustain and finish drives, just to put those together we know we're becoming a better team, it makes us more of a team to watch out for."
What does it do for confidence going forward making some of the plays at the end of the game that were made?
"The biggest thing is the resilience of the guys. We had some unfortunate things happen at the beginning of the game but guys have banded and stuck together uplifting each other. Guys have uplifted me, really encouraging each other, not only as teammates but as brothers. This game takes a lot out of you and our guys understand it. They understand the sacrifice that they put in every day. When you have moments like that, you grow not only as teammates, but as friends together. It gives us confidence, but I think more, it gives us more of a bond going into those hard times together and lifting each other to success."
Can you talk about Atlanta's skill players at tight end and wide receiver?
"They have a very explosive (group). The quarterback is playing at a high level. Their receivers are playing at a high level the last two years. Obviously (Tony) Gonzalez is playing at a very high level, so being able to go up against those types of players and have the success we had winning the game, it feels good, but we realize we have a long way to go. We'll see them again in a couple of weeks. We're not going to see the same team. We're going to see some wrinkles here and there. They're going to be hungry. We have to make sure we remain hungry also."
Is it up to players to provide momentum and emotion from week to week more than the coaches sometimes?
"I think it's important that you don't pay attention to stats or what people say because this game is a humbling game and if you pay so much to the outside sources you can get caught up and lost. You're standing up giving interviews and the next minute, you're called (out in the media) to be traded. You're called (out) to be released. The nature of this game is to produce. The nature of this game is to focus on the next opportunity and capitalize off of that. We had a big win yesterday. We had last night to enjoy. We had this morning to enjoy. We watch this film, close it (out) and get ready for a good Oakland team."
Does the yardage that your defense has given up bother you at all?
"No, you don't want to give up that many yards. You want to be a dominant defense where you stop them on third down. They don't gain ten yards rushing (on a play) or 100 yards passing (in a half). You want to be that type of defense. Being that type of intimidating stifling defense, you become a big dog in the league. We all fight for respect and the opportunity to be the best, but if it doesn't happen, (and) we get the win, that's the most important thing. You want to be the big dogs, but as long as we win (that's important)."
With some of the defense's struggles until the last couple of weeks, was there a mindset that you guys were fighting for jobs?
"Our mentality was about going out there and making sure we were putting our best (foot forward) on the field. I don't think we were worried about job security or things that were out of their control. We weren't playing the best football we could play and we had to tighten up and play better together. Coach (Steve Spagnuolo) a great job of putting good gameplans together, creating some opportunities for the d-line to put some pressure on the quarterback, to beat up the quarterback's timing. Fortunately, we have been able to do some things on the back end to minimize some huge, explosive plays to two or three yesterday. That's where we are. We're not concerned with things we can't control. We control our preparation, intensity and passion. That's one thing where we looked at ourselves and (realized) we needed to get better at and fix."
Coaches don't get caught up in rivalries or external things. Do players use some of that as motivation on the field? Are you seeing a different level of motivation o different type of Joe Vitt and Spags as opposed to last year with Joe and Gregg Williams?
"No, not at all. Joe seems to be himself. He's a player's coach. He motivates and inspires us with his leadership throughout his time and my time here. Spags has been inspiration with not being distracted with everything that's been going on outside. I know there's been so much pressure on him and his defense. Just he vocalizing his belief in us and belief in our abilities is his steadfast plan for us to be successful. It's been evident in meetings. I'm happy to see success and happy to see him I the position where some things are starting to pay off. We still have a long way to go and if we don't finish it out and capitalize in the next game (it will be disappointing)."
Can you talk about being close in the wild card playoff standings after starting off 0-4?
"The opportunity to be .500 is all we can ask for now. Obviously we started 0-4. So, to be able to climb ourselves out of this hole is something I know we're excited about. I know we're grateful to have this opportunity. Also, knowing the guys in our locker room and seeing the guys now, we're preparing ourselves for this huge opportunity. Nobody would have wanted to start the way we started, but it happened, so the next thing we do is figure out a way to come together (continue to) establish an identity of the 2012 Saints and figure out where we're going. Right now we're 4-5. Right now we have an opportunity next week to get to 5-5 against an ex-coach of ours, Dennis Allen. So, we relish the opportunities to have a chance to climb to where we want to get to."
Do you feel that the Falcons were disrespectful of Curtis Lofton?
"Not, not really. It's just the nature of the game. We're very prideful people. This is a hot-tempered game and we realize they weren't going to give him flowers and buttercups. We play a game in which emotions can go crazy, but also, being professional, we have to make sure we maintain our poise and discipline and create the chaos between the lines. I think Curtis did a great job of maintaining his professionalism and going out there and playing lights out between the lines."
After the game, Roddy White said the Falcons gave it to the Saints. What did he mean by that?
"I'm not sure what he meant, but it's not up to me to interpret what his sentence was. I believe we fought for it. I don't believe anything was given to us. But if they feel like it was given to us, we'll take it."
Do you have any idea why they didn't go to Tony Gonzalez on the fourth down play?
"No. Some routes have a built-in number one receiver. Most routes have a built-in number one receiver with the primary target. Given our coverage, I believe (Matt) Ryan liked the matchup and fortunately we were able to keep them from converting and get that fourth down stop."
What is the mood of the team after having won four of five?
"I think we're looking forward to this opportunity we have. We know we're a good team. We know we have talent and good leadership. We are starting to develop our identity. The coaches are putting us in great positions. We're establishing our run game to complement our passing game. Our defense is starting to create pressure and I think that we are looking forward to the opportunity we have with the team. We started in such a hole that now that we're coming out of it and starting to dig our way out of it, we're starting to see some light. When we were 0-4, everything was doomsday. Nobody believed that we had what it took to become a good team. Everybody had written us off. There is a lot more football to be played, but I think we're becoming confident in our identity and play-calling and we're just growing together as a team and as professionals. We'll be alright."