Mark Ingram wanted the jersey No. 22 more than anything.
It was the number that he made a name for himself with during his Heisman winning campaign at the University of Alabama.
However, No. 22 was taken by veteran cornerback Tracy Porter.
After some inquires to Porter to see if he would relinquish the number, Ingram realized he would have no such luck.
Besides No. 22, another number held a special meaning for Ingram.
"Twenty eight s a special number to me," said Ingram. "I was picked 28; my dad was picked 28. He wore 82 when he played in the pros. It has a deeper meaning than that, so I am happy with the number and it has a meaning to me. That's good."
Mark Ingram Sr. played 10 seasons in the NFL with the Giants, Dolphins, Packers and Eagles. He was part of the Giants' Super Bowl XXV championship team.
Ingram Sr. is currently serving time at a federal prison in Ashland, Ky. Inrgram Jr. calls his father his mentor and credits his success on and off the field to his guidance.
"He has been a positive influence on me throughout my whole life," said Ingram. "He taught me everything about not only football but about being a man."
That father-son bond is mirrored by fellow Saints first-round selection Cameron Jordan and his dad Steve.
Steve played 13 seasons for the Vikings, where he was a six-time Pro Bowl selection. Steve and his son are very close and talk on a regular basis.
Cameron calls his dad his favorite teacher and a "buffet of advice" for him his entire life.
"My dad is always trying to teach me," said Jordan. "He and my mom have been able to help me out and put me in a better situation in life just because I always bring a high energy. That's never a problem. It's more about focusing that energy, and they have done a great job in doing that with me."
Jordan said the words of wisdom proved crucial early in training camp.
Without the benefit of a rookie camp or Organized Team Activities (OTAs) in the offseason due to the lockout, this year's rookies were in more of a hurry-up mode to be ready for the start of the regular season.
The lack of preparation made Jordan and other rookies open to more critique from their coaches and teammates to start training camp.
When Jordan would start to get irritated by someone bellowing at him regarding a mistake he made, he thought back to the words of wisdom from his father.
"My dad always told me to keep persevering and always look to find something to improve on," said Jordan. "When a coach gives you some sort of constructive criticism you have to take it for what it is and that no matter what tone it is in you have to be able to accept it. My dad made it easier for me to accept and embrace advice from your teammates and coaches."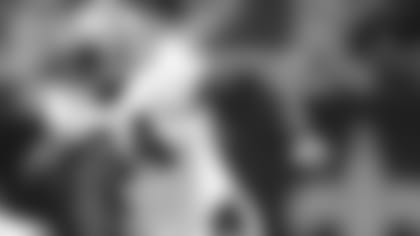 The appreciation Jordan and Ingram have for their fathers was never more evident than at the NFL Draft.
Ingram and Jordan were among the 25 college prospects invited to attend the draft.
Jordan was projected as a top-15 selection by a number of draft experts.
However, four defensive ends were selected in the first 23 selections; Jordan wasn't one of them.
Jordan took the drop in stride and just continued heeding his dad's advice.
"It's all going to work out," Steve said to his son. "Your time will come."
The Saints selected Jordan with the 24th pick. Despite the unexpected wait, Jordan called his selection a blessing.
"The whole draft process was a bit eye opening, but you have to remember not everybody gets this chance," he said. "I am just happy to be selected at all. I am looking to help anyway I can."
The Saints traded with the Patriots to take Ingram four picks after Jordan.
Ingram was smiling ear to ear walking to the stage at Radio City Music Hall after his selection.
Ingram embraced Commissioner Roger Goodell and posed for the photo-op at center stage.
The dream-to-reality moment was hard to fathom for the 21-year-old running back. His emotionally-filled day had hit its climax – he was officially in the NFL.
After the photo-op, ESPN's Suzy Kolber interviewed him. Ingram tried to keep his emotions in check for the nationally-televised interview. However, Kolber read Ingram an email that his father sent her earlier.
Ingram could no longer hold in his emotions. He pulled his hat down as tears began to flow. Hearing his father's proud words was too much for the normally composed running back.
Ingram looked into the camera to deliver his father a message
"I want to thank you and let you know I love you man – we did it," Ingram said.
That's how Ingram saw the night; it wasn't about him. It was a collective reward for "we" - his father and the rest of his support system that guided him to the highest level of his profession.
The Saints open the NFL regular season Thursday night on the road against the defending Super Bowl Champion Green Bay Packers.
The spotlight couldn't be brighter on the two first round selections, but neither is phased by the hoopla – they were raised for this moment.
"It's primetime," Ingram said. "The first game of the NFL season. Everybody is going to be watching. I am excited and have been working hard my entire life for this moment."
"I am not sure my dad ever played in an opener like this, and it's my first game," joked Jordan. "All the hard work and dedication is for this opportunity. I will do whatever it takes to help this team succeed."
One thing is clear about the Saints first round draft picks: The only thing that matches their desire to succeed is the love they have for the men that fueled it.