New Orleans Saints Tackle Zach Strief
Can you talk about facing the Lions again this Saturday?
"They are a good football team and obviously a big challenge for us. I think their defensive line is the strength of that team. It will be a big challenge and something we will look forward to."
What sticks out to you from the December 4 game against Detroit?
"If I remember the game correctly, I think that game was close and we kind of broke away late. It's a strong defense, certainly with their front seven. With (QB Matthew Stafford) playing the way he is, he went over 5,000 yards yesterday. They are very explosive. Our defense has done a good job these last seven or eight weeks keeping teams from scoring. They haven't given up more than 20 points in a while. It will be another big challenge because I know they have a lot of good players on (offense). It is always harder playing someone the second time. They will certainly have a few new wrinkles for us."
Can you talk about Lions DT Ndamukong Suh missing the Week 13 game against the Saints and the challenge he will pose in your first time facing him?
"With the front being their strength, when you lose who I think is the best player off that front, obviously it's tough to lose people in those areas where you are strong. The inside guys when we played them last time are all good players. There are a lot of guys on that front that don't have the name recognition but are really good players. He adds another dimension to them. He brings more depth and he is an explosive player and a guy that is going to be a challenge for us to handle."
Is it important to look back at last year's playoff loss to Seattle to keep focus this week?
"I think going into to that game last year, I think we had the understanding that it's not really playoffs – it's a tournament. It's one and out and you get one shot at it. This is a game that can turn quickly on you. Us playing well the last few weeks doesn't give us anything but confidence going into it. It doesn't give us a win. We understand the importance of it and there is some leadership on this team. Fortunately, the majority of this team has been in this situation before. We don't need to go back and play it out to remember. I think everybody remembers pretty well what happened last year."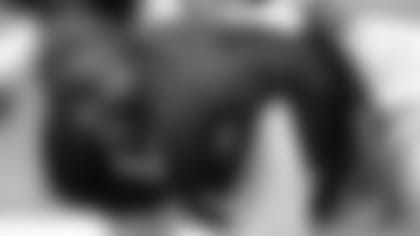 New Orleans Saints Safety Roman Harper
Is there any reason that you guys will have to be reminded about what happened in the playoff game at Seattle last year?
"No, because you guys will talk about it.  Other than that, it's a different team and a different year.  We'll have a home game this year instead of being on the road in a tough place like Seattle.  We're focused and we're determined.  We're healthier this year.  Last year we went to Seattle kind of banged up and this year we're not.  We're going in a totally different team right now.  We're just trying to keep things rolling and keep focused and continue to prepare for Detroit."
How does that experience help out considering last year you guys went in as the defending Super Bowl champions and then all of a sudden it ended?
"It helps that you've been through it, experiencing a tough loss in a game that you expected to win in the most crucial time.  If you don't show up and you don't play with a sense of urgency and discipline, a team can beat you even if they're a team you shouldn't lose to like the St. Louis Rams did this year.  We took a loss to them when we weren't supposed to, but if you don't come prepared with a sense of urgency and the thought process that you have to really show up then you'll get your tail kicked in this league and we've definitely had that happen to us."
Do you think the St. Louis game was kind of the turning point that season?
"I'm not going to say it was a turning point, but it was definitely a wake-up call.  We can't just coast by and think that things are going to just happen for us.  We have to go out there and get it.  We have to line up against these other teams and take it to them.  We had a rough stretch after that game and we were going to find out what kind of team we really were and if we were going to be at the point where we wanted to be at the end of the year, those were some of the games we took advantage of."
How much is it beneficial that you're playing against a team that you've already played in the Mercedes-Benz Superdome?
"It's always great to have the game here at home.  It's probably one of the best home venues in our league right now the way our fans support us.  It makes it hard for opposing offenses to do anything that they want to do.  The way that they get it loud in there for us, it's always good to have a home game.  Playing against a team we've already seen before definitely helps us out.  We can look at some of the ways they tried to attack us.  Teams can't just overhaul a new offense or new defense in a week or so.  We have a chance to do some great things coming up here and we'll continue to prepare.  After you've seen a team once or twice, they can't really do too much.  It would be crazy if we got to see Atlanta for a third time in the same year.  We're looking forward to playing against Detroit.  They did some good things against us and we're looking forward to the challenge."
Do you guys relish being a team that a lot of teams don't necessarily want to play in the playoffs?
"It's not like we really enjoy it.  We're just staying focused on just playing ball.  Sean (Payton) has been saying for a couple of weeks now that if we can continue to play like we're playing and continue to stay on the path that we're on that a lot of teams won't want to face us.  You can say that now, but then if we go out and lose a game then it doesn't really mean anything.  We have to just take it for what it is.  We're trying to just stay on this path.  We have a great team and we all understand that.  When we play well, we really play well.  We're just trying to continue this uphill battle."
What do you appreciate about the Lions and the threat they present that either did or didn't shine through in the first meeting?
"They have (Matthew) Stafford who has a big-time arm.  They have two or three really good receivers.  Titus Young made some big plays against us, so we'll have to tweak some things here and there.  With his speed, he's more of a down the field guy.  Calvin Johnson, we have to continue to try to take him away.  He really didn't do a lot against us so we know they'll try to find a way to get him the ball.  We understand that.  We did a really good job of controlling their big-time weapons and kept them in front of us.  Our offense was playing well, so it makes it hard for other teams to keep up with us.  That's what's so hard about playing defense here too.  Our offense is scoring left and right, and other teams are trying to keep up and they're starting to air it out too.  It's just hard to keep the numbers down when teams are playing catch up."
Is the defense playing as well as any time since you've been in New Orleans?
"I don't know about the best ever, but we're playing at a high level right now.  We could be doing better.  We're actually getting a couple of turnovers here and there now, which is helping us out.  That's always one thing we try to pride ourselves on.  We didn't get a lot early, but now we're starting to get more and more every week it seems like.  We're trying to play faster and play our way.  We had a different sense of identity in the beginning of the year than what we are now.  We learned who we are as a defense.  What works well for this defense maybe wouldn't have worked as well last year or the year before, but it's really doing well for us right now.  We're switching some things up.  Gregg (Williams) is doing a great job of mixing in some blitzes out of different coverages and it's really starting to confuse a couple of guys."
Can you talk about the Lions picking up a former teammate in Joique Bell?
"I think they needed a running back.  Joique is a pretty talented running back.  That's one good thing about our roster, we're full of talented guys all over the place.  I'm happy for Joique to get over there.  If he gets out there, I'm looking forward to going against him.  I don't know how much of our defense he actually knew that he could take over there, but the best of luck to Joique.  I'm not wishing him a lot of success this weekend."