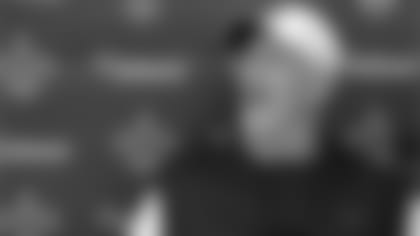 New Orleans Saints Special Teams Coordinator Greg McMahon
Justin Drescher doesn't get too much publicity, what did you see in him when he came in?
It was a couple years ago and we went through a couple snappers. We had a snapper go on injured reserve, we brought a guy in; his first game was Thanksgiving against the Dallas Cowboys with one days practice and he finished out the year and played out last year with us. He's an extremely hard worker and he does a great job with our punter, (Thomas) Morstead, and our two kickers (Garrett Hartley and John Kasay). He's just meticulous; he takes a lot of pride in his craft and I just think he's a good pro. Not many people know him and that's a good thing. You don't want your snapper known around the Who Dat Nation very much.
Was there worry over him at his position last year?
His quality of snap has been really good and he's just done a good job. He's just been consistent. I don't remember him having a bad snap. Maybe a problem with a tighter spiral or a little better location. But no, he's done a good job. These guys are hard to find.
Do you look to rotate a little more between the two kickers?
That's a fair question. The way we've been doing it is the first game, John (Kasay) you go first, and then the next game Garrett (Hartley) goes first, and then it's just every other kick. So if it's an extra point, it's an extra point, if it's a field goal, it's a field goal. The reason we do that is because both players have to be alive, both players have to stay active and we just don't want to go a quarter or a half because we want both players to play the game. I think after five games, it will all work its way out. That's the intention, anyway.
As far as the kicker race, can you make any judgments so far?
It's not fair yet. I mean we have a right footed kicker and a left footed kicker so what we're trying to do is instead of swapping up our holders we're just having Chase holding for John and Thomas hold for Garrett. That way it's as consistent as can be. It's really the snap, the hold, the kick, it's having the laces, the lean on the ball, and every kicker is different. John Kasay wants the ball a certain way. John Carney was a guy that wanted it certain way, Garret wants it a certain way, every guy wants it a different way. We're just trying to get those guys to work together.
Did something happen on the kick with John Kasay in New England? Was it kick, snap, hold?
It's all three, we're always talking about how each guys has to pick each other up. But we never want to have the laces right where the kick of the ball, where the impact of the kick is. So we have to get the laces better. But at the end of the day we have snap it, hold it, kick it, and execute it. So the bottom line is we missed a field goal to get ahead.
Did you read Martez Wilson the riot act after the New England game?
Our guys, Will Smith and Curtis Lofton, told the team that here's the bottom line: In that situation we elected to take Drew Brees off the field and give the ball right back to Tom Brady. I mean, by the grace of God it was preseason game. But we can't do that. And then dang gum we do it twice. I mean, we're talking about winning and losing games. He knows that he has to play with more discipline, we all do. But, yes, absolutely it was addressed.