New Orleans Saints LB Will Herring's Post-Practice Press Conference
Thursday, August 25, 2011
How was it to be back at practice today?
"It was good. I had a few days off with a calf bruise. I took a leg whip in the game. It felt good today. I am definitely coming along trying to fit in and find my role on the defense. It was a good day and a good week. I think we've definitely made some strides."
How was your first day of practice in Oxnard?
"It was good. I think it was good on guys legs. You can go out here and get a lot of work. The defense has made strides in terms of production, getting the ball out and making strips. I think the guys have responded well. Obviously we had some things to clean up from the game. I'm excited."
An opportunity to start was something that drew you here. Are you happy they're taking a long look at you?
"Yes, you're right. As a competitor, every guy's goal is to play at this level and to come in and have a chance to compete for a starting job was a goal of mine. I'm excited about the opportunity."
How do you rate your own performance?
"I feel good about it. Obviously there are things to improve on. I try to get better at one or two things every day. I felt good learning the new system, trying to fit in and trying to learn my role."
How productive has it been for this team to not have to take so many water breaks and breathers as in Metairie?
"I think it's good. You can feel the speed and tempo pick up. Just because you have your legs under you, you can get more done. If you're in the heat, you maybe have to shorten practice a little bit, hydrate more, worrying about the cramping. I think it was good for the guys. We got a couple weeks in the heat and now we're here trying to clean some things up."
Would you like to come back to Oxnard?
"I'd love to come back here. I love it."
How do you feel about the golf course nearby?
"I have mixed emotions about it because you're nearby, playing ball, going at it and you have guys nearby teeing off. That's kind of messed up."
What do you think you need to accomplish to show the coaches you're ready to start?
"Everyday I step out here. We go to be physical. The Raiders have a good running game, good offensive line, two good running backs. You have to be physical at the point of attack. We need to stop the run. Not just me, my goal whether I'm lining up over the tight end is to just do my job and beat the guys in front of me and establish a physical presence."
Is your prior experience more at strongside or weakside?
"I've played both. I've played more at will. I know either one, I've started at either position due to some injuries as well as my role at nickel."
Is that the biggest adjustment covering the tight end?
"Not really. We're in a new system doing some different things, but I feel good."
How do you feel physically?
"I feel good, I took a calf contusion. I just wanted to get the inflammation out and not pull something. It felt good. It's one of those things where rather than make it a two or three week injury they wanted me to sit out a couple days do some rehab and today it felt good"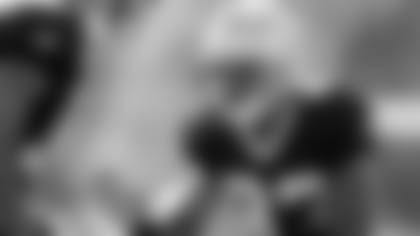 New Orleans Saints CB Jabari Greer's Post-Practice Press Conference
Thursday, August 25, 2011
What are you guys looking to improve on during this week of practice?
"We have to make sure that we understand that we have to go out there and play with a certain enthusiasm. We have to go out there and make sure we tackle and prevent the long ball, which is something we didn't do last game. We have to have fun playing football. I think (vs. Texans) opportunities kept coming up against us and we really didn't face adversity well. With the type of team that we have, we have great leadership to be able to come back here and fix our problems. I think we will be alright."
How much does it help to have so many fans out here cheering you guys on?
"It's fun. It makes it fun to have these guys out here cheering for us it really does make it fun."
Do you miss the Louisiana heat?
"I do miss home. I miss my wife and my kids. We have a great fan base down in New Orleans. It does get hot but (fans) make it worthwhile."
How would it be to have a full training camp at Oxnard?
"This is incredible. Not for the full training camp because we have to be able to provide our home fans with the show that we give them. We have such great support down there. To take that away from them, I would think would be unfair. But to be able come here and share this with the fans we have here has been incredible."
What do you think is the main thing you guys need to be prepared for facing the Raiders?
"We have to prepare to tackle. As a defense we have to prepare to make big plays. I think that is one thing that we didn't do a great job of (vs. Texans.). We have to make turnovers and capitalize on the turnovers. We have to wrap up and be the most physical team."
What are your impressions of CB Terrail Lambert?
"He is doing well. He is a great guy. I think that he has shown the hunger to play the game. He has been out there working and doing everything that is asked of him. He took us to Topper's Pizza today so that was a great treat. He surprised me. He actually wrote a book. I did not know about that. Not only is he a good football player but he is an accomplished author."