New Orleans Saints Cornerback Jabari Greer Media Availability
When you guys play a good defense like San Francisco has, do you try to measure up to them and prove yourselves as being as good of a defense?
"In some aspects we do.  We're very prideful being professional athletes and we want to make sure that we all give the best possible effort and are getting the best possible results we can get.  You want to be seen as the better unit.  We realize the challenge that we have against these guys this week.  They have a good defense.  They have a good offense.  They really are a different team than what we saw in the preseason.  As a defensive unit, we know that we have a challenge on our hands.  As our coach says, the best defense will win the game."
Why should the media not have to make a big deal of the three losses the Saints have experience on the road?
"Every game brings on its own life.  We feel like we have had some success on the road.  Those losses were early when we were creating our identity and creating who the 2011 New Orleans Saints were going to be.  I believe that we have established who we are.  We are continuing to work to get better.  When we take it on the road, we just have to continue to do what we do – run the football, be effective in the passing game, try to create some turnovers and swarm to the football.  It doesn't matter if we play at home or away, I think we've established our identity as a team.  No matter the venue, we're the same people."
At what point do you realize the achievement last night, but move on to the next game?
"I still have about another two or three hours to enjoy it.  We are on to the next game.  We realize how short this window of opportunity is and we're thankful for it, but we realize how much work has to go into it.  As professionals, we're in here right now getting the work in and dedicating ourselves to something bigger and something better.  Last night was great.  We celebrated with the guys, got to laugh, joke and hug each other and throw out love tweets.  Now it's time for business.  We realize we have a bigger game ahead of us and hopefully we'll have a couple more."
Can you take anything from playing at the 49ers stadium in the regular season last year?
"Not really because it's a totally different roster.  We have some guys that didn't get to experience the Monday Night Football game that we played there last year.  It was an exciting game.  For the guys who have been there, I guess the one thing you can take away is the field conditions.  With their grass, you need a certain spike length.  I think guys that have played there realize it and are more prepared for the field conditions.  That actually means a lot in what we do."
Can you compare the contrasting styles of offense with the Lions and the 49ers?
"They're a threat.  These guys have been effective.  They have one of the best rushers in the league, good tight ends, a good quarterback and a good receiving core.  We realize the obstacle we have in front of us.  We have to stop the run and we have to be able to minimize any down the field shots.  It definitely is a different team.  It's the same opportunity we have to move forward in the playoffs and that is our ultimate goal.  We're just going to get on our film, make sure that we prepare and practice at a high tempo so when the game comes around, we're letting it loose and having fun."
Have you watched Alex Smith at all and seen how he has progressed?
"We haven't been able to get a lot of film, so not extensively.  Watching what they've done this year, you get an overall view of how effective he's been and how good he's been for them this year.  He had Pro Bowl consideration.  This guy has really raised his game.  You have to remember, this was a guy that people were calling to get benched a little while ago.  The season he's had has really been a true testament to his character and perseverance.  Anytime you get a person like that, you know you're going to be in for a four-quarter fight.  We wouldn't expect or want it any other way."
Can you explain from a player's point of view why it's better to travel West on a Thursday for a Saturday game instead of a Friday?
"There is a time difference and it takes a day or two to get adjusted.  Our coaching staff and our upper level management do a great job of making sure that they plan accordingly and give us the best possible schedule to make us successful.  That's a testament to the logistics of football.  People don't realize that there's so much more than just running, catching the ball and hitting.  You really have to plan for success and that's one thing our coaching staff does a great job of.  They'll make sure that our schedule is set up to where we get adequate rest, we get adjusted and we get ready for the game."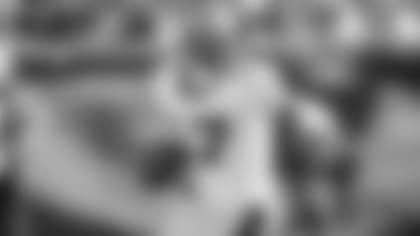 New Orleans Saints Wide Receiver Robert Meachem's Press Conference
How confident do you guys feel right now? It just seems like the same type of performance every week.
"With us it comes from practice and then it starts with the guys that were here in '06 when they went to training camp at Millsaps. They required a lot from each other and left a longtime legacy that they've kept building."
Do you like your chances in terms of offensive efficiency?
"Yes, every time we take the field, we feel like we can score."
Do you feel like you can even overcome fumbles?
"We always tell ourselves and coach harps on it all the time, no negative plays or turnovers. If you don't have turnovers, you can control your own game."
At this point does this team feel like no matter where they play they're going to be fine?
"Yes, I think the two losses we had in Tampa Bay and St. Louis, I think that really helped. The Green Bay loss was the first loss, but I think the Tampa Bay and St. Louis losses really helped us prepare ourselves on the road."
You were a high draft pick, but have a lot of teammates on this team that were not drafted or were drafted very late. Is there something about the culture here that encourages that everyone has a chance, regardless of background?
"Yes, like I said that started in '06 before I got here at Millsaps. Everybody was all for one. It was about the team. It didn't matter whether you were (a) first (round draft pick) or not drafted. It's all about the team."
Is that a good reminder to guys that aren't drafted about opportunity?
"Yes, you don't have a security blanket here anybody can play. As we say here, if the next person goes down, somebody has to step up."
What do you think about this challenge in San Francisco?
"This is going to be a great challenge. Their defense is very good. They play well together. It's not going to be one of those high-scoring games, because both defenses play well. They have big time players too. It's going to be one of those games where with mistakes, you don't need any turnovers. You can control the game with turnovers."
Drew Brees always talks about going back to guys after they make a mistake. I noticed after one of his touchdown passes to you that he came down to you guys and talked to you. What was the message?
"He said, you knew he was coming back. We were going to get another chance and another opportunity, because earlier in the game, I had a drop. You know for us, that's one of the worst feelings in the world. For him to come back to you, you know that's a great feeling."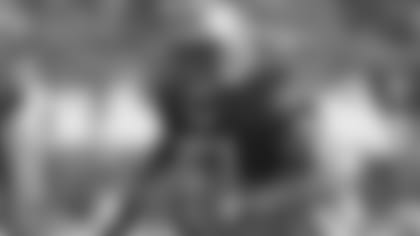 New Orleans Saints Linebacker Jonathan Vilma's Conference Call With New Orleans Media
Why is it possibly not valid anymore that the team's struggles on the road this season are behind them?
"Obviously the playoffs are winner go home and teams are literally fighting for their lives. When you talk about win or go home, I don't think that's an issue. I think it's about executing, planning and doing what it takes to win the game. Being on the road, it just so happens that it's San Francisco. They're the number two seed and they've done a great job of earning that spot and that seed. At this point in time, you're talking about two very good teams. At the next spot, we're the number three seed. I don't think it matters where we play."
Do you think that you guys are a good road team?
"The numbers say so. We were 5-3 this year, 6-2 last year. Depending on the year before, I don't know if anybody had a better record than that. We are a pretty good road team; I think we travel pretty well."
The league is now about pass offenses it seems. The 49ers are a little more old-fashioned in their attack. As a classic middle linebacker, do you like a game like that?
"A team like this as you said is almost a throwback team so to speak. For them to line up like they do, they are going to punch you in the mouth and do it for 60 minutes, that's to their credit and they deserve credit for the way they've played and the style that they play and it will be a big challenge for us."
Do you like that or is it something you relish?
"Honestly, it doesn't matter. As long as I can get a good feel on them in the game as we try to get the feel on opposing offenses, I'm happy with that."
Did the bonus week of rest in not playing in the week 17 game refresh you physically for this round?
"I'm good enough. Right now we have three games left and that's my focus. I'll worry about my body, my health afterwards."
Does it help you physically going to the west coast on a Thursday as opposed to a Friday for a Saturday game?
"I guess it depends on the person. For some people it does. Others, it can make them a little sluggish being in a hotel for two days like that. I guess if you are one of those guys who needs to make the adjustment and get the body clock going, it can help. I've never been opposed to it or been a big fan of it either. I don't know. It's okay to me."
Do you see Alex Smith as an improved player or is he in a better system. Why do you think he's been more successful this season? Is there anything he's done that impresses you?
"I think that it's a combination of both experience, him being in the NFL for such a long time now. He understands as a quarterback the things you can and can't do; I think the system helps him out tremendously. They're not putting all the pressure on Alex Smith. They're asking him to manage the game, not necessarily win the game for them. I think that really suits him very well. He still is a good quarterback. They have a very good running game and an efficient quarterback who isn't going to lose the game for you. They are a very tough opponent. I think that really does help him."
You don't do a lot of live tackling against your starting offense in the course of a year, but is Pierre Thomas one of the hardest guys to bring down on first contact?
"Huge. We're on the sidelines watching it and we started calling how many tackles he was going to break before he touched the ball. I'll tell you what; he was wired for that situation. He did a great job. He's had a great year. It's really refreshing to see him play his best ball at the end of the year."