Vikings HC Leslie Frazier's Conference Call
Wednesday, December 14, 2011
On who will start at quarterback Sunday…
"Christian (Ponder) is our starting quarterback. Barring an injury, he will remain our starting quarterback."
On RB Adrian Peterson…
"We will get our first chance to see him today at practice but we are optimistic that this is the week that we will get him back."
On how the team is dealing with being in a "rebuilding mode"…
"It is tough anytime you are going through the things that we have experienced this season but our guys have battled. We are definitely in a transition. They have battled each week and we are going to fight the good fight again this week."
On how the team's attitude has been this year…
"The resiliency of our players has been incredible. We are down 21-0 in the first quarter of the game last Sunday (at Detroit) and they could have easily tanked that game but they didn't. There we are on the last play of the game on the 1-yard line with a chance to win the game. They have been very resilient throughout this season. It is a testament to our leadership. We just have some things that we will have to address this offseason to get some things corrected."
On what factors have contributed to the team's struggles this season…
"There are a lot of different factors. You guys (New Orleans media) have been in it a long time and we are not the first team to play in the NFC Championship game and then disappear for a while – it happens in our league. It also happens where teams you didn't expect all of a sudden jump up and are playing in the NFC Championship game. Things can change fast in our league. Especially in this age of free agency, this year particularly with so many things that happened in the offseason that had an effect on the regular season. There are a lot of factors that go into where we are now and where we were in 2009."
On if the Saints loss to the Rams was a game they focused on when preparing for the Saints…
"That's a tape we will take a look at. The Tampa game also. The Green Bay game is a little different with them being a 3-4 team and it was the first game of the season. You are always trying to look for something that will give you some hope that will give you a chance against such a prolific offense and a very good football team. We will search through the tapes and try to find something that will hopefully give us an edge."
On how the defensive line continues to be a strength of their team…
"It has without question been the strength of our defense. We have had some troubles on the backend but our defensive line has consistently played hard for us and played well. Jared (Allen) has led the way and is having an MVP-type season."
On the comments DE Jared Allen made about New Orleans and Detroit on a radio station last week…
"I talked with him about those comments this morning. I am hoping that we won't have any more comments like that going forward."
On QB Christian Ponder…
"He has had his ups and downs like most rookie quarterbacks that come into our league. He is battling through those things that every young quarterback goes through. Whether you are Peyton or Eli Manning – whoever it may be. Even Joe Montana. We think our team will be much better going forward as he goes through some of the growing pains of being an NFL quarterback. It's difficult for him and difficult for our team at times but you have to look at the bigger picture. It's an investment for our future and he is handling it pretty well."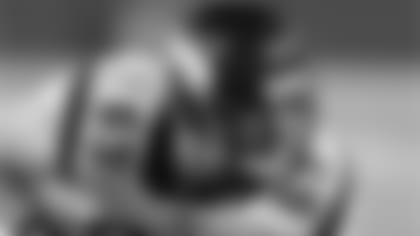 Minnesota Vikings DE Jared Allen
Conference Call
Wednesday, December 14, 2011
Is it a little harder the great year you're having with your team struggling with a 2-11 record?
"Yes, I think so.  It's one of those things where it's been a great year personally.  I'm having a lot of fun playing.  Unfortunately, it hasn't led to more wins for our team so it's kind of bittersweet.  Honestly, I'm just happy to have the opportunity to go out and play.  I thank God for the blessings every day and go out and try to have fun."
Do you stand by the comments you made last week on KFAN radio about Detroit and New Orleans?
"Yes, and it's nothing against the people of New Orleans at all.  I said on my radio show, as a joke, there are two places I don't go out.  The drive from the airport isn't the prettiest drive.  When you get out of the airport, I'm sure you guys have driven it, it's all abandoned buildings and burnt down buildings.  They were little jokes, little satire.  I didn't realize so many people were going to get their feelings hurt over it."
Can you understand why people may have gotten their feelings hurt?
"I guess.  It wasn't directed towards any person in general, it was more about the drive from the airport to the hotel.  It's not the greatest."
Why do you think you guys are so much better against the run than against the pass?
"That's been our staple for the longest time.  We're built on stopping the run.  That's kind of our motto.  It's something that we wanted to continue to get better at around here.  If you allow a team to be balanced against you, then it's tough to be successful.  By stopping the run, you force teams to be one-dimensional.  Unfortunately, we haven't been that great when they are one-dimensional.  When teams pass the ball, that's when you have a chance for interceptions, sacks, and forced fumbles.  You have more chances to create turnovers in the passing game than in the running game.  It's crucial to be successful against the run to get people into third and long so you can stop people and get them off the field."
Do you think the NFL is becoming more of a passing league?
"Yes, the league has definitely changed.  Teams do certain things to open in up.  You look at New Orleans and Green Bay, their short passing game might as well be a run game for them.  Again, I think is a team has a choice, if they were running the ball to where a team couldn't stop them, I don't think you would see them throw the ball many times.  You're running the clock out.  Every team wants to be able to run the ball.  I think it starts with having to be able to stop the run.  I've been in games before where we couldn't stop the run to save our lives, and it didn't matter how good our pass defense was because we didn't get a chance to play.  To sum it up, it has to start with stopping the run, but the way the league is turning, more and more focus is being turned towards pass defense.  I think that's why you're seeing different groups of guys having their nickel packages on defense and bringing in smaller defensive linemen for more defensive backs.  You're seeing more variations, whereas the old days everyone was playing every down."
How has your statement about not finishing with the worst record in the NFL resonated with your teammates?
"I think everybody's on that goal.  No one wants to be the worst.  We're trying to win games.  We let another one slip away (at Detroit).  We'll go back at the end of the year and probably see seven or eight games that we easily could have won.  It's about getting some confidence and guys playing for something.  Right now, not being the worst is worth playing for."
Do you feel like everyone in that locker room is still all in?
"Absolutely, guys are having fun believe it or not.  We have young guys playing and guys are playing beat up.  There haven't been any excuses.  It's tough losing, but I'll give guys credit – they have character in this room and they seem to respond to challenges every time we put them out there."
What do you see out of Christian Ponder in practice that you like?
"That's not really my place.  I'm not really a quarterbacks coach.  The guy has talent.  Obviously, he's had some good games and he's had some bad games.  He's young.  The only thing I could say is I encourage him to keep growing.  This game is about growing.  Every year, I go back and I reassess my year and find things I did well and find things I didn't do so well, and try to build off the things I did well and try to correct the things I didn't.  He's young and it's tough to judge a guy in his first year, but he's doing some good things and he just needs to continue on."