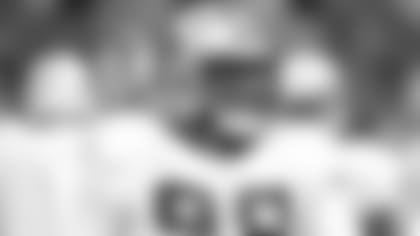 New Orleans Saints DT Sedrick Ellis
Media Availability
Monday, September 19, 2011
Yesterday was the pressure the defensive line put on the quarterback the template that the defense was going for after bringing in Shaun Rogers and Aubrayo Franklin?
"Those two guys were key parts for us getting more pressure and being able to rush on the outside without the guys being able to help because they have to account for those guys. I think that's a credit to them for doing a great job and helping us out in that area yesterday."
What is it that the two of those guys do specifically that stands out and that maybe your defensive line hasn't had in the past?
"The biggest thing is the size. You just have to account for those guys in the middle, especially Shaun (Rogers) because he's just so huge. He's a big guy, so if you turn him free he can cause a lot of damage to offenses. With their size and movement, they do a great job."
Sean Payton brought up the tape in the preseason game against the Texans and said it wasn't pretty with running backs breaking away for big gains.  What do you guys do in this game to prevent that from happening?
"I don't think we change anything that we do. We play our scheme. Preseason is one thing and you only have a limited amount of plays that you play in the preseason, things that you do and things that you want to show to other teams. I think we're just going to play our game the way that we play it and if we do that we'll be just fine."
Given the defenses performance against Green Bay, do you guys feel like you've recaptured your swagger after the last game?
"I don't know about recapturing our swagger, but I think it goes back to the basis of our defense. We have to be gap sound up front and we have to get this run stopped so our guys in the back can play their game. I think if we do that we'll be fine against just about anybody. It starts up front and trickles down to the guys in the back. The game we had yesterday was great and I think it was a big step in going in the right direction."
Going into this game, were you aware of the frustration the Saints have had with the Bears in the past few seasons?
"Not only was I aware, but it was brought to our attention numerous times by the coaching staff and people around the facility. I think we did a great job with that and I think one of the biggest things is we finally got them in our own stadium. The previous few times we played them was there and they have their home field advantage. I know the one year we played them there it was freezing, it was like 30 degrees. We finally got a chance to play them at home, had a point to prove from the previous games we had played and I think we did a great job."
People talk a lot about the best teams having marked improvement from week one to week two and you all definitely showed that, but what were some things you think the defense can still improve on?
"I think you can always continue to get pressure on the quarterback. You can always get better at the technique as far as pass rushing and so forth so I think even though we had a pretty good game up front, I haven't watched the film yet because we had a day off today, but there are plenty of things you can always get better at and I think technique is one of them."