New Orleans Saints QB Drew Brees was interviewed by Saints Radio Network/WWL Radio's Bobby Hebert and Deke Bellavia Tuesday afternoon.
Below are some highlights from the interview:
What is the intensity level like at offseason workouts to this point? What is it like having everybody back?
"Workouts have been great. It's really the first normal offseason we've had in a long time, really since 2009. When you think about it, 2010 was coming off the Super Bowl, 2011 was the lockout year and then 2012, obviously with everything going on last offseason, it was definitely not the norm. Just to get back in mid-April, get going again, get back in the locker room, being around the guys, and Sean Payton is back; we've really had some great workouts, not just the stuff in the weight room but on the field with our route sessions and some of our football school. It's really been great and you can tell that guys are just chomping at the bit to get back and get rolling."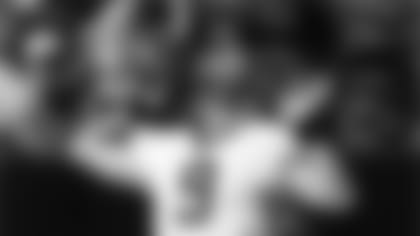 On the importance of getting to a fast start in games:
"There are a lot of elements to a game, as you know, that play a factor in the outcome. I definitely think that the faster you start, there is this confidence level. It reaffirms everything that you studied throughout the week and in practice. Your first 15 plays, if you come out and are able to be successful, there is that momentum that kind of shifts to your side and that confidence level of 'we're prepared for these guys and we've got them pegged.' I think, definitely, when you start fast it kind of carries throughout the game. We pride ourselves on being not only a fast-starting team, but a great finishing team.
"There has been plenty of instances, where we're down at halftime or the fourth quarter and we're coming back and winning football games. I think the great teams are able to do that as well. Certainly, with our style of offense, it's very aggressive, it's explosive, we love coming right out of the gate and scoring points and we know what that does for our defense as well."
On what the offense's mindset is on how to help get the Saints back to the playoffs:
"I can tell you where our mindset is – our mindset is to score every time we touch the ball and score 40 plus (points). That's where our head is at. It's great if our defense is holding someone to 10, 13 or 17 points but our mindset doesn't change. We are not just trying to score 21, we are trying to score 40 plus every time.
"I think there is just a standard that we have set that we try to live up to every time out. There are plenty of times where we win the game and we go back and say 'gosh, we left seven points out on the field, this should have been a blow out or we could have scored 40.' There's that mindset which is a great thing. If you have the balance on offense that we do with stable of running backs, the passing game and what our guys have been able to do up front with the consistency of the offensive line position. I think we just have that mentality. It's an aggressive mentality but we feel like no matter what gets dialed up we are going to make it work and score points."