New Orleans Saints Quarterback Drew Brees
Media Availability
Thursday, May 23, 2013
What is it like working with and playing against a Rob Ryan defense in practice?
"He's fun to be around. You can tell he loves football and loves coaching. He's got a good scheme. The defensive guys are really taking to him. Guys are flying around. It looks like they're having fun with this scheme. Obviously, we are very much in a learning phase right now. The defense is trying to learn the new scheme. Offensively, we have some new wrinkles that we're working on. It's just fun to be back on the field practicing again."
Do you think he is looking forward to camp and competing against you guys?
"Absolutely, that's how you get better. That's how you gain that edge. We've always taken pride in competing against each other, both offensively and defensively. We have a lot of great leaders and a lot of prideful guys on defense where we go at it every day in practice. In the end if you know, I know for us, we feel like by the time the season rolls around, we've had just about everything we could have had thrown at us by that Rob Ryan defense and our guys that when we go into the season, we're prepared for anything."
What has it been like the past few days having Sean Payton back on the practice field?
"It's been great. It's been a while."
How is he different?
"Well, he's dropped about 18 pounds. He's at his fighting weight. I'd say, just like in the offseason, especially coming off a year like we had last year, there are things that you do so that everybody knows that this is going to be a different year. It's going to be a better year. So just some little things as the offseason (we have) gone along (with), whether it be just modifications in the workouts that we're doing or some of the sayings that are on the walls around here, or pictures. Little things, the schedule..."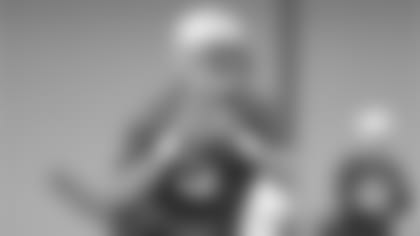 Is he more passionate?
"He's always been passionate about what he is doing. You can feel the excitement level for him to be back in the mix. This is what we do. It's football. We love it."
How is it for you to be back here at this time because you did not participate in these activities last season?
"If you think about, this is the first normal offseason we've had since 2009. 2010 was coming off the Super Bowl, that wasn't normal. 2011 was coming off the lockout, that wasn't normal. Last year, all the bounty stuff and my contract, that wasn't normal. This has been great. This has been great, just getting in this locker room back in mid-April and just focusing on getting better, (working hard in) the weight room and being around the guys, just getting back to football. It's what we do."
Did you forget what normal was like?
"Yes, for a while, we did. Literally, it's been four years since we had a normal offseason. We've been looking forward to this for a while. There is just something about getting in the locker room with the team and just watching it all come together. We're all excited about the draft, some of these young players, and free agency. We got the new defensive scheme and, like I said, we're working on new wrinkles. This is the time of year where you watch it all come together."
How do you work with a much younger group of wide receivers now?
"It definitely takes time (with) a lot of those young guys. It's funny, you teach the offense a certain way, you teach routes a certain way, and yet if you were to watch me, Marques (Colston) and Lance (Moore) out there, it's not always the way that it's written on paper. So a lot of the young guys will be like 'well, I thought…" but these guys (Brees, Colston and Moore) have been together for eight years. There is this trust, there is this ESP, they see the same things and they know the adjustments off of that. It takes time. It takes a lot of time on task. This wide receiver group is young and talented. I feel like a lot of them could be big contributors on our offense so I'm excited to work with them and excited with what I've seen this week from them thus far. We'll see how it all shakes out. We have a couple of those spots that are up for competition."
Talk about playing with somebody new at left tackle, either Jason Smith or Charles Brown.
"That (Smith) was a big free agent pickup for us. Obviously Charlie Brown has been here for a few years and stepped in and done a great job when needed. Jason Smith and (Terron) Armstead, the rookie, (are competing) and we have a lot of guys that could jump in and compete for that job. Where we all get better is when you have guys fighting for that position. As much as you hope that you can go through an entire season with all five guys up front healthy, last year we had the situation at right tackle where we had four guys playing at times. You just have to be able to plug in with guys that know what to do and (where) there is a confidence level and you just continued to operate. The train moves forward. We'll see how that position solidifies but I think we've got some really good candidates there."