Drew Brees is about to walk out of his house when his No. 1 fan gets his attention.  
"Daddy, don't go!" yells his eldest son Baylen.  
"Buddy, Daddy has to go to work," Brees replies.  
"You going to play football?" asks Baylen.  
"Yeah," Drew says with a smile.  
"OK, good job, Dada!" Baylen replies with approval.  
It's those types of father-son interactions with Baylen, and Brees' younger sons Bowen and Callen, that Drew enjoys starting and ending the day.  
As a father of three and a 12-year NFL veteran, it would be natural to assume that Brees is getting ready to call it a career. However, Brees doesn't see it that way.  
To him, he's still the 6-0 prospect out of Purdue that was "too short" to be a pro quarterback that dropped to the second round of the 2001 NFL Draft.
For Brees, he's still that free agent quarterback in San Diego in 2006, coming off a shoulder injury that required extensive surgery, with only two teams showing any interest.  
Nearly seven years later as one of the best players in the league, Brees is more driven than ever. He is fueled by his unquenchable desire to succeed and to take his game to a new level.  
Brees continuously fine-tunes his methodical routine and maximizes his time at the Saints training facility in Metairie. Whether it's at practice, in meetings or while watching film, he doesn't let a minute drop by the wayside. 
Typically, quarterbacks and receivers watch film in the same room while tight ends watch film in a separate room.  
If Brees sees a mistake or wrong route run by a tight end, he doesn't waste any time relaying that message.
"He always sends someone new in our room to tell me when I ran a wrong route," Jimmy Graham says. "Sometimes it's so bad that he has to get up and come in there. He has talked about how he wants a microphone that goes from the quarterbacks room to the tight ends room so he can tell us our mistakes right away."  
Brees jokes he probably won't have the microphone system set up and stresses he critiques his own game as much, if not more, than his teammates.  
"I will see what you could call a coaching point on film that I want to get communicated to them immediately so they can see what I am talking about as they are watching the film," says Brees. "I am just as hard if not harder on myself, though, when it comes to pointing out and fixing mistakes."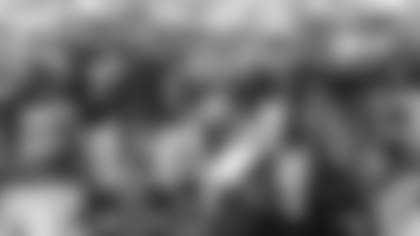 Quarterbacks Coach Joe Lombardi, who has been with the Saints since 2007, understands Brees' approach as well as anybody. Lombardi says Brees' toughest critic is himself and that the Saints quarterback will never be satisfied with his progress.  
"Every year he studies and works to improve himself," says Lombardi. "Every year he tightens up his fundamentals. Every year he just keeps filing away lessons into that mental file cabinet of his so he is prepared for even more situations.  
"He is really another coach here. He's very good with the other skill players on offense because he is great at explaining what he expects out of them. That's one reason why the timing in our passing game has been so efficient over the years because he has such trust in them."
Brees carries that same passion to succeed in his off-the-field endeavors.  
Recently, he ventured into the food and clothing fields. He co-owns two Jimmy John's gourmet sandwiches franchises in the New Orleans area, and he and his wife, Brittany, founded a lifestyle apparel company called Nine Brand.  
Brees said he plans on acquiring more Jimmy John's restaurants in New Orleans, the Northshore and Slidell. He hopes to have another three stores open by next summer.  With Nine Brand, the Brees family wanted to start a brand that was inspired by New Orleans.
Right now, Nine Brand just has T-shirts being sold in New Orleans, but they have plans to develop other products and expand in the Gulf South region.
Part of the reason Brees is establishing businesses in New Orleans is knowing the impact that he can have on the city's economic growth and helping to expand the job market.  
Additionally, nine percent of net proceeds from all Nine Brand products will be donated to the Brees Dream Foundation to support organizations focused on resilience. Proceeds from the first product line, the All In tee, will be donated to organizations focused on Hurricane Isaac recovery in the Gulf Coast region.  
"We are taking our time with (the decision of) products to promote and where to promote them," says Brees. "We want to do it the right way. It's a growth process. You want to find your niche, find your inspiration and see where you can help and be successful. We want to capture the spirit of New Orleans with Nine Brand. It's New Orleans-based, New Orleans-owned and New Orleans-inspired."
 While balancing his tireless football routine, quality family time and foundation activities, Brees says he will limit his business ventures to Jimmy John's and Nine Brand for now.  
"Who knows what the future holds?" he says. "I am not going to close any doors but right now I am focused on the opportunity I have to be the quarterback of this team."  
Brees may play a number of different roles as a quarterback, spokesman, franchise owner and philanthropist, but his day always starts and ends in his favorite role – family man.
 "When I get home, I am home," he says. "I am present, and my mind is there with our kids and family. The hardest thing is probably trying to find the time to give your kids all the attention you want to give them. The minute I walk in the door it's, 'Daddy – let's do this!' Baylen wants me to go here; Bowen wants me to go here. At some point I want to hold Callen because I haven't held him all day."  
And even if Brees just finished a three-and-a-half hour football game or a 12-hour day preparing at the Saints facility, Baylen and Bowen don't let him turn off his competitive edge when he gets home.  
"When I get home, it's usually WrestleMania for 30 minutes," said Brees. "We will get a ball out and will play tackle or wrestle around. It's the bonding that you cherish and what you look forward to each day."