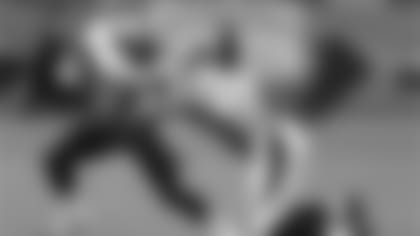 DENVER BRONCOS POSTGAME QUOTES
On injuries"Joe Mays did leave the game with a left ankle injury that's being evaluated. We'll keep you up to speed. I don't have any new information. We'll keep you posted."
On if the team played the full 60 minutes
"I'd say probably without looking at the tape yet, I thought we played 60 minutes. We started a little faster as a football team than we have to date. All in all, probably at this point without seeing the tape, I'd say, 'Yes.'"
On the New Orleans Saints and QB Drew Brees
"Having competed against them quite a bit, being in that division for nine seasons, I've got the utmost respect for them and his (Brees') teammates offensively. They're a tough crew to defend against, as you saw that last drive. They're very capable. I thought our guys had a good scheme, good plan, and we executed our plan well tonight."
On CB Champ Bailey
"We've matched up Champ quite a bit thus far in this season and even last season for that matter. Champ wasn't in on that last drive. We wanted to keep him out of there but all in all, he kind of gets that draw week in and week out."
On holding a lead the whole game
"It's a lot more fun than the alternative, that's for sure. We really hadn't had that much in the first half this season. We had a slight lead in the Oakland game here last home game, but other than that, we hadn't seen that very much. It's something we were going to try to do. The only thing, as a tribute to those guys in that locker room, is we're trying to put wins together and this was our first time this season that we've got back-to-back wins."
QUARTERBACK PEYTON MANNING
On the team's performance
"I'm sure the coaches will find some mistakes on the film, but it's what we're looking for offensively, defensively, and special teams—kind of feeding off one another. I thought we did that. It was good energy from the sidelines. The defense sure did a great job against a really good offense. Our running game really came alive tonight. I thought that's really where it sort of set the tone for us, offensively. The offensive line, tight ends—[TE] Joel [Dreessen] and [TE] Virgil [Green] and [TE] Jacob [Tamme] were outstanding. [RBs] Willis [McGahee] and Ronnie [Hillman] made some great runs. All of the deep passes were off play action. If you're not running the ball well, there's no reason for a defense to bite on play action. Because we were running it effectively we got the safeties and linebackers to bite and got DT (WR Demaryius Thomas) down the field a couple times."
On the injury to his thumb nail
"Just like I said: quarterbacks, probably the biggest fear is always the thumb on the helmet of the defensive lineman, so that's what happened. Mostly the nail, the fingernail. It'll be sore tomorrow, but I'm probably a little bit lucky."
On stringing together a couple of wins
"That's what [Head] Coach [John] Fox has been preaching to us, about trying to find some consistency. You sure would hope you'd be better coming off the bye week. I thought the bye week came at a good time. You should be more rested and guys' legs should be better. I thought we played fast tonight; played with a lot of tempo and had a lot of plays. I think we possessed the ball for a decent amount of time. Defense seemed fast out there as well, so I think we used the bye week to our advantage."
On the first touchdown drive of the game
"That was huge. We talked about getting off to a fast start. We had the offsetting penalties on the first series that prevented us from getting a first down and then had to punt but getting the ball to the 2-yard line is not ideal, but that was a good drive. Hit the deep play to DT (WR Demaryius Thomas), which certainly shortened the drive for us. I thought our red-zone efficiency has been pretty consistent most of the season. Against the Saints, that sure is a team you want to score touchdowns as opposed to field goals."
"It's very obvious his size, strength and speed. I feel like he's working on his craft every week with the coaches, and he and I spend a lot of time throwing routes, being together, and [competing] one-on-one against our good corners certainly makes you better. So I think he's working just to become a complete receiver.
"On the deep passes, I thought we had a pretty big window there. You know, to throw the ball up and make a big play, and we had a couple of those plays tonight, where there were a couple big plays by him."
On his feeling of urgency after getting the ball after the Saints' failed fourth-down play
"It's hard to say, but certainly when a team goes for it on fourth down and your team stops them, offensively you sure want to take advantage of that and make your defense feel complete by stopping him. That was big, and, like I said: playing more of a normal game, as opposed to be down so much in the first and second half, it's easier to call plays—it's more of a familiar type of game, so hopefully we can do that and we can play more 60-minute games from here on out."
On the different factors that go into his quarterback play
"It's definitely an analyzed subject. I think there is a lot of factors going into playing quarterback. I've had an injury. I'm a different player coming off the injury—I'm on a different team—and so, I'm just working on kind of finding my way, and our team is finding our way. I keep mentioning finding our identity, and we're starting to form it. I still think there are some things we need to improve on and we're going to build off this win—build some consistency as an offense and hopefully I can just continue to just make strides and be on the same page as the receivers. So, this is an important win, coming off the bye week. You start scoreboard watching in the division (AFC West), during this time, and we've got one more game in the second quarter, when we go to Cincinnati, in our season, so it would be nice to get a win to finish off the second quarter."
RUNNING BACK WILLIS MCGAHEE
On starting fast and not letting the Saints back into the game"You've got to give credit to the defense. They played against a great offense, and they did a great job of containing them. The defense really was the star of the day. Our job was just to feed off of those guys."
On the offense scoring 34 points against the Saints defense"Not only Coach [John] Fox, but us players, we put ourselves to the test and just focused on what we needed to do. Stop worrying about getting ahead in the game, and just take it one play at a time. We did a great job today."
On scoring his first touchdown after coming up short on the previous play"I thought I had it. I knew that was my touchdown. At the end of day, the coaches called another play, and I got in."
On the offense clicking throughout the night"I knew we were going to have a good day. We just showed what our offense can do. We did it for 60 minutes, but we still had a couple errors."
On winning back-to-back games"It feels good. It's just only the beginning. I told you we weren't worried about [the Saints], they've got to worry about us."
LINEBACKER WESLEY WOODYARD
"I don't have a high vert. I just wanted to go out there and make something happen for my teammates. I came out of there just excited to get a play made."
On the defense's improvement
"We continued to believe in each other. Our coaches told us to believe in ourselves and make plays. Our players, the d-line, played a great game. I think those guys [New Orleans Saints] got like 40, 50 yards rushing. They got a few breaks here and there but we just played together as a team and that is what it's about."
"My d-line clicked. Before the game they told me that they were going to keep me free, let me go around and make plays. That is what it is all about; playing as a team, dedicating yourself to one another."
On his interception of New Orlean's QB Drew Brees
"He is a great player. They ran that play earlier in the drive and I wasn't there to make that play so I knew I had to come back and make something happen."
On limiting the New Orleans offense
"They are a good offense and we made some mistakes but the thing is we played hard as team, as a defense and that is what it is all about – being there for your teammates."
On what the bye week provided for the team
"We were able to get fresh. We were able to get back, sit down, and work on the mistakes that we made in the first six weeks."
WIDE RECEIVER BRANDON STOKLEY
On if the bye week helped the defense or offense more
"A little bit of both but I think the defense definitely. They stepped up and played great. They held them to seven (points), I don't really count that last one really. They played awesome. To do that against that type of offense, that is something that hopefully we can build on and keep doing."
On the team's performance
"We did have the one turnover and I thought we could have started a little better and played a little better in the first half so we still have work to do but all in all though it was a good win."
On controlling the division
"Right now we are just worried about next week. Hopefully we will get better, keep on improving and that is the bottom line for us to play better football next week and improve throughout the whole season."
"He is pretty good isn't he? It is fun to watch him and [WR Eric] Decker. They both played great and I love watching those guys do their thing, make great catches, and score touchdowns."
On limiting the New Orleans offense
"It is hard to do that. I have to give a lot of credit to the coaches and my teammates because we have really been honing in this week trying to make sure we are doing our jobs and do it full tilt. We haven't put together four quarters like we did today. We hate that he gets that last touchdown but that is one of the best in the game and is going to make plays. You just have to limit him and I think we did that well today."
On the performance of LB Wesley Woodyard
"That is what he does. He has been making plays all year. Double-digit tackles is easy for him. I expect more out of him to be honest with you because I know what he can do. I have seen him do it in practice several times. He is hungry and he is young and I love that about him."
On the defense's performance
"One thing that we have been lacking the past few weeks is coming out and starting fast. We didn't do that tonight; we made sure we started fast and kept it rolling throughout the game."
On putting together a complete defensive game
"You can't have a lead like we had and give it up, that shows a lot of character in this locker room. When you give up big leads like that, it's like you took your foot off the pedal. We can't afford to do that around here."
On possibly winning the division
"We honestly can't look past next week. It is that simple. If you start worrying about what other teams are doing, you forget what it takes for you to get there. That is what we have to do, we have to concentrate on ourselves and make sure we become a better football team."
WIDE RECEIVER DEMARYIUS THOMAS
On playing with Peyton Manning
"It is great just to go out every week and know you have a guy like him that is going to throw you the ball. Going through the week you are working on stuff, just different things, and it is stuff that will make you get better so I feel like it is helping my game out. I think we will get better and better every week."
On developing a relationship with an elite quarterback
"That is what we have been working on most of the time, basically getting on the same page, knowing what he wants, knowing when to slow my route down or cut it short. If you're on the same page and you know what spots to be in, you get better, you get open, take your time, it is like it just keeps coming."
On seemingly to develop a chemistry with Manning
"I feel like it too. We have been doing great and hopefully it keeps going."
"I love the screen passes. That is one of the things that has made me a better receiver because when I get the ball in my hands I can just keep running and make guys miss. It is hard for me to get tackled and that is one of the best parts of my game."
"I think it is the first time of the season to get off to a fast start. Going into halftime up – if we can do that every week, I think we can be one of the great teams of the NFL."
"That was my main thing to get healthy and stay healthy. If I can do that, I feel like I can go out every week and put some yards up on the board and show my talent."