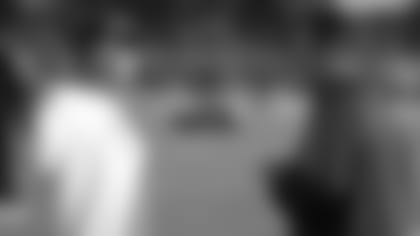 Opening Statement:"If the weather's right we'll stay outside for this afternoon's practice. Plan B would be to go inside."
Did practice run a little shorter?"Compared to our normal schedule, which is 8:50, we started at 8:30."
Was this a good change of pace?"Once again, you have a different look. In that aspect of it, it always heightens the awareness of both teams."
Can you talk about Carl Nicks and Jermon Bushrod working with the second team?"We're having to give a lot of guys a lot of reps. They took some snaps with the ones. We moved Charles (Brown) up some. We'll keep rotating them. It's nothing to read into."
What have you seen from Sean Canfield?"You're limited based on just practice snaps. He only gets a few at the end of each period. It's hard. He's got a little ways to go. He's smart. It will take some time."
Do you have any feelings about an extended regular season?"I've been asked that before and really have no strong opinion. In the end, the key will be how closely training camp would be affected and how many games you would need to get ready."
Could joint practices take the place of preseason games?"I don't know if it would take the place of it, but you'd see more."
Will the starters play longer this week?"Yes. In week two they'll play longer into the second quarter based on a snap count. Typically they play longer."