The laugh is due to equal parts performance and presentation, two things that are high on the list when Dwayne Savage thinks about Cesar Ruiz .
Savage coached Ruiz for a portion of Ruiz's high school career, at Camden (N.J.) High, and also was one of Ruiz's middle school teachers. And what he saw in high school from Ruiz – the New Orleans Saints' first-round pick (No. 24 overall) in the 2020 NFL Draft – was a dominant player who likes to look good in every way.
"We used to pull him at center and things like that," Savage said. "We were able to do stuff that you see at the college or pro game because of his quickness, where he would be able to pull and make plays after he snapped the ball.
"I've been coaching for more than 20 years, he's one of those guys that you see once in a lifetime. To be able to do some of the stuff that he was able to do with his feet and his speed and his agility, we always said that Cesar was a big man in a skilled-man's body.
"When you see him, he's going to try to look sweet like a skill guy – (pause here, for Savage's chuckle) – and that's really kind of his mentality. His mentality is not just as a lineman. He likes to look good on the field, kind of like the skill guys."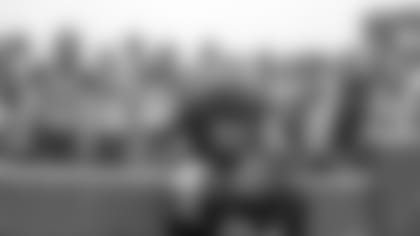 Savage laughs knowing that Ruiz, too, might laugh at the description. Because Ruiz – a 6-foot-3, 307-pounder who played center and guard at Michigan – almost always has a smile on his face.
His mother, Latoya Shambry, sensed a dimming in Andy's light, though, when he was younger. Understandably so.
Shambry calls her son "Andy," an ode to his middle name, Andre. His first name is the same as his father's, the father that he lost at the age of 8 when his dad – Cesar Edwin Ruiz – was struck and killed by a car while he was attempting to help a driver who had a flat tire.
"I felt he was being kind of angry," Shambry said. "But then he started, like, just being to himself. He wasn't saying anything and talking, and I could tell it affected him when we went to the funeral.
"He was with his dad two weeks before that. Two weeks before his dad passed away, his dad had come over to the house and was just talking to him normally. He brought Andy back home after having the weekend, and then two weeks later, that's when (his father's) mom called me and said he'd died."
Not long after, Shambry made the decision to introduce Andy to organized football.
"At the time, I knew someone that coached and they asked me, 'Do you have a kid that likes football?'" she said. "I said, 'Yeah, my son. But I'm trying to look for something so he can blow off some steam.' And I went on and told the story.
"The first few times I took him to practice, I don't think he wanted to stay. He came up with an excuse, he said, 'I got asthma.' I said, 'Get your butt back around there and run those laps.' I was sitting in the car (at practice), I stayed with him. I didn't move, I stayed right there on the field, I didn't leave, do anything.
"I even started helping with concessions, all that kind of stuff. And if he wanted to stay for an extra game or so, we would stay for all three games. Sometimes we'd get there early – that's how much he started enjoying it – he'd watch the other kids play and I did concessions. Once he realized that this is what you're going to do, he started liking it."
Liked it, and was good at it. Really, really good at it.
Ruiz played at Camden High before transferring to IMG Academy in Bradenton, Fla., following his sophomore year. By then, the center had attracted attention.
"When I saw him in youth football – we always try to look at all of our youth football guys and try to bring them along with us – as a seventh-grader or eighth-grader, he was already the size of a high school player," Savage said. "So it was just a matter of time for him to get into his 'man' body, get a little stronger and things like that, for him to blossom.
"By his sophomore year, I believe he had about 25 or so Division I offers. Everybody saw his potential by his sophomore year. So after that, it was just trying to find the best avenue to hone his craft and get everything going for him."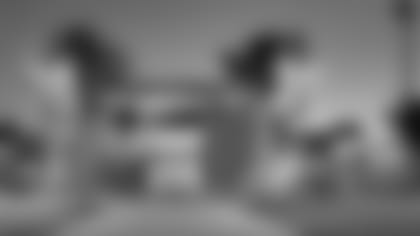 To that end, Shambry decided that sending Andy to IMG Academy made the most sense. And for her, it was a painful decision, but one that she believed was necessary.
"It hurt," she said. "That hurt real bad. But when the opportunity came, I had to look at all aspects. I said this is a once in a lifetime opportunity. I said, not a lot of kids get this opportunity to go to this school. So when Andy got the phone call, he said, 'Mom, IMG Academy, they want me to come visit,' and so on and so on.
"When we got to the school, they did a tour, showed us everything, everything it had to offer, what he was going to learn. It was a lot of positivity and at that moment, I said, 'Look, if he's going to grow here and it's going to better his education and better what he does as far as football, then we're going to go for it.' But I was sold probably by the end of the tour.
"I had told the coach, 'He's staying.' And Andy says to me, 'Mom, what about my clothes?' And I'm like, 'OK, I'm going to mail you the clothes. We're going to mail them.' He had a couple of people in his ear, teammates maybe, who were kind of discouraging him possibly from going. I had to tell him, if they had that opportunity to go, they would go. I said this is once in a lifetime, you're gonna go.
"I had to put my feelings aside because I felt like that was going to be selfish of me. If it's something that is going to better him, I wanted him to go. It was something that you couldn't resist. When that time came, I bought the plane ticket back to Bradenton. I walked him into the airport. And it hurt. It really hurt.
"I look back at it today – it hurt so bad, sending him off. But I knew he was going to be fine. I called him every day. They kept me updated with everything, it's like I didn't miss anything. And every chance I got, I would drive to Florida. But it hurt. It wasn't easy. That's my son, I had him, I raised him. But it was good hurt."
Andy distributed a different kind of hurt at IMG, and then at Michigan.
Ruiz, who turns 21 on June 14, started five games at right guard as a true freshman in 2017. Then, he started all 13 games at center each year as a sophomore ('18) and junior ('19) before declaring for the NFL Draft. Twice he was an All-Big 10 player and he was the top center in the '20 draft.
"He's very athletic and he has a very high football IQ, so he's very football smart and understands what's going on," said Michigan offensive line coach/run game coordinator Ed Warinner. "He's a very competitive person, it's real important to him and he tries to win every play. He is a great combination of all the attributes that you're looking for.
"I mean, that's obviously what the Saints saw on him. He is all that. He was a joy (to coach). I was fortunate to realize early on coaching him that he was going to be an NFL player and I actually told somebody that. (The person) said, 'I remember you told me two years ago after spring ball that Cesar would be a first round pick. You were right.'
"And I was like, well, yeah, he just has all the attributes you're looking for. I mean, there's really nothing he can't do that they're going to be looking for him to do in terms of the job descriptions of an interior offensive lineman, center or guard, and he's played both positions at the highest level."
Warinner said Ruiz's intelligence and ability to process information sets him apart.