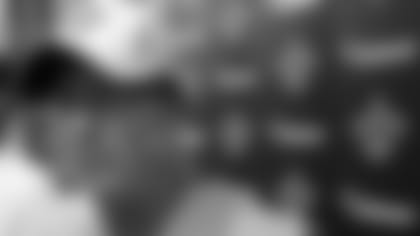 New Orleans Saints Offensive Coordinator Pete Carmichael
What are some differences between Tom Brady and Drew Brees?
"The biggest difference would be the size and height. Obviously, they're both great quarterbacks. They've both had great success in the NFL. Today was a great opportunity to watch them both go out here and compete and get better."
Is it as simple as our team going against their team to see how we match up offensively and defensively?
"We're two days coming off the game, so for us today was just how was the tempo going to be and get out here and hit again. The nice thing is it's seeing different defenses than what we've been seeing in training camp. We're still practicing our base stuff. There's not game planning going on. I think both clubs made it a priority to come out here and get better."
Why has this relationship between the Patriots and the Saints worked so well?
"I would say the relationship between Sean (Payton) and Bill (Belichick) back to a couple of years ago was great when they set this thing up. We had a meeting with the coaches last night from the Patriots staff and just kind of talked about what we want to get out of this week. We're not looking to come out here and fight and do all that. We're out here to compete."
How much are we going to see out of the first team offense on Thursday?
"We won't meet about that as a staff until tomorrow afternoon. That'll be led by Joe Vitt as far as how we're going to play the guys."
The offense looked a little shot-handed without Devery Henderson and Mark Ingram out there. Was that by design?
"I think just getting those guys some rest. We're just two days off the game. We felt good. It wasn't a ton of reps coming out here, so it was smooth."
So it was just giving them the day off?
"Yes. If there's anything to talk about, Joe Vitt would talk about that."
Can you talk about the Saints having an us against the world mentality?
"I think it was a tough offseason for the team, but we stuck together. We know what we have in our locker room and who we are. The teamness of our group is second to none."
Does it feel good to get on the field and get reps against another team?
"Yeah, I think we're treating this training camp just like any other training camp. We're coming out here to get some reps against another opponent and see what we have with some of the younger guys in some of these preseason games and see where we stand."
With all the fans out here and the types of players and celebrities coming out, it doesn't feel like an ordinary week of training camp.
"It's exciting. It's fun to be out here. For me, it's a little personal because I come out here and there's family up here for me so I enjoy that aspect. I think this atmosphere is perfect for football. You wouldn't want it any other way. This is perfect."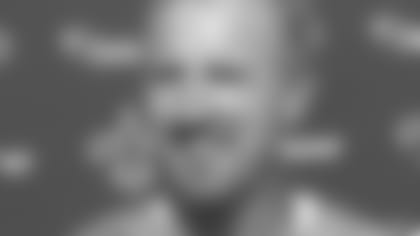 New Orleans Saints Defensive Coordinator Steve Spagnuolo
Is it pretty obvious why this is a good thing for both teams?
"Yes, the fans here are terrific. Of course I have a little bit of place for them because I'm from this area. It was great to see the turnout. My family's here which is terrific. I think the two organizations from my standpoint of being new in New Orleans and having grown up with this one (Patriots) are two great organizations getting together helping each other and I think the players were terrific too."
Can you tell us about the opportunity to go to Philadelphia and your opportunity to pay your respects to the Reid family?
"Yes, actually the teams were getting together to have a prayer for Andy and his family. I'm very, very fortunate to work for an organization whose owner allowed us to take the team plane with Mr. Benson allowing myself, Mickey Loomis, Joe Vitt, Ken Flajole and with Coach (Bill) Belichick coming along with us. That was special. I know that Andy and his family and his wife Tammy really appreciated it. There was tremendous support down there. This family, you talk about this NFL football family and it is a family. There were coaches from everywhere, coaches that had worked for Andy in John Harbaugh, Pat Shurmur, Brad Childress and Mike Holmgren and Ron Wolf. Commissioner Goodell was there. What you are saying is that Andy Reid is so respected in this league that when a tragedy like that hits anybody we have to be out there to support him. Our prayers go out to him. It was a terrific service. I think they did a great justice to everything. I look forward to talking to Andy down the road."
What is it like going against the Patriots offense while you are still trying to install a defense?
"I'm not sure we're ready to go against this offense from where we are right here. The one thing about Tom Brady and Josh McDaniels, they find ways to attack a weakness. You can only take away so many things when you present something defensively. Tom's so good at it; it's why we like competing against each other. It's like a chess game out there. Certainly not as much as in a setting that you would have in a game. I think our players gain a great appreciation for a quality quarterback. We go against one every day in practice, but then you get somebody with different calls a different view. I'm looking forward to doing it against tomorrow."
Are you worried about your cornerback situation?
"Yes, we're kind of getting dinged up there now and I went through that last year unfortunately losing a lot of corners and don't want to do it again. I'd rather have it happened now, get them to bounce back and get them back from the regular season."
What makes Tom Brady and Drew Brees so unique from facing them?
"They run the whole show. Not every quarterback can process everything going on in their mind. I have videotape of both of them with the TV cameras looking at them as they call out the signals, their eyes on the clock. They're looking at what the secondary is doing, they find out what the front is and get them in the right place and if you're one of the ten guys playing with those guys on offense, you know your chance for success on every play goes up."
What do you think of controlling these types of tight ends out there?
"You have to challenge. It's funny what you're saying because it's not one there in New England. It's two and they're both really good. We had trouble covering (Aaron) Hernandez out there today. We only have 11 and they have 11. You can only double so many guys. You pick your spots, pick and choose. I'm sure when Tom sees a double somewhere, he goes to the other guy and has a guy that can beat a one-on-one, you have Wes Welker in there, Brandon Lloyd. They have teams that are going to play them. I'm hoping to play them, in a real game, because it would only be one to play them. I'm not so sure as I want to do that (kidding).
Is there an evolution to the tight end position?
"Yes, you see it all around the league. Especially when you can block and get those two guys in there with the formations to run the football and throw it. It's a challenge."
How are you putting your stamp on the defense?
I have a great deal of help, because the defensive coaches and coaching staff was still intact. I was lucky enough to bring two guys with me, but they've been great and when the players see the coaches embrace it they do too. We have some great leaders on defense, so it's a process right now and we have a long way to go. It's going to take a long way for us to get to where we want to be. Practicing against another opponent helps."
Is the intensity level higher in joint practices?
"I don't know. We're trying to have a great deal of respect for each other. Both head coaches talk about that. Let that level get too high, all you do is spend time bumping chests and getting in fights. We don't want to do that. It looked to me like there was a good element of respect and we got a lot of work done."