New Orleans Saints Center Brian de la PuenteMedia AvailabilityMonday, November 19, 2012
Why has the run game been so dominant the past three weeks?
"I really think that with the early struggles we had in the run game, we just kept at it. We stressed the little things. We knew we were close the whole time. So, really, we just stuck to it, trusted it, trusted the scheme, trusted our (running) backs, trusted our blocking and our technique and it's all coming together and we're having success with it."
After the loss to Green Bay, Aaron Kromer said there was a mountain to climb. Where are you on the mountain now?
"Our mindset is we just have to take this one game at a time. That's all we can do. If you look at the big picture it's overwhelming. Right now, we have the 49ers. It's going to be very difficult. They're a great defense. The climb, we're just enjoying it. Like Joe Vitt says, the reward is in the journey. We just have to focus on this week and that's all we can control."
Would you be offended if people labeled the turnaround as shocking because of how competitive the first four games were?
"Maybe to the outside it was shocking because it was such a slow start. But there was never a doubt in anybody's mind that it could happen, inside this locker room. We're at .500 right now and there was never a doubt in anybody's mind that we could get back to .500 and continue this winning because this organization, this coaching staff, this team, we have a winning tradition that they set here. The foundation is set. It's good that we're back on track and back on a winning streak."
Will the o-line have a watching party for the 49ers game tonight?
"I know I'll be watching. I think these couple days off is where you kind of unwind and get your body back right. We'll probably just take it easy tonight but I'm sure all of us will be watching very closely and then throughout the week we will get plenty of film watch and see what they're doing."
So you're going to watch individually or as a group?
"No, we won't get together tonight. We kind of just do our thing on these days off."
Going in to a game like this against a very tough defense, does it help you psychologically that you've had recent success in the run game?
"Yeah, I think we are at a point right now where we're very confident in our run game. I think that as we move forward, we're going to continue to trust it. I don't think this week will be any different. It makes everything easier when we establish a run game so I'm sure we'll get back at it. This defense is very stout so we have our work cut out for us."
Can you tell a difference from the defensive fronts in the past three games? I think there have been nine more passes than runs, just incredible balance.
"I think we've stayed ahead of the chains which really effected how plays could be called. So, minimizing mistakes and staying ahead of the chains really gives us an opportunity to maintain that balance whereas if you get behind the chains you find yourself in first or second and long, third and long, and that really limits the play calling."
Can you see the defense hesitating at all? Are they waiting to see what's going on?
"I think with this offense, so many different personnel groups, it keeps the defense on edge regardless of what the situation is. I don't think that they've been any less prepared or ready. I think that we've just trusted in the scheme and really kept our head down, grinding, and have been having success at it."
Have you noticed if the running backs are running with more intensity?
"Personally, I think they run with that intensity all the time. I know that they want the ball. They are guys that want the ball and think the ball should be in their hands. We have given it to them they have all been very productive. To think that they are running any differently than they have, I don't think that's the case. I think that maybe it's been a little more in the spotlight now that we're having success with it. Like I said earlier in the week, we've been close. One block here and one block there. To have it all coming together right now at the right time is a good thing."
Maybe people are talking about them running over or around defenders in the open field, but you're saying they have to get through the initial line first…
"When you get out in space with any of our backs, they're going to make you miss or they're going to run over you. Just the last couple of games there has been a little bit more of them getting through the first level, getting up on safeties and corners so it has maybe been a little more in the spotlight. It's a special backfield that we have here. It's a lot of fun to block for them because they are a special group of guys."
Can you envision the collisions between them and the San Francisco linebackers?
"Their defense flies around. Our offense is going to come right at it so I anticipate a very physical game. We're up for the challenge."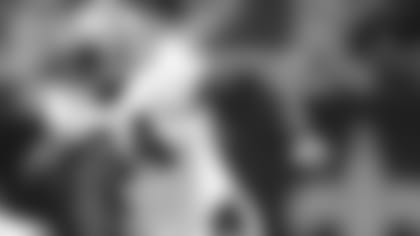 New Orleans Saints DE Cameron JordanMedia AvailabilityMonday, November 19, 2012
---
What are your thoughts on the way this defense has played inside the five-yard line this season?
"I think the defense has played really, really well. Probably the most important turnaround would be the Tampa Bay stop. Just going forward from there, it seems like the defense has gotten a lot closer. The defense is rallying to the ball a little bit better. Like I said, it's all about progressing through each week, just getting better at the little things."
Is there something different that happens when the defense has their backs against the wall inside the five-yard line as opposed to out by the 40 or 50?
"I guess it's a little bit of that bend but don't break mentality. When there's a lot less yardage, there's a lot less possibilities (of) where they can go and what they can do."
If someone would have told you they would be astounded if you were 5-5 after the 0-4 start, what would you say?
"Why are you astounded? We have the quarterback that we have. We have a lot of the key defensive players that we have. We were disappointed starting the way that we did. Of course, everybody expected a lot better of us and we expect a lot better of ourselves. Now we're back to .500 and trying to get this thing back on the right track and keep it rolling."
Those first four games were pretty close, right?
"Pretty close, everything could've gone either way. I think everything was within a touchdown or so. Luckily those games are behind us and now we're doing a lot better than that."
What are your plans for watching the game tonight? Does the defensive line get together to have a watching party or will you guys go your separate ways?
"Most likely we'll go our separate ways, especially this close to Turkey Day. A lot of guys are starting to prep for families coming in over the next two days or so while we have our off day. I just pretty much finished up my off day. I'm now going over to Sam's Club to get ready for my mother to come. This will be the second or third time she's actually made the trip to New Orleans, so I have to make sure my room's clean."
Do you have a grocery shopping list you have to get for her to cook?
"Without a doubt, so much of it is her cooking but I'll be in there too. My mom has taken has taken a relaxed role with the cooking since we turned probably 13 or 14. She'll definitely throw it down for Thanksgiving. I'm looking forward to this one. Pops will probably fry a turkey. Fried turkeys are amazing. A fried turkey beats a baked turkey any day."
With the 49ers playing tonight and you guys coming off a big win on Sunday, how much of that intensifies your interest in this upcoming game on Sunday?
"Of course, I'm going to start my study of them one day earlier. This is the most recent game that they have and this is what I'm looking forward to watch. We'll watch the game tonight and of course I'll watch the game tomorrow when I get back to the facility somewhere around ten o'clock and put it back into the routine. We're 11 weeks in or 12 weeks in. This is week 12 and I've got a nice little routine that I've been doing that I think has been working out for me and that's what I'll keep doing. That's what the defense will keep doing."
Is there anything to the revenge factor from the playoff loss last season?
"Of course there is definitely some get-back at them feeling to it. For the most part, it's just focus on this next game. They're up next and that's who we have to go up against. We're really not going to try to make too much out of it until maybe the night before, get the emotions high and get them running and get everything back to the right way."
Can you talk about what you've seen in Akiem Hicks and his progress this season, and also about the challenge of him not playing at a big college and coming into the NFL?
"As you SEC folks know, he was originally an LSU guy. Then he went to play 14-man or 12-man football over in Canada, whatever the number is over there. But he came back here and he's doing a great job. He just turned 23 this past week and I think he's doing a phenomenal job. Playing against him, it's great to see his progression from the first two games or even the preseason when he was maybe a little slower off the ball to now he's handling double teams with ease. He's 6-5, 330 or 340- pounds. I'll say 340 and he'll undermine me and say 320 like he's a skinny guy. In his mind, he moves fast."
Coach Spagnuolo said Akiem Hicks gets to make his presence felt a couple times a game.
"Without a doubt, and as you guys saw last game I'm pretty sure he was there on one of the goal line stands. The big guy makes his presence felt. That's what he's there to do."
What is going on with the mindset of the team after these last six games going into an important stretch of the season?
"The same thing it's been since game one. This is our season, this is our team, and we have to fight for every game and point, and nothing's going to be given to us. We definitely learned that the first four games, and then we started to turn that around and I think we're on the right track. Like I said, there's no, 'We've made it.' (feeling). There's no feeling of, 'Hey, we're here. This is what we're used to doing.' This is not last season, so why rely on last season. This is us. This is new personnel in some positions. I think the team has a good head on them."