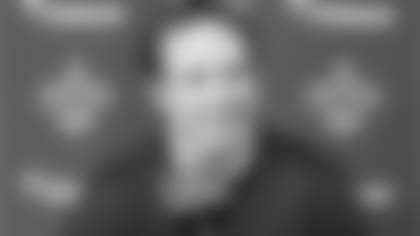 New Orleans Saints QB Drew Brees
Wednesday, August 08, 2012
"He was fine. In typical Jimmy Graham fashion, he was completely selling out for a ball in a play over his head. He ended up catching it for a huge play during practice. We're wearing shells, but he's going a thousand miles an hour. I think he just came down a little funny and had to shake it off, but he's fine."
What kind of respect do you have for Tom Brady and what did you get out of these practices the last two days?
"I've got a great relationship with Tom. We're similar in our careers and our age. He's a year older than me. He's going on his 13th year, my 12th year. A lot of it's just me watching from afar. Of course there are times in the offseason where we will text message or talk here and there. It's just admiring from afar. For me, during the offseason, I know when there are things I'm trying to get better at or maybe introduce new concepts into our offense or just thinking about the next season, I very often turn on tapes of other quarterbacks and see how they're doing it. Tom has always been one of the guys that I watch.'
Did you guys get what you wanted to out of the two days?
"I do. This worked out very well going from the Hall of Fame Game to here in the north, northeast. Obviously it's before the first preseason game, but we've been going at it for two weeks now. It breaks up that monotony of camp. We like getting out of that humidity in New Orleans. If you've ever been down here this time of the year, it's not too pleasant during camp. You come up here to get a fresh outlook. You go against a different scheme, different set of personnel. It's almost like a scrimmage type atmosphere today, even though with the shells on, there is no contact. You are still getting different looks that you otherwise wouldn't get. We get to play them tomorrow and we go up against the defending AFC Champions and a team that's arguably one of the best teams in the AFC year in and year out. The type of competition we're getting here is great for our team. I think it makes us all better."
What kind of challenges do the defense present tonight?
"It's different in scheme, from what our defense does and what we've been going up against for the last two weeks, but as you look at it from personnel matchups and how you scheme them, there's just a different thought that goes into it."
Everybody on the outside seems to expect that with Sean Payton out, you will just replace him as the head coach. How challenging is that assumption?
"First of all, nobody can replace Sean Payton. We do our best. I feel like we built a solid foundation here with Sean with the assistant coaches we have, the type of players we have, the type of leadership we have. You do the best you can. I still don't have the answers, none us do as to how all of this is going to work in terms of who will replace coach Vitt, who has been our interim head coach in that sense, when he serves his suspension, who is in essence going to be our head coach. All of those are still things to be determined. As you go through camp, that's the time to establish our identity, see who steps up, see how it's all going to fit, everyone finds their role and then you go out within the role and do your job as Sean Payton would say and I think the rest takes care of itself."
How anxious are you for preseason games to begin?
"I'm real anxious just since we are in training camp to get on the field and play football again. That's what we're paid to do. That's what we love to do. And it also just eliminates so many of the distractions that we have had to deal with this offseason."
Do you have any preference in who fills in for Joe Vitt?
"No, at this point, I feel like we've got a lot of guys that have the ability to do that and who would do a great job. How it's going to be determined, I'm not exactly sure yet, I think we're getting through camp, taking it one step at a time and we're seeing how it all shakes out."
Only one guy starts the second half of the Super Bowl with an onside kick though?
"That's right. Sean was known for those courageous…I want to use another word but I won't…type things, where you kind of expect the unexpected. That's what you talk about too, whether it's what the defense will try to do to you or what you will try to do to them. Sean has a knack for just being able to pick the right thing at the right time. That's something we're certainly going to miss, but I'm also confident in Pete Carmichael's ability to do what he needs to do, to put us in the best situations with the best chance to win, as with Steve Spagnuolo and all the other coaches."
With the scrimmage atmosphere and all the replacement referees, is there ever a concern with all the referees?
"No, I know just from what I've heard that these refs have had to be brought up to speed by the NFL, our rules, the speed of the game, it's all of those things. It sounds like a lot of them have been brought from college or high school and they're being brought up to speed. It is what it is. I understand that those negotiations are ongoing with the officials. Our job is to go out and play football. We don't control what goes on with those officials and those negotiations. Whoever's out there officiating is officiating and we'll just focus on doing our job."