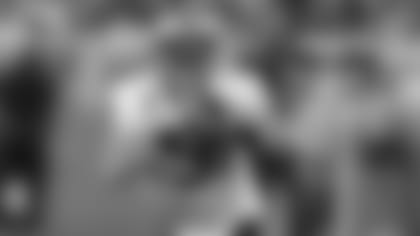 New Orleans Saints QB Drew Brees
Media Availability
Friday, September 9, 2011
It seems like anytime a receiver goes down, someone steps up. Can you talk about Devery Henderson's performance?
"Devery played great. Devery played awesome. Because we are one short with Lance (Moore) being out, they all had to pick up the slack anyway and I thought all of them had some pretty gutsy performances and played a lot of snaps because we were in a lot of nickel, three wideout formations. They received a lot of snaps and thought as a whole, they played well."
On the untimed down on fourth and one at the end of the game, did it appear that the Packers knew what was coming?
"They guessed right on the fourth and six inches we had in the fourth quarter and obviously we tried to fool them with play action passes. We had it covered on fourth down at the end of the game with a chance to tie it. They got a very good push. Clay Matthews, one of their best players on defense, did a great job of kind of splitting his gap and holding up (Mark) Ingram, while the other linebackers were able to jump over the top. There were a couple of things there where if you had better execution you would have put it in the end zone. We scored on that play many times. What's to think you're not going to do it then?"
How did Zach Strief handle his challenge?
"I thought he did great facing one of the best pass rushers in the league on that side in Clay Matthews. Strief's one of those guys where it might have been his first game as a full-time starter now, but he's a guy who the last five years has stepped in whenever, wherever and has really done a great job and has been just kind of been biding time waiting for his opportunity. He's definitely making the most of it. I have total trust and confidence in him, not even a thought in my mind as to who that pass rusher is over there."
Can you talk about the one minute offense you ran with no timeouts?
"Obviously, 1:08, no timeouts, you need to move the ball 80 yards to score a touchdown, you really don't want to be in bounds unless it's a big chunk. So we're trying to get out of bounds. We get out of bounds on ten yard plays on the first two plays. (Robert) Meachem gets a 20-yard gain and Marques (Colston) gets a 25-30-yard gain and then (Darren) Sproles gets another ten-yard gain. We're sitting there with a chance to tie the game and get in the end zone. Obviously we get the P.I. (pass interference) penalty and we get the untimed play at the one. One down, this is it, last play of the game, as far as it is, no time left. You couldn't ask for any more than that with a chance to send the game into overtime."
What did you think of Jimmy Graham's championship pose?
"I saw it watching film today."
Did you have a talk with him about it?
"No, this is a game with emotion and that stuff happens all the time. Teams come in and try to do that stuff to us. Occasionally that stuff comes out when guys are in the heat of the moment. I don't think he meant any disrespect by it, but what I think he was saying is we're champions too and we're going to find a way to come back and win this game and come really close."
Did you see the shot from Charles Woodson on David Thomas?
"I was right there. It was an obvious punch. I'm surprised he didn't get kicked out of the game, because the referee saw it and threw the flag. A lot of people saw it. He thought he was being sneaky with it. Dave's one of those guys who's to the whistle. He blocks a lot of guys, blocks them well. Guys get frustrated sometime and want to take it out on him. We'll take 15 yards every time."
Despite some short yardage issue, does going blow to blow with the defending champs show that this is two heavyweights fighting it out?
"The tough part is no matter who you play, you look at the won-loss record and we're 0-1 right now. That leaves a bad taste in your mouth. Yes, they're a great football team, probably one of the best, obviously not only what they did last year, but coming into this year I think. They're one of those teams everybody's predicting to make a serious run at it in the NFC, but we feel we're that team as well. Going on the road, first game of the season where both sides have been saving it up for each other you know it was going to be a crazy game. It very well could have been a 17-14 defensive matchup, because there are two great defenses in this game. Instead it ended up being a shootout. I hope we get another opportunity down the road this year to play these guys. Obviously there are a lot of games left. They have a lot of work to do. We have a lot of work to do, but it hurts that we lost, but you see a lot of good things on that tape. You also see a lot of things that we have to correct in order to accomplish what we want to accomplish later on. I think all in all you come away saying you can build on that."
What do you take from this game and bring to Chicago?
"I thought we ran the ball pretty well. They were having trouble getting lined up a little bit and I thought our guys did a great job of figuring who to block. The running backs all played very well when given their opportunities. That was really encouraging. In the passing game, I felt like we got a lot of big plays. We picked up a lot of the pressure. We were able to push the ball down the field and really got everybody involved. As I looked to us offensively, we played a really solid game with the exception of the one turnover that gave them seven points in the first quarter and the red zone efficiency. But other than that, when you walk away from a game with 500 yards total offense from one of the best teams in the league on the road, you have to feel pretty good about the direction we're headed."
Did Darren Sproles give opponents a lot of smile about?
"I'm smiling because I know Sprolesie. I was in San Diego when we drafted him, I watched his career, so I know what this guy can do. I was one of his biggest proponents to come here and be a part of this, because I think he fits in great with this offense. I see his role continuing to flourish in this offense. Is he going to return a punt for a touchdown every week? Maybe not, but gosh you feel like if you can get that guy in the open field, he makes it exciting. He gives defenses something to worry about."
What did you think of his yards per touch?
"He had over 250 yards including return yardage, but offensively he ran the ball well. He was our leading receiver with seven catches."