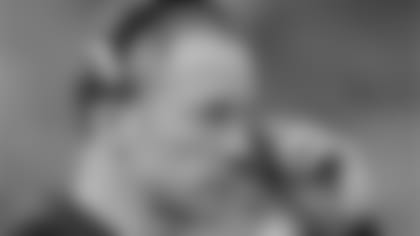 New Orleans Saints Offensive Line/Running Game Coach Aaron Kromer
Monday, September 17, 2012
Opening statement:"Obviously (The Panthers game) was not the outcome we were looking for. It was another eight-point loss. I thought there were a lot of things that we improved on this week from last week. Offensively, you would say to yourself that we did a better job of running the football with 163 yards rushing. Pierre Thomas had a very good day. That probably got lost in the fact that we didn't win the game. He had a very productive day in the passing game and especially the running game. To be quite honest, we played faster as a team. We were more physical than we were the week before. There are some bright spots. The guys are down but they are not out. They have a feeling of they are going to stay tight and stay together. They are going to rebound in this situation. We are going to stay focused on one week. We are not thinking about playoffs. We are not thinking about other things. We are thinking about winning this week. Total focus is on the job at hand this week. What do we need to do at practice, what do we need in meetings and what do we need to beat the Kansas City Chiefs this weekend? That's where their total focus is going. If they let it go to anything outside of that it would be wrong and I know they won't. We have a very good locker room that's willing to watch and learn from the tape and move on to the next week."
Is the job of interim coach tougher than you thought it would be?
"Well, I would have never expected to be 0-2. Obviously, it is a challenge that I am up for and I know the staff and the team are up for."
Did Carolina target Corey White yesterday?
"Anytime you have a rookie in the game they are going to try and target him until he stops it. There are some things he did well and some things he did not so well. He will continue to get better. He has the ability to do it. You just have to master the experience of it. When you are playing against someone as good as we see week in and week out you have to master the experience part of it as you get going."
Would you call that 'on the job training'?
What would you pinpoint to why the defense has struggled in the first two games?
"We played faster than we did last week. Was it fast enough? Obviously not. Did they make some big plays? They made more big plays than we did. We didn't make enough. They made more than we did and that is the thing we have to stop."
"We have played two unorthodox offenses as I said last night. That's no excuse but it is something different. Obviously, they don't see Drew Brees running the read option during training camp and practice it all training camp. They practice against a traditional NFL offense throughout the preseason and during the preseason games. Did that have an effect on it? Probably. When you are putting in a new defense and learning new things I am sure that had some effect on it. I think these guys are putting their priorities in line and they are doing the right things. We just need to continue to progress. We are going to keep getting better and better and better. We need to focus on this week and what we need to do to win."
What is preventing you guys from getting the big play down the field in the passing game?
"It's a combination of a lot of things. We are still calling those shots. They are staying deeper obviously when we check the ball down. Teams don't want to have those plays against them. Maybe that allowed us to run the ball for 163 yards against them because they are backing their safeties up deep enough not to allow us to get the ball over their heads. That's what defenses do. We just have to continue to keep coming up with things to get over their heads."
Do you look at or discuss the numbers of how many teams have made the playoffs after starting 0-2?
"Here are the numbers we are discussing – the three 0-2 teams that made the playoffs and the last 0-2 team that made the playoffs and won the Super Bowl was the New York Giants in 2007. Steve Spagnuolo was the defensive coordinator. He has information on how that happened that year. We all have our own ways to go about it. When we say we are really going to work on today and work on tomorrow and play the Kansas Chiefs this weekend – that's what we are going to do."
Have you had those conversations with your staff yet?
"Absolutely. We just got out of a team meeting and we talked about how today's focus has nothing to do with two weeks from now. It has to do with this week and this week only."
And you shared the examples of the previous 0-2 teams to make the playoffs?
Drew Brees took a couple hard hits yesterday, how is he feeling?
Will you talk about what Pierre Thomas was able to do with his limited carries?
"Pierre Thomas was very productive in the running game and he had one of his longest runs of his career. He has always been a special screen route runner, catching the ball, setting up blocks and making plays and he did that again. In the running game, he did a very nice job of finding the correct hole and making plays."
Do you believe that anyone was trying to do their job and then some yesterday?
"No, I don't believe so. Nowhere near what had happened before in the first game. I do think this; this team needs to be compared to itself. Everybody has to do their job just a little bit better and that's going to take us over the edge. We can't think of the past. It's not the past team, it's not last year's team, it's not two years ago team, this is this team. We need to find what our attributes and our negatives are and solve those and use our attributes to our fullest potential so we have a chance to get this win this weekend."
Has it made it harder this year losing players in free agency and not having a first or second round draft pick?
"Anytime you lose a first and second round pick it is a factor. We did have that first round pick with Mark Ingram, who is on our team, and that is our first round pick from the year before. We traded for it. Really, we lost a second round pick. Is that a factor? Yes. You wouldn't have a draft if it wasn't a factor. I do think this; I think we have the guys and the talent on this team as they come together that we can win this week."
Do you see the receivers making the same strides they did a year ago?
"I think they will continue to improve and get open quicker. When you talk about drops, you are looking at a guy who caught the same exact pass in the Super Bowl. He did it, he has done it in the past and he'll do it again. We are not worried about him or our starting receivers. We need to make sure the backups are pushing and making strides so we can put them in as well."
Talk about the evolution of offenses in the NFL. With the quarterback position changing so much, how hard is it just to stop people?
"Our defense is going to get good. They are going to continue to improve. They are going to continue to have more knowledge of what they are doing and play fast and faster and faster. We are in an upwards slope. There is going to be a good offense every week. Is it conventional that quarterbacks run in this league? No. Do quarterbacks usually last when they run in this league? No. People are too athletic and too physical when you hit these guys that it is hard for them to last when they try to run."
Are you considering enhancing Greg Camarillo's role or bringing Andy Tanner up from the practice squad?
"I don't think there is a need for that right now. My point was that those guys have to set themselves up for the situation when, like Joe Morgan got in yesterday when Devery Henderson didn't play and Joe Morgan had to step up and play in the nickel. That is the situation I am talking about. Those guys constantly have to feel that way, that they could be playing this weekend. Whether they had a rep last week or not, they need to feel like they're going to be playing."
Based on performance, is it fair to say that this team is not very good?
"Our team? No. When you are on the inside, you'll see that we are going to be a good team. Right now, are we a good team? No. We're not good enough yet. We've lost two games by eight points so we are that much not good enough. We need to find a way to have a nine-point difference in this game, in these last two games, and get a win. We're right there. We have the ball at the end of the game with a chance to win these games. You'd say in the first one, we shouldn't have (had an opportunity to win), and in this one, productionwise you would say that we should have had a chance there to win that one at the end. That's how far away we are. There is no way possible you could say we are not a good football team. Are we playing great right now? No, not good enough to win. We need to be nine points better than we are right now and that's not asking a lot."
Are you getting to spend enough time with the offensive line on gameday?
"Yes, I am spending enough time with the offensive line."
How would you feel they have done through two weeks?
"They've had their ups and downs like the rest of the team. When you are losing games by eight points, what happens is you have 10 out of 11 guys on offense doing the right thing on each play and sometimes that won't cost you. Other times, it does cost you. When we do have our failures, that has been what's happening. It hasn't been a collective four guys on the same play, it's one guy. Sometimes it hurts you and sometimes it hasn't. It just happened to be in a situation, this year, where it has hurt us more than other years."
Did they let you know about the replacement official situation yesterday?
"Yes, I did know about the replacement official."
Have you ever heard about anything like that?
"No, but I have never heard of replacement officials or interim-interim head coaches."
How did they let you know?
"We found out through media sources."
Are you following what is happening with Jonathan Vilma today in New York?
"We are going to have to be brought up to speed afterwards. We have way too much to do to spend time worrying what happens, we'll find out after the fact."