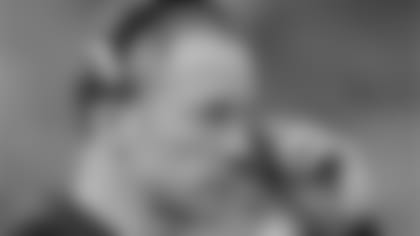 New Orleans Saints Offensive Line/Running Game Coach Aaron Kromer
Post-Practice Media Availability
Thursday, August 23, 2012
Opening Statement:"I would just like to start off by saying (that) it's an honor to me that Mr. (Tom) Benson and Mickey Loomis feel good about me filling in for Sean (Payton) and Joe (Vitt) at this time. (With) A six-game run here in the beginning, it is important to start fast. We will do the same things that Sean Payton has done over the years. We will follow the same program. The coaches on this staff, with Pete Carmichael, with (Steve) Spagnuolo, with Greg McMahon, those three guys know how to run a program themselves. For me, it's an opportunity but it is also a collaborative situation where we will all work together and solve this thing."
Did you volunteer? Did they come to you?
Is this something you wanted to do?
"Yes. I've had aspirations to be a head football coach in this league. Last year, I was set to interview with the St. Louis Rams. That didn't work out. Their coach (Jeff Fisher) took that job the day I was going to interview. I also flew up to the Indianapolis Colts and interviewed with them for the head coaching job. It has been on the radar. It didn't work out last year, but, I think, in the near future, hopefully I can do a good job with this."
Is this an audition to be a head coach?
"I don't see it as an audition. I see it as a holdover. I am going to hold this thing over until Joe Vitt gets back. I am going to hold the fort. I am going to follow the program that has been set. It is important that Drew Brees feels this is Sean Payton's program. This is the way we do things. This is the way we did it in 2009 to win the Super Bowl. This is the way we did it in 2011 to win 14 football games and we were short at the end. This is the formula that we have followed that we've had success with. That is my job, to make sure we are on pace with that."
How will your duties change as you start to work with Joe Vitt currently fulfilling Sean Payton's duties?
"What we are going to do in this game, like Joe said, is we are going to work together on the sideline and just work out the mechanics of being the offensive line coach and the acting head coach at the time. That is the whole function. How many red flags do we need? Do we need someone else to have a red flag other than myself to be able to throw it on the sideline if I am back talking to the offensive line or the offense. That is not unusual. I spent years with Jon Gruden, who coached the offense. He called the plays, he coached the offense, he put the plays in during the week. He did it the whole time. I have seen how this thing works and I think that it should be flawless."
When was the last time you were in a head coaching spot?
"I have never been in a head coaching spot."
Is that intriguing to you?
"Sure. A head coach has a process that he should go through, I believe. A line coach has a process that he should go through. When you wake up in the morning, you decide what that process is, you follow it, and at the end of the day you evaluate whether it was a good process or not. Luckily enough, I have been through and been around a lot of good head coaches. It is easier to see how this thing is supposed to run."
What are the advantages and disadvantages of being a head coach with deep roots in the offensive line?
"I really believe that it's the person and it's not about what position he coaches. There has never been a special teams coordinator (in a long time) be a head coach before John Harbaugh at the Baltimore Ravens. It was always a fact that he went and coached defensive backs for one year and then became a head coach. He is a special teams coach. It makes no difference, I believe, what position you have coached. If you are a leader and you can run your position and your squad, I think you are capable of being a head football coach."
Was it made clear to you that even if you go 6-0, Joe will return as acting head coach?
"Yes, the plan is that I'll work these six games, and then Joe Vitt will come back and finish out the year. I'm a fill-in for the fill-in, and I'm going to do the best job I can do. You've got to understand this, though. You were at our practices. You guys have seen it. Tell me the difference. Tell me the difference between last year's training camp and this year's training camp. Tell me the difference that you see in the way we run things, the way Drew Brees drops back to pass, the plays that we run, the hustle, the tempo on the field. There isn't a difference because we're following what Sean Payton has taught us. We're keeping pace with the way that Sean would do it. What would we do today last year? We did the same thing this year. We are always in constant improvement. At the same time, it is his program. It is the way he has done it. We've had a lot of success doing it his way. We think it is important that we continue to do that. We have great coaches. Like Joe Vitt said, it could have been Pete Carmichael sitting here right now. It could have (been Steve) Spagnuolo sitting here. It could have been a lot of guys, Greg McMahon. It happened that he (Mickey Loomis) felt like this is the best situation for the team right now for these six weeks that I would do it and we're moving on. We are all going to work together. What other program do you know that you have seen, or in your business, where they took the CEO away and said 'you can't come to work.' They took your boss away and he can't come to work. Now, you move up and change. I bet you we would see a difference. I'll tell you today that you don't see a difference in the New Orleans Saints. You don't. It is the same as it has been."
Is there a difference between the system in place and the system you would have in place in a different situation?
"Everybody has their own personality so, obviously, it will be a little bit different. The schedules, the times, the way we approach a game and the approach in the game will be the same. We are going to work together. There will be no differences."
Did you figure they would come to you and let the coordinators focus on their respective sides of the ball?
"You know what I appreciate is that, and this is a joke, I am setting you up here, I am the offensive line coach so I don't do anything so it is free for me to be able to sit up here and be the head coach (laughter). The point is, someone has to fill in for Joe Vitt who is filling-in for Sean Payton and I happen to be that person. Drew (Brees) and the leaders on defense with Malcolm Jenkins and (Roman) Harper and Will Smith and all of the guys are going to stay together and it is going to be a collaborative effort. It is what it is going to be. I will do some checks-and-balances and try to keep the rudder of the ship straight and everybody will handle their department."
When you are working with the offensive linemen on the bench, will you tell Steve Spagnuolo that he is in charge since he has head coaching experience and is watching the defense?
"What he will do, like we talked about earlier, is he will have the red flag. If he needs to challenge a play, 'Krome, look up, let's throw it,' and let him handle that. During a game, after a drive, in the pass, as a line coach I look at the pictures, I already know what happened, I go back and tell them this, this and this and then you leave them alone. You can't talk to them the whole game and fill their head with too much. You have prepared all week for it. At that time, it is time for them to play."
Considering you were up for a couple of head coaching jobs, do you feel like that is one of the reasons they see you being in that role some time?
"You would have to ask Mickey."
Have you spent any time getting to know the defense now that you will have dual responsibilities to some extent?
"I have been here long enough to know the defense. Are you talking personnel or are you talking scheme?"
"I have been here long enough to know the defense. We have played against Spags' scheme so we do know that as well. I am very familiar with both."
Who is the new guy doing nothing? Who fills in for you?
"Actually, I am going to coach the offensive line. I am going to be in the meetings every day. I am going to put the run game in every morning like I have for the entire time I have been here. Every morning we go into the meetings, here is the running plan for this game, for this day, for this situation. I'll continue to do that. Then, I will leave that and I will go into the offensive line room and I will spend the next hour and a half getting them ready. Frank Smith will help me with that. Then we will go out on the field. That part is not going to change."
Will you be an emotional coach on the sideline?
"I think it important that I am me. Whatever you have seen at this point, that is what I'll be. I can't be Sean. I can't be Joe Vitt. I am going to be me. Whatever that is in the time, we'll see."
On gameday, who will be more involved with the offensive line?
"Frank Smith is going to help me. Frank Smith is my partner in crime with the offensive line. He will help me. (He is) very knowledgeable, very smart. (He) has been a college offensive coordinator at Butler and came here to help me."
How much will your absence affect the offensive line?
"There will be no absence."
You will be taken away at least a little bit. Do you think that because this is a set group, they will be able to handle this just fine?
"I will continue to handle all of the things I did before with the offensive line."
In you conversations with Mickey, are you the head coach? Will you be able to overrule people?
"It is going to be very important in this situation that it is a group effort, that Steve Spagnuolo, Pete Carmichael, and Greg McMahon feel like we come to every conclusion as a group. If it is a defensive decision, then Steve Spagnuolo is the expert in this building. If it is an offensive decision, then Pete Carmichael is the expert in this building and the same with special teams with Greg McMahon. I think it is important that we work together and come up with the best answer."
What will be the procedure with a personnel call?
"Personnel-wise, Ryan Pace will be heavily involved and, you will have to ask Mickey, but I believe that he will have the final say."
When you say that offensive decisions will go to Pete Carmichael, does that include in games? Examples are going for it on fourth-and-one or kicking a field goal…
"Those decisions, a lot of time, are made off of the flow of the game, the play that you have and the matchup that you feel that you have. Those decisions will be made with Pete and I."
Can you or have you called on any colleagues around the league to help you?
"There are plenty of guys I could call. Obviously, I can't call Sean Payton which would be the guy you would like to call. I have seen this thing work before with Jon Gruden. He is the closest to having coached a quarterback, called the offense, designed the plays, drew the cards for practice, made sure the scout team did everything right and was the head football coach. You would say that when you are in a position like this, that would probably be the closest model that you would follow just in the functions of how to do it. This is Sean Payton's team and it will be run like Sean Payton would."
Sean didn't do all of this collaborative work, he was more of a general. Right?
"In every good general, he gets good information."
Do you think that more is being made of this than there should be?
"Because, the same reason I said before, with this training camp, no one could notice a different vibe, the difference of our training camp this year from last year because we are so well engrained with this head coach's thought on how things should be done. We are just holding over and we are ready to have success. We have a lot of talent. We have a lot of good character in the locker room. We have it in our coaching staff. (We have) smart coaches, smart players, tough players. We are going to be able to win because of what we have been training to do and what we have learned to do from Sean Payton."
You felt prepared to be a head coach in the offseason, is there more or less pressure on you in this situation?
"First off, coaches and players live for pressure. That is what we love. We love the fact that people think you can't get something done and you get it done. That is what motivates a lot of people. I feel like that, as a group, we will be fine. I feel (that) we're good."
So you don't feel like you are the head coach out there on an island?