1.The offseason question was answered
Since the retirement of Drew Brees, the competition between Taysom Hill and Jameis Winston as his replacement has easily been the main topic of the offseason. In the run up to training camp the next question was who would take the first snaps with the first team offense. Well, that question fianlly was answered Thursday, July 29. Hill took the first-team reps, but both quarterbacks were very solid in their first practice of camp. Neither threw an interceptions during team drills, and neither threw an incompletion as well, pretty impressive for a first day. As a side, Jameis was the quarterback for the play of the day, a flat-footed deep left sideline out to a streaking Deonte Harty who caught it in stride behind the defense and scampered for a 60-yard touchdown.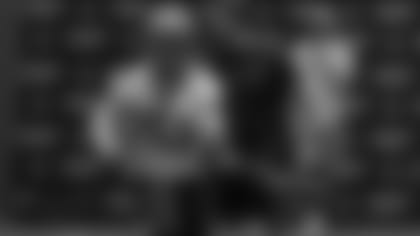 2. All in the family
Former Saints right tackle Zach Strief left the broadcast booth to return to the Saints organization as an assistant offensive line coach. Watching the linemen work in the end zone it was good to see Strief out there coaching them up, but I also saw another familiar face. Strief's former teammate - a teammate on the 2009 Super Bowl champs - Jermon Bushrod also was in the end zone in a coaching role. He is back with the organization as a coaching interrn. But Bushrod is not the only addition at that position. Former Saints defensive back Sterling Moore, who played in New Orleans in 2016-17, was also seen on the sideline with the defensive backs as a coaching intern. Good to see former Saints continuing their football careers teaching the positions they know so well to the present team.
3. Raise the roof
Brees wasn't the only longtime Saint to end his career in New Orleans after last season. All-everything punter Thomas Morstead also left after an illustrious career. New punter Blake Gillikin (in his second year, he was on injured reserve last season) evidently wanted to impress and show off his powerful right leg during the punt return portion of practice. Gillikin hit the steel beam rafters or the roof of the indoor facility at the Oschner Sports Performance Center TEN STRAIGHT TIMES during the drill. On the flip side, punt returners Harris, Easop Winston Jr., and Jalen McCleskey didn't get a whole lot of experience fielding punts under the lights during the drill.