Taysom Hill described his offseason as a whirlwind after practice Tuesday while talking to the media.
The quarterback/tight end suffered a season-ending Lisfranc injury in the New Orleans Saints' Week 18 game against the Falcons. While he was expected to return to practice earlier this offseason, Hill suffered a rib injury on July 29. However, Monday's practice saw the BYU product once again don his No. 7 jersey as he made his return to the field. On top of the recovery, Hill is also transitioning to more of a tight end role in the offense after starting nine games at quarterback over the past two seasons.
"I'm just starting to ramp up again and take it one day at a time," Hill said.
Hill wore a red non-contact jersey at practice Monday and Tuesday as he progresses in his rehab. While the foot is currently feeling good, the veteran said a Lisfranc injury is never really over.
"I feel like I can do everything I need to do right now," Hill said. "It's just being able to handle the volume that I'm going to be asked to do, so we're just trying to gauge what that is and what that looks like. Overall, I'm very happy with where my foot is."
While dealing with foot surgery and the subsequent recovery is difficult enough, Hill has also been learning a new, yet familiar position. He has played all over the formation, both offense and special teams, over his career, but Hill's focus now shifts more toward truly learning the tight end spot. While he has played the position, Hill said he is still learning.
"I know some of the things they're going to ask me to do," Hill said. "I'm still very raw in a lot of this stuff, but it's nice to get some exposure."
The now tight end said he needed to work on basics of the position early on in camp, including a three-point stance.
"I've never done that before," Hill said. "Like I said, we started from ground zero, and we just started building from there."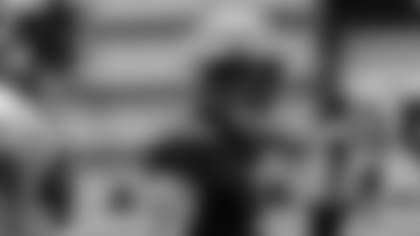 Essentially trying to learn the position from scratch, Hill said the rib injury was obviously bad timing.
"As we started camp, it was going to give me exposure to doing different things and seeing what I was comfortable with," Hill said.
While he's watched some of the tight ends around the league, Hill said he's really focused on the players the Saints have in house, including Adam Trautman, Nick Vannett and Juwan Johnson. He's in the tight end room for position meetings for the first time as well.
"The big thing is the mental part and the schematic part of the offense," Trautman said. "Especially from a blocking perspective, that's really where he (Hill) comes to me from… He's a terrific athlete, he'll pick it up fast."
Trautman also talked about Hill having that experience under center, saying he knows what a quarterback is looking for on a given play. Hill said his experience helps a lot with his transition in the pass game specifically.
"I kind of just do what I would want a tight end to do if I was playing quarterback for that rep," Hill said. "I've taken that mind-set into the tight end position."
While he said the run game ihas been the biggest learning curve, the 2017 undrafted free agent said the hardest part of the transition to tight end has been shifting his mind-set.
"I think the element of my game of playing quarterback, there was a physical element to that, but it's a completely different mindset playing tight end versus quarterback," Hill said. "There's certainly a mental element to (tight end), but a far more physical element to play in that position than the quarterback position."
Despite transitioning to tight end, Hill still expects to throw some passes this season.
"We've got a structure of what we've been doing in the past," Hill said. "I think we'll just continue to build on that.
"I don't think what I have been doing is going to change, it's just expanding that role… They're trying to give me the best opportunity to be successful."
Despite wanting to play quarterback, Hill said he is at peace with his role in the Saints offense entering the 2022 season.
"Things aren't up to me," Hill said. "I'm willing to do what I need to do to help us win football games… I love playing, and so it creates opportunities for me to add value and be on the field and compete… That's the nature of the NFL. This isn't necessarily what I want, it's what's best for the team and I'm good with that."