Mike Hoss figured there wouldn't be a second chance.
He'd wanted to be "The Voice of the New Orleans Saints" – i.e., the play-by-play announcer for Saints games on WWL (WWL-AM/FM), the team's flagship station – when longtime play-by-play legend Jim Henderson retired after the 2017 season, having logged 31 seasons.
But when Saints offensive tackle Zach Strief entered the mix for the job, after having retired in 2017 following an 11-year career with New Orleans, even Hoss knew the fit was a good one.
"When Zach threw his name into the ring, I told WWL radio, 'You know what I'd do? I'd hire Zach,' " Hoss said. "Just let us (other applicants) get out of this thing.
"He was the right guy for the job at the time. It was perfect. I'm just wholly supportive of the Zach hire. So I kind of felt like, you know what, that was my one shot at the apple. Because these jobs are like judges – they don't come up very often."
"I'm excited," McAllister said. "I'm excited about the opportunity, just to have someone as far as what Mike has done over his career. When you hear his voice, you know exactly who it is. So I think that's going to really resonate with the fans and connect with the fans.
"It's always a challenge to be able to paint the picture, so we have a lot of work to do even before gameday. But you're excited to be able to bring the game to the fans."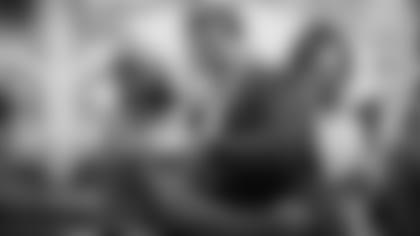 Hoss has been in New Orleans since 1989, when he joined WWL-TV. He spent 12 years in the sports department and in 2000, moved from sports to the news side at WWL-TV. In March 2017, he launched Hoss Communications and also was hired by the Saints to do sideline work for home games.
"When I first got into broadcasting, when you're in college and you're a sports anchor, (being a team's play-by-play announcer) is the dream job," Hoss said. "And so, you go around and around and you'd work and you'd do a lot of things, and you rarely get a shot at the apple. But I did in 2018 when Jim retired. So, I went through the process then.
"And so when Zach went back to the Saints, I was first stunned like everybody else. But since I had just been through the process, we were able to reconnect and get a second chance. But it's been something that's been in my head since I got into broadcasting. It's what you kind of initially aspire to. The fact that I'm to do it so many years after graduation and getting into broadcasting, that's the remarkable part. It doesn't usually happen that way."
Now that it has, Hoss is ready to dive in. He understands the preparation process, having been a part of it during his time at WWL-TV. And he understands that he'll have to develop chemistry with McAllister, who will be working with his third play-by-play man in five years.
"The next two months will be me doing games in my closet," Hoss said. "You've just got to do it, do it, do it, do it, do it, do it. I've listened to a lot of the Zach and Deuce games on the radio from last year and years past. You get a feel of it.
"The play-by-play guy, there's a finite amount of time that you speak. You kind of lay out the play and paint the picture, and then it's Deuce, and then it's back to you. It's a dance. I can never be Jim Henderson. I can never be – I don't know the game like Zach knows it, he's forgotten more than I'll ever know.
"So I'm going to be me, and paint the picture and rely on Deuce. I think a lot of it on my end, because I watched Jim Henderson do it for so many years in the office and we used to do the games, (WWL-TV) would do the preseason games – I was on the sideline, Archie (Manning) and Jim did the booth – I was part of it. I know the hard work that goes into it Monday through Sunday. So that's the part where I've got to be prepared, ready, to do my part.
"And then Deuce and I, it has to evolve organically, which I think it will. Deuce is Deuce, and he's the best. I will rely on him and do my job, and it'll just happen. I don't have any questions about Deuce and I. He's such a class person, so I just think it's about doing it, starting the dance and getting a feel for the rhythm of each other.
"That ain't gonna happen (for the preseason opener) in Baltimore," he said, laughing. "I hope everybody understands, that ain't gonna happen in Baltimore with 90 people on each roster. But we have time this summer to do some stuff. It just evolves. That first game, it's not going to be perfect but I'm not worried. The first regular season game, we'll be fine."
It will be a new role for Hoss, who, for the last few seasons, has been an avid Saints supporter as a fan. His figures that his style will be reflective of that, to a degree.
"I think it will, unfortunately, be off the cuff," he said. "I don't have a great filter. When I was in the sports press box, I was not a fan. But when I left and went to news in 2006, I became a season ticket holder. I was a fan. In fact, I was a fanatic. The people in my section would say, 'Sit the hell down. Shut up.' My wife would say, 'You are embarrassing me.' I don't know what happened to me.
"Somewhere in there, there's a balance of fan, objectivity, paint the picture. But I don't have a great filter, and so I say things and go, 'I probably shouldn't have said that.' But it is what it is. I see what I see and I feel what I feel. I'm not going to do anything that would disrespect the game, the city, the team, Deuce. It's not that. My style is going to be what I see, and how I feel about it, and probably say it."