SAINTS VS. RAIDERS GAME PREVIEW
The New Orleans Saints (2-5) will host the Las Vegas Raiders (2-4) for the first time since the 2016 season on Sunday, October 30 at the Caesars Superdome with a 12:00 p.m. CT kickoff. The Raiders matchup is the only AFC West team New Orleans will play in 2022, the product of the 17-game schedule instituted in 2021. 
The Saints, who dropped a 42-34 contest to the Arizona Cardinals at State Farm Stadium on Thursday night, will look to get back on the winning track in the friendly confines of the Caesars Superdome. New Orleans will look to even up their record to 2-2 in their home stadium. The Raiders will be looking to continue their momentum of winning two of their last three games after an 0-3 start, having defeated the Houston Texans, 38-20 on Sunday. 
The Raiders lead the series 7-6-1. Las Vegas has captured the last two contests with New Orleans winning the prior three from 2004-12. The Black and Gold have a 3-3-1 record against the Silver and Black at home. 
WATCH SAINTS VS. RAIDERS ON TV
Fans can catch the action on the following television stations:
Announcers: Kevin Harlan (play-by-play), Trent Green (color analyst) and Melanie Collins (sideline)
LISTEN TO SAINTS VS. RAIDERS LIVE
Fans can catch the action on the following radio stations:
Local radio: WWL-870 AM and 105.3 FM
Announcers: Mike Hoss (play-by-play), Deuce McAllister (color analyst), and Steve Geller (sideline)
Spanish language radio: KGLA 830 AM and 105.7 FM
Announcers: Mario Jerez (play-by-play), Juan Carlos Ramos (color analyst), and Victor Quinonez (sideline)
STREAM SAINTS VS. RAIDERS ONLINE WITH NFL+
With NFL+, Saints fans can take their game on the go. NFL+ offers fans in the New Orleans market access to every Saints Sunday afternoon game live on phones and tablets. Additionally, fans can also watch every prime-time regular season and postseason game on mobile devices, including the three Saints appearances during prime time this season.
Additional benefits to NFL+ users include live out-of-market preseason games across all devices (excluding Saints preseason games shown in the New Orleans market), live local and national audio for every NFL game, NFL Network shows on-demand, NFL Films archives and more.
NFL+ is available in the NFL App across all app stores for $4.99/month or $39.99/year. Fans can upgrade to NFL+ Premium for $9.99/month or $79.99/year, which offers all of the features of NFL+ as well as full and condensed game replays and the All-22 Coaches Film. (With the launch of NFL+, NFL Game Pass will no longer be offered in the United States.)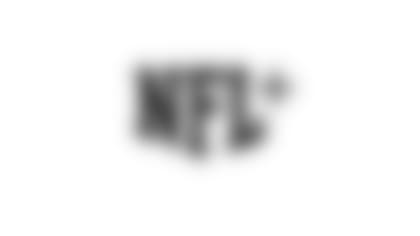 NFL+
Watch live out-of-market Preseason games, live local & primetime Regular Season and Postseason games on your phone or tablet, game replays, and more.
ADDITIONAL GAME COVERAGE
SAINTS GAMEDAY LIVE PRESENTED BY SANDERSON FARMS
Catch a gameday preview with John DeShazier and Erin Summers one hour prior to kickoff between the Saints and Raiders for 2022 NFL Week 8. Fans can stream and watch LIVE on NewOrleansSaints.com, the Saints mobile app, Twitter, Facebook, and YouTube.
SAINTS POSTGAME SHOW PRESENTED BY VERIZON:
Fans can watch player postgame reactions following the Saints' 2022 Week 8 game against the Las Vegas Raiders on the Saints Postgame Show presented by Verizon. Fans can stream and watch LIVE on NewOrleansSaints.com, the Saints mobile app, Twitter, Facebook, and YouTube.
SOCIAL MEDIA ACCOUNTS
Follow your Saints on social media for live game day updates, videos and behind-the-scenes photos: