One look at Tommy Stevens – all 6 feet 5, 236 pounds of him – suggests he might not fit the typical mold of a quarterback.
One example of a weightlifting session conducted by his father, Tom, during the COVID-19 pandemic pretty much confirms it.
"Trying to work out out of my garage, because the gyms are all closed," Tom Stevens said in May. "Out here lifting bricks and buckets of concrete and that kind of stuff. We're maintaining.
"We're all out here lifting in the garage. Gotta make do with what you've got. Sometimes it's concrete and chains, but it's something."
Tom Stevens coaches linebackers at Tommy's alma mater, Decatur Central High in Indianapolis. He never was able to get Tommy to take snaps for him at linebacker, but linebacker is one of the few positions Tommy, the New Orleans Saints' seventh-round draft pick in 2020 (No. 240 overall), hasn't played.
One of the reasons the Saints see a hint of quarterback Taysom Hill in Stevens is because – according to their respective timelines – Stevens was Taysom before Taysom became "Taysom."
In 23 games at Penn State, from 2016-18 (after a redshirt season), Tommy completed 24 of 41 passes for 304 yards and four touchdowns, ran for 506 yards and eight touchdowns and caught 14 passes for 62 yards.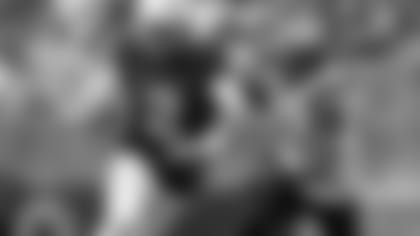 For the Saints, Hill's role as a quarterback/kick returner/kickoff coverer/punt rusher/tight end/receiver began in 2017. And possibly, his increased importance as a backup quarterback spurred New Orleans to make a move – the Saints gave up third- and sixth-round picks in 2021 so they could move back into the draft – to pick Stevens.
"You can go back to even as a youth player," Tom Stevens said. "Obviously, everybody plays two positions. But me and my two brothers, we coached Tommy all the way through high school, and we've kind of always reiterated to him that the more you can do, the quicker you can get on the field, at whatever level it is. You don't want to corn hole yourself into any one particular position to where that's all you can do to help the team out.
"So all the way back to little league, he's played safety, running back, quarterback, wide receiver, defensive end. I thought his position was going to be linebacker growing up. Shows you how much I know, right?
"I think a lot of times when kids make it to the NFL, I think a lot of skill players probably were always the best running back growing up as a youth player. And Tommy was kind of in that mold, too. And I just always told him, 'Man, you're gonna outgrow running back. You're going to be 6-4, 6-5. And there's not a whole lot of guys out there at running back at 6-4, 6-5.' That's kind of the angle I used to get him to play all the other positions.
"He really didn't embrace quarterback until eighth grade. We had to fight with him to get him to play quarterback, up until eighth grade when our high school offensive coordinator mentioned it to him. That kind of got the ball rolling."
Tommy rolled to a combined 3,417 passing yards and 29 touchdowns in his junior and senior seasons at Decatur Central, and ran for another 1,627 yards and 17 touchdowns during those years.
And his versatility was undeniable.
"If you watch his high school film, we knew what we had at a young age and we knew what we wanted to do offensively, and had done it before Tommy," said Justin Dixson, Tommy's head coach at Decatur Central. "But to get a guy with his type of size in high school made our offensive package even more dynamic. And he was our punter.
"And the thing I think is important to realize – and no disrespect to small-school football everywhere in the country, because there's some really good players that come out – but you're talking big-school, Indianapolis football. I know nationwide, it may not get the credit it deserves, but central Indiana football has got some dynamic high school football.
"For him to do what he did offensively, special teams and on defense at this level in this area really is incredible. Like everywhere, you've got to protect your quarterback and high school is no different. But he was really too good to not have on the field, so we kind of had a deal that when we got in the playoffs and made our playoff run, that any time an opposing offense would get to midfield or beyond, that we were going to put Tommy in at safety and roll the dice. That's how special he was to us."
That specialness only showed in flashes in college. Stevens never wrested away the starting quarterback position at Penn State.
"My first season there, he narrowly got beat out by Trace (McSorley)," said Joe Moorhead, who currently is offensive coordinator at Oregon, but was offensive coordinator/quarterbacks coach at Penn State in 2016-17. "Trace went on to have a great career at Penn State. Tommy took his role as a backup very seriously, knowing he was one play away, but also was keenly aware of his athletic ability and the other things that he's capable of doing outside of being a starting quarterback.
"I think it may have started in jest of him running down and covering kicks, but as we started talking about it as an offensive staff, we knew that there was a hybrid role that we could create for him where he lined up as the second quarterback, as a running back, as a tight end, as a wide receiver. And that thing really kind of took on a life of its own."
In Stevens' final year of college, he transferred to Mississippi State, where Moorhead was head coach in 2018-19. In a season with the Bulldogs that pretty much was injury-ravaged, Stevens passed for 1,155 yards and 11 touchdowns, with five interceptions, and ran for 381 yards and four scores.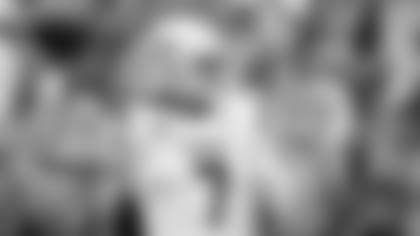 "I'd say it was frustrating for Tommy and I, just because we had a certain vision of what his last year of eligibility was going to look like," Moorhead said. "And he started off on fire for the first two-and-a-half, three games and then caught that injury against Southern Miss and really kind of battled to get back from an assortment of injuries throughout the season.
"But as that season began, he was playing as well as anybody in the country and then it's just tough to have an ankle, then have a shoulder, and have to fight those different things. And you understand the urgency of it being your last year. I think if he'd have stayed healthy the whole year, you'd have seen a really, really impressive season."
Still, Tom Stevens said, he was impressed with what he saw of his son off the field.
"A lot of things didn't work out like he envisioned (at Penn State)," Tom Stevens said. "But he handled it the right way, and in my opinion it shows a lot about his character and work ethic. A lot of things didn't go his way and he continued to battle through it. He didn't complain. He soldiered up and fought through it and I'm really proud of him.
"Especially with the injuries at Mississippi State. Seems like it was one thing after another – four separate things inside of nine months, I think it was. He showed me a lot of toughness and I'm really proud of the way he responded. He showed a lot of toughness. Kind of that linebacker mentality that I was hoping to instill in him."
Dixson said it was difficult to watch Tommy Stevens unable to display all his talents.
"He means so much to so many people in our district, just because he's a great kid and always has been," Dixson said. "First-class, a competitor and just somebody that you wanted to root for. So to be at home, and to see him have flashes of success and then have setbacks and adversity, was tough as his coach and somebody that loves him.
"But we talked pretty much every week through his college career, every other week, and I really tried to just give him an outlet outside of talking football all the time, just checking on him as a kid and a person and a student. I feel like with the coaches we had here and how he was brought up, and what he had in college – he was coached to overcome adversity, and that's what football is, and have the right mind-set.
"Frustrated? Yeah, anybody would be frustrated. But he's a competitor, he's going to look forward and try to make the best of it. I'm just proud of him and all that he had to go through to get where he is. It's definitely not the college route he wanted but I don't think he'd trade it. I think he met a lot of great people, had a lot of great coaches and connections and experiences."