Thank Fred McAfee, credit Mike Nabors, toss a bouquet to former teammates or even sing the praises of local media.
Because those are some of the people partly responsible for (blame assessed to?) the proliferation of Super Bowl-winning New Orleans Saints players who currently flood the airwaves during football season.
That team, in fact, appears to have an inordinate amount of alumni opining on the game they played.
Super Bowl XLIV winners who chose to transition to the media to varying degrees include: quarterback Drew Brees (NBC "Sunday Night Football: analyst); running back Reggie Bush (Fox Sports college football analyst); linebacker Jonathan Vilma (Fox NFL analyst); safety Roman Harper (SEC Network college football analyst); receiver Lance Moore (Saints analyst for WDSU-TV in New Orleans); linebacker Scott Shanle (Saints analyst for Yurview); offensive tackle Jon Stinchcomb (color analyst for Saints preseason football games); and cornerback Jabari Greer (college football analyst for SEC Network and NFL analyst for TSN in Canada).
"Bunch of gum-flappers," Stinchcomb joked.
But perhaps just as much, then and now, a bunch of guys who had opinions and weren't shy about sharing them.
They share a group text and information, whether it's who was right or wrong on a prediction, whose attire met the fashion standard and scouting reports on teams they might be discussing.
"Honestly, my first opinion is that team was very opinionated, had a lot of personality," Harper said. "More on defense than offense, but I think we're all kind of evenly spread out with guys in the media. But I would say that it was guys with a lot of personality on that team, and guys that had a lot of opinions, whether we agreed or not. Everybody had a great opinion, and I guess you kind of need that to be in the media."
"Very, very smart, articulate group that did an awesome thing on the field but off the field, we were a bunch of bright guys," Moore said. "And guys that knew and loved the game of football, and could talk the game. And a lot of us had personality, which obviously is great on camera. Definitely, probably one of the smartest groups that I've ever been around."
"The list of folks, they're all highly intelligent so it's not just the adage of a dumb jock," Stinchcomb added. "It's guys that, they're thinkers and process information. And I think the second piece of that is they're opinionated. You talk about a locker room where you've got the Vilmas and the Striefs, and Roman and Drew and there's a lot of guys who feel pretty confident in their thoughts.
"There were some spirited discussions at times in that locker room and I think part of it is, one, they have an opinion but, two, they can express it in a way that is compelling. It made for good banter in the locker room and it's funny how that's translated into a bunch of folks that found a way to get paid for other people to hear their opinion."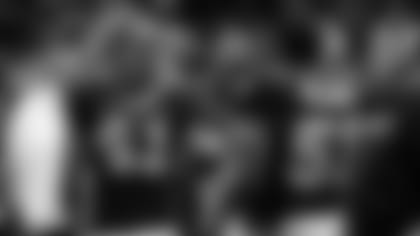 Each came to his second profession by a separate route. For Shanle, it was a nudge from someone in the media.
"I always enjoyed speaking to the media, win or lose," Shanle said. "I knew that was part of our job and never had an issue with that, but I think as a player, you always look at the media and they always say, you go to the dark side if you go to the media. Now you become one of 'them.' So I think a lot of players are hesitant when they're players, to think that they could end up being in the media.
"But it's been a lot of fun, it really has. Mike Nabors (host of the Saints postgame show on Yurview) worked at Cox Sports Television and approached me about being an analyst for the Saints, and it's been awesome to cover the team that I played for, a lot of coaches I played for. It's been a lot of fun to bring the analyst role to the media part of it."
Harper's nudge came from McAfee, a Saints player from 1991-93 and 2000-06, and currently the team's vice president of player development. A persistent nudge, to be more specific.
"The media was the enemy," Harper said. "That was what I was taught, that's what I truly believed, was that the media was the enemy. There's no way I wanted to go on that side of it. I will be honest, though – Fast Freddie, Fred McAfee, told me since like Year 2 or 3 in the NFL, he was like, 'Roman, you'd be great doing TV and all those other things. You've got the look, you've got the smile, you speak well – that's all up your alley.'
"Immediately, I was turned off. I was like, 'I would never do that.' That's not anything I wanted to do, it was not anything I ever thought about myself doing. He was like, 'You need to do the broadcast boot camp.' You need to try and do this, you need to try and do that.
"I told him no for like six or seven years, and then I ended up doing it. It's crazy, but he was the first guy that literally told me, right after I got to the Saints, that was one of the things I needed to try to get into."
Moore's push was an internal one. He was approachable, affable and entertaining as a player, and the transition was natural.
"I think it was something that I was kind of interested in while I was playing," he said. "I didn't really know what I wanted to do, whether it be TV or radio or some type of social media outlet. But I was pretty good with the media when I was playing, and people always said, 'You're pretty natural at this, you'd be good once you're done playing.'
"I feel like it was kind of a natural thing for me to stay involved in the game one way or another, and being in the media has been fun. It definitely intrigued me while I was still playing and then once I got out and I went to the broadcasting boot camp and the sports media boot camp that the NFL offered, I enjoyed it."
That part of it – staying involved in the game – is the common thread. The desire to stay connected is strong.
"I mean, I couldn't be in a better situation," Harper said. "I'm from the SEC, being from Alabama – it's part of SEC country, and so that's all I've ever known. And to actually get to cover the best conference in college football – where you've got the best players, the most competitive players, the best coaches, it's highly competitive, the fans are crazy – it keeps me around my own teams as well.
"It keeps me around Alabama, I get to cover LSU, I get to travel to Ole Miss, I get to see these other places that – in my college career, I only went there and played a game. I never actually got to visit and see these places. And since I've gotten to do that, it's been amazing getting to see these different campuses, the atmosphere, the fans, really just diving in."
"I think once you experience the game the way we did, and it was such a good experience for most of us, it's fun to stay connected," Stinchcomb said. "For me, I know that's a big piece. I love the game of football. So to be able to stay connected in some way, it's been a real pleasure and I'm sure I'm not alone for most of the guys that find themselves no longer able to play the game, but if you can at least talk about it, it feels like you're still a part of it."
Of the group, the consensus opinion was that Brees, the quarterback, was the teammate most likely to work in the media after retirement. Vilma, the quarterback of the defense, also was a natural.
"I mean, Zach had the face for radio," Harper joked.
But one who possibly could have made a career of it but chose not to: Linebacker Scott Fujita, current Head of School at All Saints' Day School in Carmel, Calif., who briefly worked for FS1 when it launched.
"I thought maybe Fujita would have made his way in front of a camera, just because he's another guy that's sharp, opinionated and doesn't mind expressing himself from time to time," Stinchcomb said. "But he's obviously answered a calling. He was one, I think, that got away."
The rest, possibly, will have to be pushed away.
"I love it," Shanle said. "It doesn't feel like work, and I think that's when you know you found something that you love. I've always been passionate about football. Eventually, you get old enough where you can't play football anymore, but to continue to cover the game, the team I love, the team that I had so much success with, I think it's been a blessing. I'll do it as long as they let me do it."