It's one thing to have an idea of the type of player you're looking for in a given NFL Draft.
It's entirely something else when you're so spot-on on your fit projections that you haul in a class that, in short order, becomes the most accomplished in franchise history.
Five years and one day ago at the NFL Draft held in Philadelphia, the New Orleans Saints used three days (April 27-29) to select seven players who greatly affected the trajectory of a franchise that was coming off its third consecutive 7-9 season, and who remain impactful NFL players for the Saints or other franchises.
In 2017, cornerback Marshon Lattimore (first round, No. 11 overall), offensive tackle Ryan Ramczyk (first round, No. 32), safety Marcus Williams (second round, No. 42), running back Alvin Kamara (third round, No. 67), linebacker Alex Anzalone (third round, No. 76), defensive end Trey Hendrickson (third round, No. 103) and defensive end Al-Quadin Muhammad (sixth round, No. 196) fit the physical prototypes, and showed the growth potential that was coveted by New Orleans under Jeff Ireland, the Saints' assistant general manager and college scouting director.
"That was one thing we were doing as we were building our roster: We wanted to make sure we were big, make sure we were prototype," said Ireland, who joined the Saints in 2015. "That was something that we were very keen on, we still are. It's something that we look at specifically when we're drafting. That's just kind of a core belief of ours.
"I think if you look across the history of the league, big guys last longer. They play more games, they're more durable. More than anything else, that probably has something to do with it. At the end of the season they're playing. Little guys play, too. They're quicker, sometimes they're faster. But we have some minimum standards that they have to fit before we would consider them for this football team."
The considerations five years ago led to a draft class that has earned more honors than any other collective class in franchise history.
Lattimore was the NFL Defensive Rookie of the year in '17 and is a four-time Pro Bowler with 13 interceptions and 74 pass breakups. Ramczyk is a three-time All-Pro at right tackle. Williams totaled a team-leading 15 interceptions and had 38 passes defensed in his first five seasons, and signed with Baltimore as an unrestricted free agent this offseason.
Kamara, the NFL Offensive Rookie of the Year in '17 who's a two-time All-Pro and five-time Pro Bowler, has scored 68 touchdowns and is five short of breaking the franchise record of 72, set by Marques Colston. Anzalone was a four-year starter for the Saints before joining Detroit in 2021.
Hendrickson battled injuries for parts of his first three seasons before breaking out with a team-leading 13.5 sacks in 2020, then joined Cincinnati as an unrestricted free agent in '21 and registered 14 sacks, fifth-most in the league, while helping lead the Bengals to the Super Bowl. He was a Pro Bowler last season. And Muhammad was signed by the Colts off New Orleans' practice squad in '18 and last year, in his first season as a full-time starter, totaled six sacks and 13 quarterback hits.
Ireland provided a thumbnail on each pick.
Lattimore: "With Marshon, we just felt that his cover ability, his size, his speed, his ball skills, we felt like he was a lockdown corner. Although he only played one year (at Ohio State), we really liked the tape, loved the way he was really sticky in coverage, obviously fit the prototype that we were looking for there. And he's panned out pretty good."
Ramczyk: "So then we took Ryan Ramczyk late in the first round, 32nd pick. And Ryan was someone that we had pretty high in our stacking, and we were kind of surprised he lasted that long. He's panned out to be a pretty good player. Obviously, he's prototype, he played left (tackle) in college but he's playing right for us. He's very balanced, very good on his feet, great in the run, excellent pass protector."
Williams: "Then we took Marcus Williams in the second round. I think we even went up to get him, if I remember correctly. There was a run of safeties going off and we wanted to make sure we grabbed him. He was fantastic; he was the quarterback of our defense for the five years he was with us, an exceptional person, very good ball skills. We were really glad to have him."
Kamara: "We didn't have that pick originally, so we kind of created one, traded a next year's two (second-round pick) to go up and get Alvin. And obviously he has panned out pretty well, a Pro Bowl running back, outstanding out of the backfield. Very good contact balance, excellent runner inside, very good in the slash game, he's a mismatch in the passing game."
Anzalone: "We took Alex Anzalone with the next pick, and Alex started for us three or four years here. He was prototype, he had really, really good instincts. He was fast, he was a great kid, he was a captain at Florida – all the reasons why we liked him was why we took him, and he's continued to be a great pro."
Hendrickson: "And then we drafted Trey Hendrickson on the back end of the third round. Trey was a guy we coveted from the pass rush standpoint. Took him a little while to get going here but when he did, he was exceptional. Unfortunately we weren't able to keep him in free agency and he's gone on to be a great pro with Cincinnati."
Muhammad: "We took Al-Quadin in the sixth round. We just got heavy there (at defensive end) all of a sudden and weren't able keep him. We tried to put him on the practice squad and Indianapolis ended up poaching off our practice squad, and he's been a starter ever since.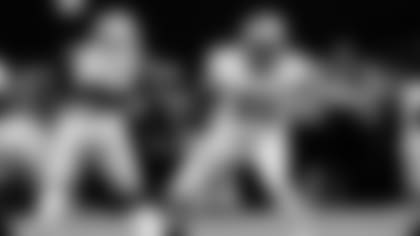 And perhaps the biggest testament to that is that each player has signed a second NFL contract, several among the top tier among players at their respective positions.
"It's pretty rare," Ireland said. "It's pretty rare to have one entire class to get second contracts, especially when you get past the third, fourth round. It is pretty rare. You don't see that often.
"We were very fortunate to have that draft class. They helped us turn this team around and set us on a course to have four straight division championships. All great kids and excellent in the locker room, and now we're very stingy about the kind of person we bring into the locker room because of those guys."