Saints 45th Anniversary Team | NewOrleansSaints.com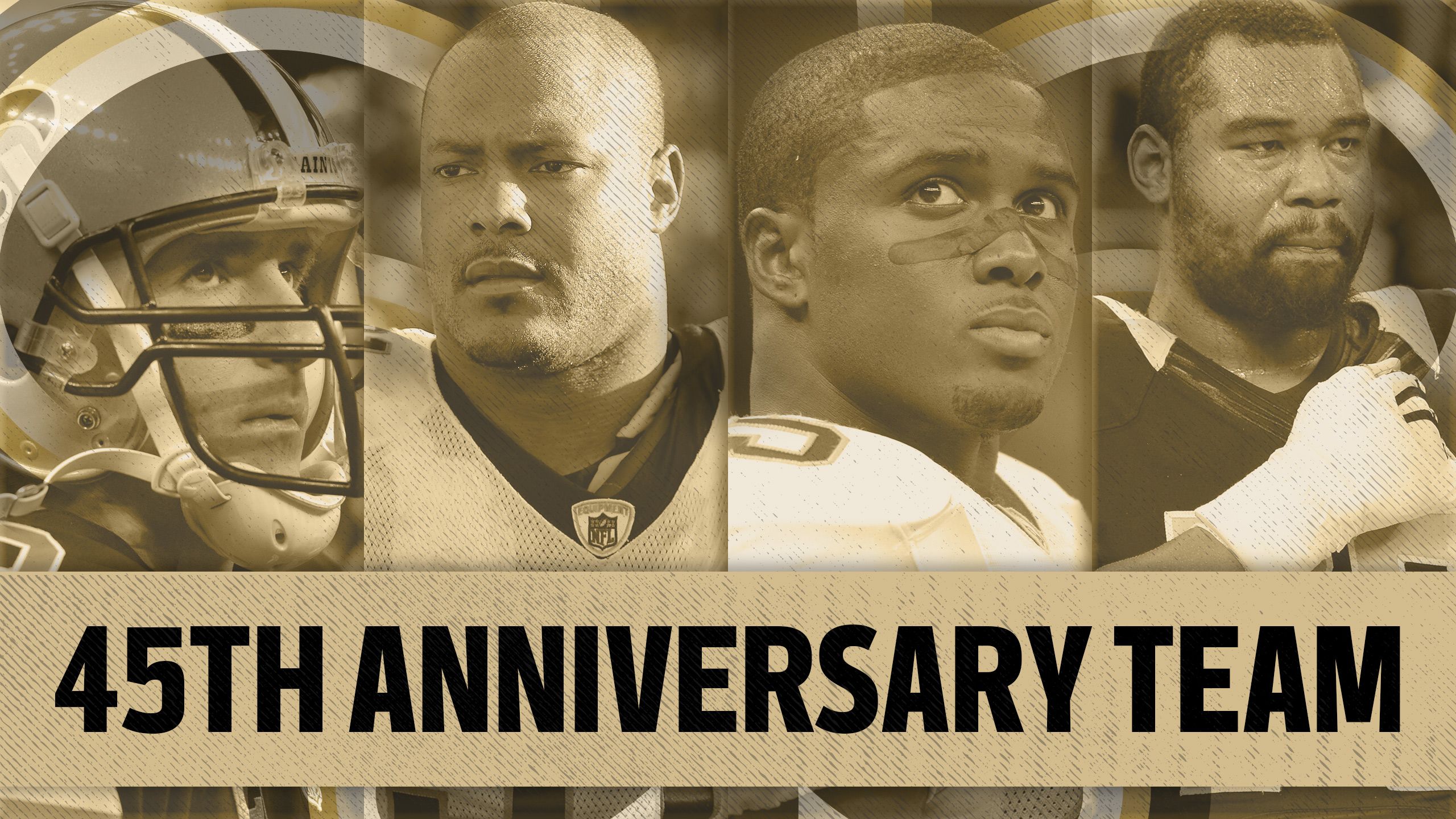 45TH ANNIVERSARY TEAM
To commemorate the club's upcoming 45th anniversary, the New Orleans Saints Hall of Fame selected its All-45th Anniversary Team. The Hall of Fame updates its all-time team every five years, and this latest squad of head coach and players features four standouts from the club's current roster -- QB Drew Brees, Reggie Bush, G Jahri Evans and DE Will Smith as well as head coach Sean Payton. 
The players were chosen in a vote by the Hall of Fame media selection committee, which includes local and regional media members who cover the Saints now or did so in the past. The All-45th Anniversary Team was as follows, with an asterisk (*) designating those players who have already been inducted into the Hall of Fame.
New Orleans was rewarded the 16th NFL franchise Nov. 1, 1966 and began play the following season. To be inducted to the Hall of Fame, beyond their career achievements, players must have met these criteria barring a special waiver to the bylaws: They must be clear from the Saints organization for at least three years and not playing for another team.
The Saints Hall of Fame is supported by the club, and is a non-profit organization created by and for fans of the team to protect, preserve, promote and present the history of the franchise. It is located at Gate B on the Plaza Level of the Louisiana Superdome. The museum is open on game days free of charge to Saints season ticket holders and is available for group tours during the week. For more information, call the Hall of Fame at (504) 309-1004 ext. 209.
Offense
Wide Receiver - Eric Martin* (Unanimous)
Wide Receiver - Joe Horn* (Unanimous)
Tackle - William Roaf* (Unanimous)
Tackle - Stan Brock* (Unanimous)
Guard - Jim Dombrowski* (Unanimous)
Guard - Jahri Evans* (Unanimous)
Center - John Hill* (Unanimous)
Tight End - Hoby Brenner* (Unanimous)
Quarterback - Drew Brees (Unanimous) 
Running Back - Dalton Hilliard* (Unanimous)
Running Back - Deuce McAllister* (Unanimous)
Athlete - Reggie Bush
Defense
Defensive Line - Wayne Martin*
Defensive Line - Jim Wilks*
Defensive Line - Joe Johnson* (Unanimous)
Defensive Line - Will Smith
Linebacker - Sam Mills* (Unanimous)
Linebacker - Vaughan Johnson* (Unanimous)
Linebacker - Rickey Jackson* (Unanimous)
Linebacker - Pat Swilling* (Unanimous)
Cornerback - Dave Waymer* (Unanimous)
Cornerback - Mike McKenzie
Safety - Tommy Myers*
Safety - Sammy Knight
Specialists
Kicker - Morten Andersen* (Unanimous)
Punter - Tommy Barnhardt
Special Teams Player - Fred McAfee (Unanimous)
Kick/Punt Returner - Michael Lewis* (Unanimous)
Coach - Sean Payton