On Aug. 4, RB/KR Darren Sproles walked up to a group of media members after he finished his first practice as a member of the Saints in the team's Indoor Practice Facility.  
The 5-foot-6 running back looked up and down the mic stand and joked, "You might have to lower this a little bit."  
Sproles understands he is in a big man's world, but despite his small stature, he hasn't been short on highlight plays in his first season with the Saints.  It didn't take long for the seven-year veteran to prove what he was capable of.
In the NFL regular season opener against the Packers in Lambeau field, Sproles collected 243 all-purpose yards, including a 72-yard punt return for a touchdown in the second quarter.  
Head Coach Sean Payton called Sproles' Saints debut "electric."
"The Packers game was great. Those are the nights you dream of happening," said Sproles. "They did a great job up front and I just found the holes all night." 
Sproles currently leads the NFL in all-purpose yards with 2,060. He is second on the team in rushing yards (464) and receptions (74). The clutch tailback is tied for third in the NFL in third down receptions with 23 for 209 yards (9.1 avg.) and one touchdown.
He has quickly become one of the most dangerous weapons in the NFL's No. 1 offense.  
"I am having a good time," said Sproles. "When I first got here, I didn't know what to expect. So far, it's only gotten better each day."  
Sproles started playing football when he was 8 years old. He said what he has always loved most about football is the physicality. One thing is clear about the small-statured Saint: He plays bigger and stronger than his frame.
"Oh no, it's football – you can't be afraid of contact. That's why we lift weights," said the all-purpose tailback. "Being a small guy, people are always expecting me to try and make somebody miss. So the defender a lot of times is expecting that juke move from me. So I switch it up sometimes. They are waiting on me to juke, and I catch them off guard by going right after them."  
Sproles' dad, Larry, gave a fitting nickname for his son when he was born – Tank.
Larry gave him the nickname because he was 10 pounds at birth but the name has stuck ever since with his full-contact approach on the field.  
Sproles joined the Saints after playing for the San Diego Chargers for the first six years of his career. He carried 249 times for 1,154 yards (4.6 avg.) with six touchdowns and recorded 146 receptions for 1,400 yards with 11 touchdowns in San Diego. On special teams, he returned 258 kickoffs for 6,469 yards (25.1 avg.) with two touchdowns and returned 114 punts for 935 yards (8.2 avg.) with two scores.  
QB Drew Brees was a teammate of Sproles during the tailback's rookie year in San Diego. Brees and Sproles worked out together on the West Coast during the offseason and the Saints signal caller said he recruited the multi-purpose talent hard during their workouts.  
"With just the role of being a running back, he's powerful, he's got great balance," said Brees. "He's also a threat in space; he's a threat as a returner and a receiver. I think the one thing that he's very good at is his awareness and intelligence on the field. You rarely see him make a mental error. Guys that have that football instinct tend to do the right thing a lot. He's one of those players."  
Sproles said he felt during the free agency process that New Orleans was the right place for him and that sharing the backfield with his former teammate made his decision easier.  
"Drew is one of those players who makes whoever is with him look good," said Sproles with a smile. "I appreciate Drew's skills more now that I am here. He is so smart with the football that he knows what is coming before it happens, like when the defense is going to blitz I always see him pick up on it before it happens. He always puts you in the right spot."  
Sproles joins an already talented backfield that includes Heisman Trophy winner Mark Ingram, veteran Pierre Thomas and second-year standout Chris Ivory.  
The quartet of running backs has pushed the Saints to the eighth-best rushing attack in the NFL.
 "We have some exciting players and I have the best seat in the house," said Brees.  
Sproles said he enjoys the crowded backfield because "it keeps defenses on their toes."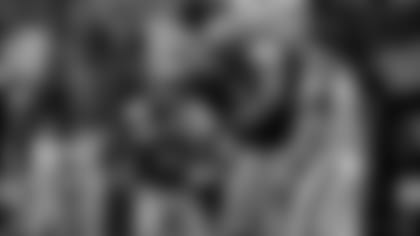 "With the running backs, wide receivers and tight ends we have it's fun," said Sproles. "With the weapons we have, they can't just double one person. They have to worry about everybody on the field."  
The running backs, along with every positional group on the Saints, go to dinner as a group each Thursday night. Sproles said the weekly outings has helped him get to his know his fellow running backs and gain more of a appreciation for New Orleans cuisine. 
"It's always a good time with the running backs and it gives me a chance to try different meals around town," said Sproles. "Mr. John's Steakhouse is my favorite."  
Not only has Sproles earned a new appreciation for the food of the Crescent City, but also Saints fans.  
Although he has a quiet, low-key demeanor off the field, Sproles is one of the more charismatic players on the field.  
His electrifying plays lift fans to their feet in the Mercedes-Benz Superdome and the engaging of the crowd doesn't end there.  Every time Sproles scores a touchdown at home he always caps off the score with a dance in the end zone, followed by a round of high fives to fans sitting in the front row.  
"Our fans here are always good to us," said Sproles. "The atmosphere in New Orleans is always great, especially on Sundays. If the end zone wall wasn't so high, I would jump up there with them."