NewOrleansSaints.com,
Thursday, February 18, 2010 - 9:00 AM
SUPER BOWL XLIV RECOLLECTIONS
New Orleans Saints 31 vs. Indianapolis Colts 17
February 7, 2010
Sun Life Stadium, Miami Gardens, Fla.
SAINTS DEFENSIVE COORDINATOR GREGG WILLIAMS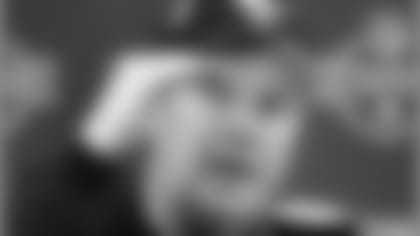 (on blitzing on multiple plays leading up to CB Tracy Porter's interception for a touchdown) "It's kind of a set-up, and that was kind of the thought process of getting it to there. I've talked about the chess game. Anytime you play Peyton, you've got to be two, three, four, five plays down the road. That series of plays, trying to set up the route and hopefully set up the formation that they would call, it kind of fell into our place right there. It's okay if we recognize it. It's not okay if we don't. Tracy Porter did a great job recognizing it, and our three linebackers did a great job of convincing me that the next time we got in that situation to call that pressure. (LB Scott) Shanle, Vilma and (LB Scott) Fujita suggested to me about three or four plays before that to make sure I come back to that pressure on that down and distance again. We were able to do that and Tracy saw that unfolding, he pulled the trigger and made a nice play. Players make plays like that, coaches don't. I made the call, but Tracy made the play."
(on defensive formations) "In the first quarter we were almost all 3-4. In the second quarter we went back to the 4-3. In the third quarter, we mixed it back in fourth, and in the fourth quarter we mixed it back and forth. That was kind of our plan to make sure that we didn't show everything we had early in the game. We had a first-half game plan, we had a third-quarter game plan and we had a fourth-quarter game plan. We were able to stick to what we were doing because the score kept us in it. Our offense kept us in it and we were able to execute the plan. If the score dictates, we've got to abort that plan and go with whatever we had to. But we were able to do it. It unfolded the way Coach (Sean) Payton and I thought it was going to unfold on our first day after the (NFC) Championship, on keeping this kind of game on offense and defense together."
(on containing Colts WR Reggie Wayne) "He's a guy that I liken to a Michael Irvin back in his heyday, that was really good against the press. When you've coached as long as I've coached, you go against a lot of different people. So you can use plans that you've used against other people in years past. Buddy Ryan talked about our San Francisco plan back when they had John Taylor and Jerry Rice, and we had certain ways we had to play against them. I kind of went back to that thought process and likened Reggie Wayne to a Michael Irvin on how we wanted to play him tonight. Sometimes we singled him. A lot of times we were doubling him, though."
(on Saints QB Drew Brees) "(Colts QB) Peyton Manning is the best quarterback in the National Football League, along with our guy (Drew Brees). I had to hook up and come down here with (Brees). He is a major influence why I came here, to get the opportunity to play with a quarterback that could correct mistakes when I make mistakes on defense. It's been a great year for me. I've had to change my personality a little bit to fit the style of the offense. I've been coaching for a long time and had to win games 10-9, 13-10, 15-14. Here, you don't have to worry about making a mistake because you've got a quarterback and an offense and a head coach that will be aggressive and go back and get back into a ballgame. It was fun to have that offensive and defensive flux back and forth. We were able to work together and it was a good team win."
(on CB Tracy Porter's interception return for a touchdown) "I want our guys to make plays. I don't want to coach robots. Guys who are afraid to jump routes, guys who are afraid to make plays don't last very long in the National Football League. You have to believe what you see, and when you see it, go get it. If you make the wrong decision, that's why they hired me – I'll help you the next time make a better decision. Please don't be afraid of making a fast decision. My whole life I've been trying to speed up people's decisions, get people to play faster, get people to play nastier, get people to play tougher and more aggressive. Once you get a guy that will do that, please don't slow him down. I said when I started my first day here, 'All your life, you've probably played for a coach that maybe restricted your decisions. You will not have anybody slow you down. You will not have anybody tell you you can't be aggressive. What will happen is if you aren't aggressive and you don't play fast, you probably won't end up playing for us. You're going to have to go someplace else in the League.' There's a good football team here that (Head Coach) Sean Payton and Mickey Loomis cultivated and built, and I was able to just come in and help out a little bit."
(on winning the Super Bowl) "This is kind of a redemption that makes me feel a lot better about (coming a yard short in the Super Bowl with the Tennessee Titans). I'm really happy for the people of New Orleans. They adopted me. When I came into town in January, I tried to tell them that I wasn't a savior. There was a good team here. I'm very happy for the Who Dat nation. I'm very happy for the Benson family to finally get a world championship. It's pretty special to be along for the ride. I'm really appreciative that they invited me into the family to be along for this ride."