ASSISTANT HEAD COACH JOE VITT
POSTGAME PRESS CONFERENCE
JV: You know, to start this, I would like to thank Mr. Kraft and Bill Belichick. They were great hosts this week. We got a lot of great work done against a quality football team. I think, number one, the thing that we have to improve on is – and we are going to talk about this as a football team – is the penalty situation. We've always taken great pride and I think over the past six years, we were the sixth in the league with the least penalties called. So, I'd like to get that cleaned up. I was real happy – we were real happy as a coaching staff – with their intent. I think the first team defense has really come along in one week against a quality offense. I think the offensive line, the second unit in particular, played a lot of snaps and we had to evaluate them and did a good job. We have got to continue to harp on it, clean up the turn over, take away battle. You know, we can't turn over the ball and expect to win games. We have harped on that for a couple years now and our players know that and we will get better. But the intent of our football team and the overall execution of our football team, particularly with the defense of our coverage units, are really improved from a week ago. You know, we are happy so far with the way we are coming along. We have a big week coming up; this is our last week of training camp, so we have a lot of things to get cleaned up. We have a lot of teaching to do and we are excited to do that. I'll take your questions.
Q: What impressed you most about your defense tonight?
JV: I think they played quicker and more confident, you know, because they have been in the system now. Spags [Steve Spagnuolo] has really harped the last week on communication – pre-snap alignments and detail of your assignment – so we feel better about that. Hey, listen, any time that you can improve in training camp, week to week, day to day, you are happy with that. We made a significant jump defensively, and I think it is to be expected from the second preseason game. You know, the players have worked hard and Spags has done a good job of teaching. And I kind of think it showed tonight.
Q: About a week ago, Junior Galette said he believes Steve's defensive style is really going to fit his style. It seems like it really is the perfect fit for him.
JV: I made this comment before; I think Junior is a football player. I think Junior Galette, with his quick twitch and his get off can play a lot of different systems around the league. It's a credit to him. But I think he is – he's kind of tailor made for this defense as we thought. A lot of times we were going to drop our ends into coverage and he's grown with that aspect of it. Just to watch the way this kid is growing physically, mentally and emotionally over the last three years has been really fun to watch.
Q: You guys have some injuries at corner back, then Marques Johnson comes in, has an interception and has a good game…
JV: He's had a good training camp now. He really has and I'm really proud of him. He's continuing to grow every day. He has really served himself well in these preseason games. So listen, we are still early in the process, the evaluation process is going to be critical. We have said this before: we have got to make the proper decisions on our 53. We have told our young people right now, the race for them is to adapt to the way that we teach things and the way that we do things. And I thought our tempo with the second unit was better than it was a week ago and I thought our finish with our second unit was better than I thought it was a week ago. This was a heck of a week for us.
Q: Is Akiem Hicks farther along than you thought he was?
JV: I'd like to look at the film first, but I know what we have in this player. We have a big athlete, big passionate player, who loves to get better every day. And you know, guys like that – to a degree – are rare. I don't know if this player knows how good he can be. So we are going to keep working with him, work on this pad level and his get off and overall knowledge of the game. But it was fun to watch a little on him.
Q: Courtney Roby has made his impact obviously in special teams. On a night like tonight where he catches the ball effectively, is that more of what you want to see, especially with the receiving competition?
JV: I would say this and repeat the comments that I made a week ago: this is an elected captain on our special teams who does a great for us on special teams. I thought he had a good first half a week ago and I think he came through again tonight. He is a well rounded football player and a big part of what we do around here.  But when you have someone who can go in there and catch the ball like he does, be a gunner like he can do, and return like he can return…those combinations are tough to beat.
Q: Joseph Morgan and Travaris Cadet seem to have had outstanding games today.
JV: Yeah, listen, we are still finding out on Cadet, we can obviously see his receiving skills. He has twitch, he can make people miss, and so far he has done a good job of protecting the ball. Joe Morgan has got to be more consistent with his catching. He had a chance to make a catch at the end right there; these are the catches that he has to make. But he's got the speed, he's got the athleticism, he's growing in his knowledge of the system. You know, he was around all last year to know more about the game. He got hurt last year, but he needs to continue to grow.
Q: For the first team offense, what do you think the difference was five days later from how well they played in Canton to tonight?
JV: Well, I don't think they played bad here. I think this is, number one, a good defense. I think they do a good job at their match up schemes. And I think this: we rested some people tonight, that did not play. And I am not disappointed one bit with the first unit offense. I think the most important thing in these games, again, and I have said this before, we treated last week sort of like a scrimmage and play time. So this was our first preseason game with the number count and when you are in your first preseason game you want to make sure you look at the people and evaluate the people that have potential to be a part of your 53.
Q: Courtney Roby is never really in the discussion as the fourth receiver on this team, it always comes down to Adrian Arrington and Morgan. Could he win the job?
JV: Listen, we aren't giving out scholarships. You know the jobs are open. You know he has come up in conversations in the past. Listen, we know who he is and I think he has helped himself tremendously the last two weeks. He's practiced well. We are happy for him and proud of him.
Q: How impressed were you with that strip sack and Will Smith and how much is the defense going to miss him the first few games?
JV: Well, you are going to miss anybody with the talent of Will Smith, but we have seen Will do that before and listen, Will is a heck of a player. He's a heck of a leader.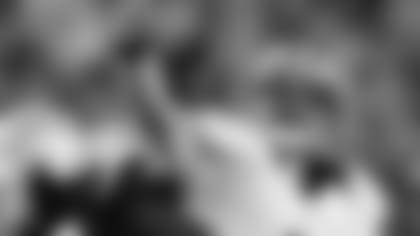 SAINTS QUARTERBACK DREW BREES
POSTGAME PRESS CONFERENCE
Q: Even though the numbers did not show like the first game when you were consistent, were you generally still happy the way the offense played in the short amount of time?
DB:  Well, we had two series and we were three-and-out both series, so that's not OK with us. But, when you're not getting a lot of reps, you're not really able to get into too much of a rhythm so, it's hard to gauge that sometimes. But, I think a lot of it is just tempo, no mental errors and at times the defense is going to make a play and they might stop you. That was the case both of those drives, the defense got a big turnover which led to that second series inside of Patriots territory and we weren't quite able to convert that third down, we got close with that pass to [Darren] Sproles but got a field goal out of it. So, it's the first preseason game technically, so, six plays is all you're going to get, six to eight plays and you want to look sharp, you want to play well and then we move on and continue to try to get better for next week.
Q: So you would not say this is a step back? How do you gauge progress?
DB: In training camp it's so much of a grind. You're trying to get better every day. You're still installing the offense, it's the offense we haven't installed yet, we still have a few more installs to go. So, really what you're doing still at this point is very basic. You start to become a little more evolved, get into more specifics as you move along here. The main point of this week, and this was an interesting week because we play on Sunday night and then get here, fly here at 5 a.m. on Monday morning and kind of have a quick lift and run session and then we're on the practice field with the Patriots Tuesday and Wednesday, which was really the point of this week- which was to get on a practice field with those guys. Execute our offense, our defense in a competitive atmosphere, seeing different personnel, seeing a different scheme. That was really the meat of this week, to try to get reps there, to get better there, which I feel like we absolutely did. Obviously you want to come out and play well in the preseason game but you look at the amount of reps that a lot of the young guys are getting in the first preseason game, it's really designed that way so that you can continue to develop those guys and see what you have there.
Q: Joe Vitt was talking about Courtney Roby the last two weeks, [saying] he has really helped himself tremendously. What have you seen from him tonight and in the past two weeks?
DB: Courtney is one of those guys that, he'll do whatever you ask him to do. He's such a versatile player, he obviously plays on every special teams, not only as a return man, but you put him at gunner and he's going to be the first guy down there making a tackle. He's just a good football player, [that's] the best way to describe him. There's only a few guys that you can truly describe as that. [Darren] Sproles is another one of those guys- just a football player. Whatever you ask him to do, he can do it. Those are special guys. Roby, over the last five years, has done whatever we've asked him to do here, with the Saints. He's taken advantage of every opportunity that he's ever gotten, and I'm glad to see that he's getting those opportunities during this preseason and he's certainly making the most of it.
Q: How would you grade Andy Tanner's performance?
DB: Tanner's another one of those guys, that with any opportunity, he shows up everywhere. He shows up on the practice field, he shows up on game day. Whenever he's in there, it seems that he's making plays. And there's not a guy that works harder. If you want to throw routes after practice you just say, 'Hey Tanner, will you come over and run some routes for me?' and he's going to be running routes for you. He's just one of those guys who is going to be there for you. He's a smart player, he never fools you, he's always doing the right thing. He's always where you need him, when you need him there, so he's dependable.
Q: I know you've mentioned you only had six plays really [today], and there's not a lot to go on. What impresses you about the transformation of [the Patriots] defense? Is it a little bigger, a little quicker?
DB: What's interesting about the Patriots is, they have the ability to flip from a three-four scheme to a four-three scheme. We only practiced against them two days and then played against them in the first preseason game, so everything is still going to be pretty simple and you're still installing and evaluating personnel and such, so it's not going to be too complicated. But I remember when we played them in '09, we'd watch a game one week and it was all three-four and then you'd turn on the film the next week and it's all four-three. And so, you're just sitting there going, 'How do they determine how they are going to play, when they're going to play it?' And then, 'How are they going to play us?' So then you're forced during the week to prepare for both, because you're not quite sure what you're going to see. Sure enough in the game we did see a little bit of both. But it seemed like they were a little more exclusively four-three from what we saw out there, today during the game. I think a lot of that is based off of the personnel you have, and how you are building you're team, who's healthy, who's not- who you have, who you don't that kind of thing.
Q: As a follow up, what's your impression of Chandler Jones on the right defensive end, he's as a rookie.
DB: We weren't out there for too long, but I thought that throughout the week, they played their scheme, they played it well. And, obviously they stopped us on two series tonight, and we weren't too happy about that.
Q: Given the team situation this year, are you more anxious to get to the regular season, and get things started? Given the suspensions does that preseason take on extra value to make sure everyone's on the same page?
DB: The preseason is always valuable, especially for us. We have some new faces, especially on the defensive side. He have a new defensive coordinator, so we have a new defensive scheme that we're trying to install. You just need time, you need time to develop that, time to integrate it into what you're doing, then see how the personnel will fit into that puzzle. Time on task is the only way to get to that point. And so, I think training camp is valuable, and our offense going up against our defense, and then certainly when you can get out in a game-like atmosphere like the preseason games to do when live bullets are going… I think for us, we still have a strong veteran influence on our team. But we just handle this like professionals. We handle the games like, 'Hey it's a game, it may not count but it matters.'
Q: I know that preseason games are important, but was the week leading up to the game more important than the actual game?
DB: Yeah, I would say that the way the practice was, the ones that were getting the majority of the work during the practice, and maybe that was designed because in the game obviously it's mainly the young guys. So, the starting groups got a majority of the reps during the week, and that's where we really got our work. And then our young guys got most of their reps tonight, and that's where they got their work. So it was evenly spaced, so that everyone is getting equal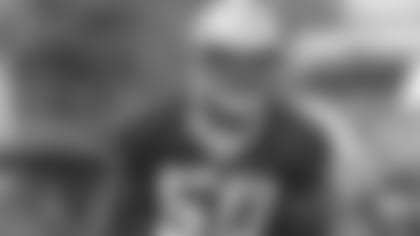 SAINTS LOCKER ROOM QUOTES
Curtis Lofton, Linebacker
(On how quickly he has adjusted to this team and the defense)
"Each day has been a growing day for me. I put a lot of stuff on my plate, [I'm] trying to get better. I love this defense – [Steve Spagnuolo] is a great defensive coordinator and [we've] got great players, and I just have a knack for finding the ball."
(On having a leadership position on this team)
"I think it just fell upon me naturally. I'm not a rah-rah type of guy. I do everything. I put my head down and go to work and I lead by example and the guys really bought into that. Also, the middle linebacker in this system, he's kind of the coach on the field out there, so the guys know I've got a lot on my plate so they back me and support me."
Akiem Hicks, Defensive Tackle
(On his effort tonight)
"It was great.  It was almost my first real NFL game.  It was great to get out there against such a good team; it allows us to see what our defensive line can do.  To bring pressure with all four defensive linemen, it's just amazing."
(On his quarterback hit and forced fumble)
"It felt great.  It was really my first hit.  It was great for me.  I looked forward to it and I got it. It's unreal."
(On Chandler Jones)
"He's a specimen, I don't have too much else to say. He was excited, just like any other rookie."
Courtney Roby, Wide Receiver
(On getting a lot of action)
"It was good to go out there and I'm trying to improve on what was done the first game. We can always look to get better.  I just continue to work and that is what the preseason is about, it's improving as a team. I'm going to go back and study the film and come out the next game and compete. I don't pay attention to what people say that I'm locked into one position. I just try to do what I'm coached, and do what the team needs me to do. Whether it's special teams, receiver or whatever else the case may be. I just try to work hard and try to improve every day."
Will Smith, Defensive End
(On the sack)
"We knew going into the game that they were just going to give us basic protection. So we just wanted to get a good rush, the four-man rush that we have been working on all camp. I got a good angle on him and got past them. It's always good to get a sack especially against him (Tom Brady). It helped our team score, so we got some points on the board. "
(On tonight's game and the time spent here this week)
"Last week was real.  I am disappointed that we lost.   At the same time we have some corrections to make but it was good to get out there and fly around against some good competition.  We had some mental mistakes and bad penalties.  Overall I liked the way we competed but still, you want to win the game."
(On going home)
"It is going to be nice, I guess we are done touring on our little excursion.  It was fun.  Boston was nice and Canton was nice but it is always good to get back to New Orleans.  We went to one little restaurant (in Boston) to some (Faneiul Hall).  It was nice though and we got to see some things.   I didn't know Boston had so many universities and colleges right downtown.  We had a great time."
(On what they take out of tonight's game)
"All the positives.  There were a lot of negatives, too.  You try to learn from those.  It is good to have some good things and some bad things to learn from.  If it was all perfect we wouldn't need coaches.  We can see how different teams try to attack us and get some corrections made.  I am all into it.  Just trying to help our team do the best that we can."
Pierre Thomas, Running Back
(On what he takes out of tonight's game)
"It is about going out there and showing what I can do still.  It is the preseason and I have to show that I still got it no matter if my name is called or not.  I have to show everybody what I have.  It is an opportunity to get some of these younger guys in and get them a better feel of this game.  That is what we really want to see, these younger guys get in there and get some action."
(On going home)
"Yes, it has been a while since we have been back in New Orleans.  It is going to be good to see our fans.  It is going to feel good to be back home in New Orleans."
(On which city is hotter)
"New Orleans is hotter.  It is a whole lot hotter.  This is not just a road trip.  This is a business trip.  We are here to work.  This is no time to play around.  We are here for one reason.  We still have mistakes out there that we got to figure out.  We've got to correct them."
(On not taking the field goal at the end of the game)
"You want to get out there.  That is why we do what we do, for situations like that.  I was hoping we would get the ball and drive down just to have a shot.  That is how we are built."
(On Curtis Lofton)
"We have seen him play a lot of football, so we knew when we signed him he was going to be a good player. He has played a lot of football in the league. Obviously going to a new team you have to get the chemistry thing down and you have to learn the new defense but I think things are starting to click for Curtis. You saw it tonight with some of the plays that he made. I think because he was the type of player he was with Atlanta and for them not to re-sign him, I think that adds a chip to his shoulder."
Marquis Johnson, Cornerback
(On the Saints' defensive game)
"We were just trying to figure out what was going on and tried to stay ahead for the time I was out there. If I can do that with Tom Brady, I feel like I could beat a lot of average quarterbacks out there. I think we did a good job and the third team battled out there. I wish we could have come out with a win, but it is what it is."
(On his interception and his playing time)
"When you miss one, you usually feel like you can get your hands on another one and that is what happened. I pretty much played the whole game and sometimes you feel you want to come out being that it is pre-season and you are tired from how the week went. You have to take full responsibility and go out there and take care of the opportunity and show that if someone goes down that you can step in and be just like the first team."
HEAD COACH BILL BELICHICK
POSTGAME PRESS CONFERENCE
BB: Well, we're underway. It was a good week in terms of working with the Saints both in practice and then tonight. I think there're a lot of things we can learn from all three of those days and certainly a lot of things we can learn from tonight. I thought our players went out there and tried to compete for 60 minutes. Obviously there are a lot of things we have to work on, but we're underway. We'll just keep plugging along. Hopefully we can build on tonight, build on this week, and have a good week next week and start piling things up so we'll be ready to go on opening day.
Q: What did you see out there tonight that you liked?
BB: We competed for 60 minutes. I thought we worked hard.
Q: In a preseason game, what determines a success from your point of view?
BB: If we can improve and do the things and execute the things we want to do. We'll look at the film and see how all of that goes and see just what things we need a little bit more work on and what things we're doing fairly well. You could have several guys do things well and have one break down, and you don't have a good play necessarily, but it doesn't mean that some of the other elements and parts of the play aren't there. So, we'll see how that looks.  Maybe there will be multiple things that broke down on certain plays and it didn't show up on the play and we got away with it, but we still need to get those things fixed. So, we'll take a good look at the film and correct our mistakes. That's what this is for.
Q: Chandler Jones showed up a few times tonight. Do you think that's just a continuation of what he's been doing in practice?
BB: You know, I think really all the players that I saw – especially the rookies – some of them did some good things. There's a long way to go. We have a lot of work to do. I don't want to get too up or too down on anything. We just want to keep working and getting better.
Q: Given all the moving parts on the offensive line, is it just continuing to be a work in progress?
BB: We've played a lot of people at each position. I don't think there was any position we didn't play a lot of people. That's what these games are for: to evaluate the players.
Q: Dane Fletcher got a little dinged up. What does he bring to the team? What are his strengths?
BB: He's played on all four downs for us. He's played on first and second down, played on third down and played in the kicking game, so he has some versatility. He's had roles on different downs on different times or different game plans. So he's done all of those things to some degree.
Q: Pretty solid offseason so far this year?
Q: I know you just got off the field, but any word long term on his injury?
BB: We'll evaluate him like we do with any situation like that and see what the doctors say. I'm not a doctor, you know that.
Q: It looked like you had a few conversations with the officials at various points. Were you comfortable with the way the game was officiated?
BB: I think Mike Pereira has made his comments on the officials. I don't know who knows more about NFL officiating than Mike Pereira, so we'll leave it to him. I'm just trying to coach our team and get our team better. I'm not worried about what everybody else is doing; It's not my job.
Q: It seemed like a lot of the defensive starters played quite a bit. Was it that you wanted to see something specific from them?
BB: We rotated players. I think they all played about – where we had some guys rotate and then they played longer and where we didn't rotate, those guys didn't play as long.
Q: It looked like you bumped Dont'a Hightower into the middle when Dane Fletcher went out. Was that the plan to play him inside and out? Was that just an injury thing that showed versatility?
BB: Well, as you know, he's been playing all three positions all through training camp.
Q: Was that the plan to play him there or was it just because Fletcher went out?
BB: He's been playing there all through camp.
Q: How did Stevan Ridley and Shane Vereen look to you today?
BB: Some good things. Some things we've got to work on. But they competed. I thought they made some plays. Probably a couple reads and technique things that could have been better, but you can say that about everybody.
Q: How did Brian Hoyer look to you on that drive? He seemed to have a good grasp of the offense and directed the team.
BB: I wouldn't say we lit it up offensively at any point in any aspect of the game. But I thought each of them had their – we had some good things and we had some other things that weren't so good that we need to improve on, some corrections we need to make, timing things we need to work on. It's like that at every position.
POSTGAME PRESS CONFERENCE
Q: How did it feel out there on offense in the second half?
SV: It was the start of the second half and we wanted to get going, we wanted to get the offense rolling and I think we did a good job of doing that.
SV: It felt good. It was the first time to finally strap it on and go live. I think everybody felt really good out there.
Q: Where you surprised to get the reps when you got them and to get as many as you did?
SV: I wouldn't say I was surprised. The coaches do a good job of keeping you prepared and they tell you to stay prepared for the whole 60 minutes and mentally I was prepared.
Q: After what happened to you last year –  it must have been a frustrating season for you – this had to feel pretty good.
SV: Any time you get to strap it on and go play with the team, it's a great thing. It felt really good to be out there with the fellas.
Q: What do you have to do physically to stay ready if you don't play the first few quarters? Do you have to do a lot more warming up and stretching just to be ready physically?
SV: Yes and no. I was able to play a little bit on special teams, so that helps. I think more important than physically staying ready is mentally staying ready and I was able to do that.
Q: Do you still feel a little bit like a rookie, having missed most of last season?
SV: Yes and no. Sometimes I do; sometimes I don't. We have a pretty young stable of backs right now, so I think Woody [Danny Woodhead] is kind of the vet of the group and he does the best he can to keep us informed so that we don't feel so much like rookies. Every now and then, when stuff comes up that we haven't handled before, you tend to feel a little like a rookie.
Q: What was your excitement level or energy level because it's been awhile since you've had that many carries?
SV: I just wanted to go out there and to be best I could for the team; it's as simple as that. I was excited because it's been so long since I played with the injuries and everything, but I just wanted to go out and perform well as I could with the team.
Q: Is it good to know you still have it? It's been almost two years.
SV: Yeah, it felt good. It felt good to be out there running. The O-line did a tremendous job. I can't take hardly any credit because they did a tremendous job.
PATRIOTS SAFETY PATRICK CHUNG
POSTGAME PRESS CONFERENCE
Q: How do you think the defense did?
PC: I felt like we played good. We played good. We have to watch some film obviously. I can't really give you a full explanation on that but for the most part we played good. We held them to six points so that's always good.
Q: From an athletic point of view, having guys like Chandler Jones and Don't'a Hightower, how much more versatility does this give you as a defense to be able to do more things?
PC: Having a bunch of young, athletic guys out there is definitely good; guys that want to learn and they're learning fast. First game, first preseason game, just have to build on it, get better and see how the season goes. But it's good to have guys like that. They're working hard out there so it's good to see them having some success.
Q: It's preseason and probably not the most difficult interception you've had but did it feel good to set the tone?
PC: Yeah, definitely. It always feels good to get an interception. It feels good. Like I said in the question before, it's just preseason. We still have to make plays. It's just practice for regular season so when it comes around you're not surprised. I'm taking any interception – easy, hard, kind of hard – I'm taking all of them. It felt good.
Q: Steve Gregory had an interception today, too. How much have you been able to help him as he's gotten used to his surroundings here?
PC: We kind of help each other. He's a veteran, he knows a lot of things that I don't know and he helps me out. I've been here for awhile so I kind of help him out. It's kind of a like a relationship. Relationships can only get stronger so we're going to see how that goes. But yeah, I love playing next to him and he helps me out a lot, definitely.
Q: Is there a bit of a competitive nature there? He got an interception first. Did you feel like you need one after that?
PC: It's always like that but that's what makes us better – always competing, always trying to out-do the other guy. So that's when you make plays; that's when you win. It's all good – he can't talk about me.
Q: Is there an attitude or something with a lot of young players flying to the ball?
PC: That's more practice, more things that we execute during practice and tell them, 'Hey, get to the ball, get to the ball, get to the ball.' It's more of a consistent thing so during the games it's kind of like second nature. It's older guys, younger guys – it really doesn't matter. You have to be relentless and get to the ball and that's what we've been practicing.
Q: Can you talk about how the two interceptions might carry over and give you guys some more swagger in the next few games?
PC: It's just the first game. You have to do that multiple times. You have to do that consistently throughout the whole season. It's a very good start. We'll take that but we have to keep doing it. It can't just be one game. You have to keep doing it for 16, 20 games, however many games we end up playing, we have to do it every game.
Q: Do you feel like you have a chip on your shoulder because of how the pass defense was last year?
PC: You can't get a chip off one preseason game. We have to build and get better, make the communication better, make the play better, make some plays on the ball; fumbles. Everything is a factor. Just having one game doesn't really tell you anything. You have to get through preseason, get a couple games under the belt and then see if we get that little chip.
Q: What does Dane Fletcher bring to the defense when he's healthy?
PC: Dane's good. He's a good, smart, physical, tough guy; very intense.
Q: If he's not able to play –
PC: I don't talk about those. That's a question for coach and I just know he's a good player.