Saints practiced Monday morning on the 19th day of training camp. The Saints worked live goal line, tight redzone and special teams drills during the morning session.
PAYTON IMPRESSED:Saints head coach Sean Paytonsaid Monday's morning session was one of the most impressive of the training camp.
"It was a physical practice," said Payton. "We have probably had three or four like that. When you put in goal line, it is important that you get some live work in. Last night, maybe even two days ago, the players knew that this Monday morning practice was going to be physical. We will continue to be smart and try to have a balance to make sure we aren't doing too much. I thought they handled it well."
DOME PATROL?:Payton said with the projected inclement weather, that the Saints might move indoors for their joint-practices with the Houston Texans, possibly in the Superdome.
ESPN INVADES SAINTS CAMP:ESPN senior NFL analyst Chris Mortensen and NFL Insider Adam Schefter ended their ESPN's "On the Road to Camp" cross-country bus tours Monday at New Orleans Saints Training Camp. Mortensen and Schefter logged more than 15,000 miles combined before their visit to the defending Super Bowl champions.
The ESPN duo will do live updates throughout the day and have a sit down interview with Payton and QB Drew Breesthat be shown on their "NFL Live" and "SportsCenter" broadcasts.
Schefter's bus has a map of the places he has visted during his tour. Brees placed a Saints sticker over Louisiana and both the head coach and QB signed it.
"I think you put us in Baton Rouge," Payton joked about Brees' placement of the sticker.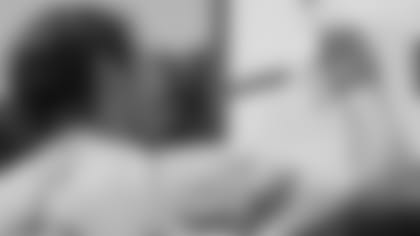 MEACHEM RETURNS:Saints WR Robert Meachemwas removed from the Physically Unable to Perform (PUP) List and participated on Monday's practice. Payton said the four-year wideout was progressing well.
Brees said the team was excited to get #17 back on the practice field.
"It's good to have him back," said Brees. "He has missed a little time here but I know he has been working hard to get back. Obviously he has been doing everything he can mentally to make sure he is up to speed when he gets back. Now it is just a matter of trusting the body and all the physicall elements he is going to need."
INJURY UPDATE:Additionally, WR Adrian Arringtonreturned to practice after sitting out since the team returned from New England.
DB Usama Youngremained out of practice Monday and Payton said there wasn't an update on the fourth-year defensive back.
MORSTEAD IS BACK:P Thomas Morsteadreturned to practice after injuring his left shoulder on the first series of the Saints-Patriots contest. Morstead and K Garrett Hartleypunted during the special teams drills.
BILLINGS CATCHES PUNTS:Along with the regular punt returners of RB Reggie Bush, WR Lance Moore, DB Tracy Porter, WRMontez Billingscaught punts during special teams drills.
LIVE AT THE GOAL LINE:The Saints' put a lot of work in goal line situations Monday morning. Brees said for the team to maximize the benefit of working goal line drills, it is essential to go live.
"I felt like we got some good live work on the goal line today," said Brees. "It was spirited and obviously guys were grinding through it. It was a hot one out there today."
HELMETS FLY:During the live goal line session, T Zach Strief'shelmet flew off during a running play during the live goal line drills.