It was the spring of 2004.
Jabari Greer had just finished an impressive four-year campaign as a two-sport athlete at the University of Tennessee. He was a three-year starter on the football team and an NCAA champion in track.
He graduated with a degree in psychology. Despite his collegiate success, the multitalented Volunteer faced indecision about his future.
"It was a conflict of interest for me, but I felt like (playing football) was something that God was calling me to do," said Greer. "I know I was having some success in track but just the atmosphere in the locker room and the type of commitment that football provides made me want to stick with it."
However, Greer's pro career got off to a rough start. Thirty seven defensive backs were selected in the 2004 NFL Draft but he wasn't one of them.
The Buffalo Bills signed Greer as an undrafted free agent. He was one of 10 defensive backs competing to make the Bills roster that training camp.
"Seeing all those other corners was an eye opener and made me feel like I probably should have run track that season," joked Greer. "Fortunately, I was able to come into a situation in Buffalo where they gave me a true opportunity. I embraced it."
Greer made the team but saw little action in his first year, as he only registered 18 tackles. He remained a reserve on the Bills for the next two seasons.
Despite the lack of playing time, Greer remained patient and he convinced himself his time would come.
After a humbling three-year start to his career, the undrafted defensive back's opportunity came in 2007 season when he earned a starting spot.
Greer shined for the Bills in 2007 as he played in all 16 games with 13 starts and collected 47 tackles, two interceptions and 17 pass defenses.
Greer remained a starter for the next two seasons, notching 43 plus tackles and a pair of picks each season. The defensive back said the veterans he shadowed during his first three seasons in Buffalo were crucial to his rise to being named a starter.
"Guys like Troy Vincent and Pierson Prioleau really showed me how to work and be a professional," said Greer.
"They showed me how to enjoy the game. I don't think those guys could have put me in a better position than they did."
However, Greer was a free agent after the 2008 season and wanted to weigh his options.
He visited Cleveland, Detroit and Tampa Bay at the start of his free agency and thought he had wrapped up his recruiting process. But then he received a fateful phone call.
"On what I thought was the last day of my visits, I got a call from my agent," said Greer. "He asked me if I wanted to check out the Saints before I made my decision and I thought I would give it a chance."
Greer got on the next flight to New Orleans and had a meeting with Head Coach Sean Payton and executive Vice President/General Manager Mickey Loomis the next day. Greer said after he had the meeting his decision was a "no brainer."
"Meeting with Sean and Mickey and talking with the guys in the locker room went really well," said Greer. "When I found out the opportunity this team presented, it was an easy decision."
Greer proved to be precisely what the Saints were searching for that year in New Orleans. The shutdown corner posted 53 tackles and ranked second on the team in pass break ups with 13.
Last season, Greer played in 14 games with 13 starts and finished with a career-high 72 tackles, tied for the team lead with two interceptions and added ten pass defenses and one fumble recovery.
Despite his small stature (5-11, 180 pounds), the veteran defender has held his own against some of the game's biggest receivers, including Andre Johnson, Randy Moss, Terrell Owens, Larry Fitzgerald, and perhaps most notably, his No. 1 nemesis, in practice: the 6-foot-4, 225-pound Marques Colston.
Colston and Greer have squared off on the practice field for the past three seasons, and Greer says it forces him to be at the top of his game every day.
"It's exciting facing guys like [Drew] Brees and Colston every day," said Greer. "You have to make sure you're prepared as well as they are, or if you aren't they will burn you."
Colston echoed Greer's assessment of their matchups. The six-year wideout said the same trait that has guided Greer's career is what makes him an elite corner: his patience.
"Going against Greer day in and day out, it's hard to get in a good rhythm of running routes because he is so patient with his point of attack," said Colston. "It makes me better every day going against a guy like him."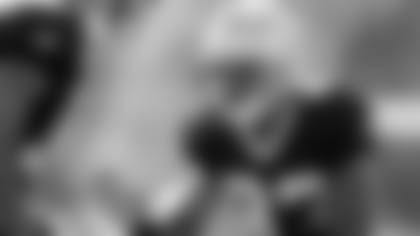 Greer has showcased that point of attack with his four interceptions returned for touchdowns over the past three seasons, including a 26-yard pick-6 in Carolina last season.
Saints Secondary Coach Tony Oden said Greer is the type of player he loves to work with because of his background.
"You want to help and root for a guy like him," said Oden. "He came here from Buffalo as an undrafted guy where he knew they were bringing guys every year to fight for his job, but he stuck with it. His patience and work ethic keeps him ahead of other corners that are eyeing for his job."
Oden also noted how Greer feeds off fellow corner Tracy Porter.
When both porter and Greer have started for the saints in the regular season, the team owns a 16-3 record. Greer emphasized that the success he and porter have as a duo on the field is a direct result of their bond off of it.
Greer said the Saints secondary has formed a strong bond since he arrived in 2009.
"All the guys in our secondary room are great to play with because we have a family atmosphere," said Greer. "It is different than any other team I have played for. When you see someone like Porter and his excitement and growth as a player it's encouraging. Having guys like him on this team is what has made my time here so enjoyable."