<span style="">             <span style=""><span style="">OCHSNER HOSPITAL VISIT  – 09.08.09  


Patients at Ochsner Hospital were surprised with a visit by Saints players this morning. On their first designated "Saints Community Day" of the regular season, Wide Receiver Lance Moore, Safety Chris Reis, Safety Usama Young, and Tackle Zach Strief spent almost an hour and a half with the patients in both the pediatric and chemotherapy wards, leaving them all with autographed Saints yearbooks and Saints decals. The chemotherapy patients were overjoyed to have a little company there to pass the time while receiving their treatment. As the players entered one of the treatment rooms, two of the patients were so thrilled to see them, that they removed their hairpieces and began to swing them around in excitement. It was a great day for both the players and the patients, to say the least.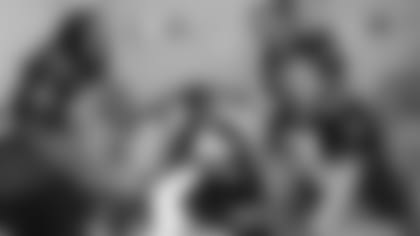 LEIGH TORRENCE AT TOUCHDOWN CLUB DINNER (09.08.09):
Every Tuesday night of the week leading up to a regular season home game , the Touchdown Club of New Orleans hosts a dinner meeting where a Saints player is welcomed as their guest of honor. The group was thrilled to have CB Leigh Torrence, #24, as their guest at Salvatore's Restaurant when they met for their first dinner meeting of the year.
Torrence shared his background with the club's members and told stories of his earlier years not just as a football player, but also as a tennis prodigy. Although the crowd was impressed with Torrence's all-around athletic skills, they were eager to know his thoughts on being a member of the Saints' newly-vamped defense. Question after question, the excitement grew as some of the oldest Saints fans clinched in anticipation of beating the Lions in the regular season home game opener.
Once dinner service was completed, Torrence assisted with the club's raffle as he chose the winning tickets among the entries. Several club members sought autographs and posed for countless pictures with Torrence to culminate the evening.
For more information on The Touchdown Club of New Orleans, visit www.tdcno.org.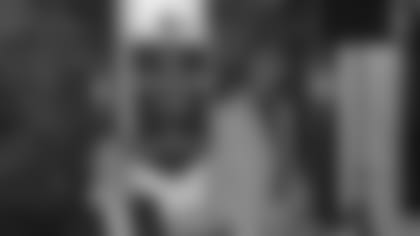 SAINTS EDUCATIONAL VISIT TO P.A. CAPDAU CHARTER SCHOOL (09.15.09):
A day off from work is a precious commodity for anyone. It's especially appreciated by professional football players who spend innumerable hours working during the week in hope of dominating their opponents in their upcoming game. Tuesday, is that special day for football players around the NFL. For Saints players, however, Tuesday means a little more to them than just having "a day off".
Defensive Backs Usama Young , #28, Tracy Porter, #22, and Malcolm Jenkins, #27 spent their free time on Tuesday visiting the middle school students at P.A. Capdau Charter School in Gentilly. During the visit, the players spoke to the students about the importance of setting goals and striving to do their absolute best in school. They reiterated the importance of studying and asking for help when needed. Administrators of the school stated that the visit by the players was quite refreshing to the students and was elated to have their students receive such a positive message at this point of the school year, which would only encourage them to strive for excellence throughout the entire academic year.
After a brief trivia session, all students received Saints fleur-de-lis decals and schedule cards. Several students were lucky enough to receive autographed items from Young, Porter, & Jenkins for providing the correct answers to questions that were centered on the players' discussion topics, and posed for pictures with the players as well.
To view photos from the visit, click [here](/Multimedia/Photo Galleries/2009/9/Saints in the Community.aspx).