<span>

New Orleans Saints wide receiver Robert Meachem and Fred McAfee, former running back and current director of player development, visited Pelican Park Monday as part of the Saints Junior Player Development Program. The focus of their message to the youth football players was perseverance and positive attitude.
McAfee spoke about coming from small Mississippi College, working hard to get himself noticed and making the Pro Bowl as a special-teams maven. Meachem spoke about the pressure of being selected in the first round of the NFL draft and overcoming adversity due to injury.
"There are going to be days when you feel like the world is against you and it can't get any harder. Keeping a positive attitude and never giving up is going to pay off, though," Meachem told the players.
The JPD program, which provides football instruction for kids aged 12 to 15 years, introduces every position to participants during a four to five-week period. Players are coached how to play each spot during the first couple of weeks, while the second stage focuses on sharpening skills and instructs how different positions work together as a team.
The Saints currently have the program operating at two sites, Mandeville and Baton Rouge.
Click here for more information on JPD Programs.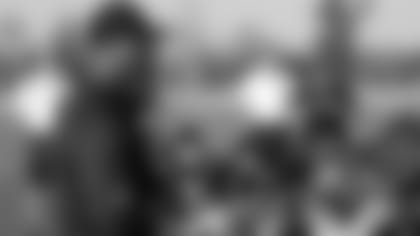 Fred McAfee shares his experiences during the Junior Player Development sessions.