New Orleans Saints Hall of Famers Jahri Evans and La'Roi Glover are among 173 modern-era nominees for the Pro Football Hall of Fame Class of 2024.
Evans, a six-time Pro Bowler and member of the NFL 2010s All-Decade Team, was a fourth-round pick (No. 108 overall) by the Saints in 2006 and is the second-most decorated offensive lineman in franchise history, behind Hall of Famer Willie Roaf.
The mainstay at right guard was a Saint from 2006-15 and after a brief stint with Seattle that ended after he was released prior to the regular season in 2016, returned to New Orleans for that season to start all 16 games before playing his final season in Green Bay in 2017.
Overall, Evans, a member of New Orleans' Super Bowl XLIV-winning team in 2009, started all 183 regular-season games he played, 169 with the Saints.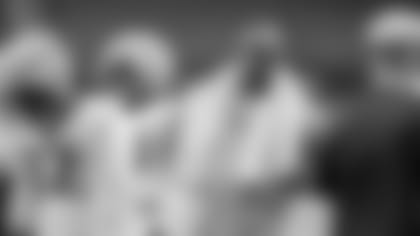 Glover was a four-time All-Pro and six-time Pro Bowler who led the NFL with 17 sacks in 2000, when he finished second in the Defensive Player of the Year balloting, and is a member of the NFL All 2000s Decade Team. New Orleans signed Glover off waivers in 1997, and he posted 50 sacks in five seasons from 1997-2001.
Glover and Evans, whose initial nomination came last year, are among a few former Saints on this year's nominee list, including: first-time nominee offensive lineman Max Unger (a Saint from 2015-18); and quarterback Jake Delhomme (1997-2002).
Evans currently is a member of the Saints' coaching staff as an offensive assistant, and Glover was on staff during training camp and preseason as the Bill Walsh Diversity Coaching Fellow.
Nineteen finalists will be presented to the 50-member body of the Pro Football Hall of Fame selection committee during its annual meeting. The candidates will consist of 15 modern-era player finalists and the recently named seniors finalists (Randy Gradishar, Steve McMichael and Art Powell and Coach/Contributor finalist Buddy Parker).
The Class of 2024 will be enshrined in August 2024.