New Orleans Saints quarterback Drew Brees announced Tuesday on social media that he's prepared to run it back again with the Saints, for the 20th season of his Hall-of-Fame-bound career.
Technically, the 41-year-old Brees will become an unrestricted free agent in March. But Saints Executive Vice President/General Manager Mickey Loomis said in January from the Senior Bowl that the franchise wanted Brees to return as its starting quarterback, and essentially placed the ball in Brees' court. And Brees – from the Pro Bowl in Orlando, a few days after Loomis said the team wanted Brees back – said he'd take about a month to decide but that if/when he announced a return, it solely would be with the intent of remaining a Saint.
"That obviously makes you feel good, knowing that the team wants you, they want you to stick around," Brees said in Orlando. "I have no intention of going anywhere else."
So, formalities notwithstanding, the overwhelming expectation is that Brees will be adding to his NFL-record totals in touchdown passes (547) and passing yards (77,416) in New Orleans with the Saints, who believe the ingredients are present to make a Super Bowl run.
The Saints have won three consecutive NFC South Division titles, have won at least 11 games for three consecutive seasons, and have been eliminated from the playoffs each year on the games' final play in the Divisional, NFC Championship and Wild Card games.
Brees, a five-time All-Pro and 12-time Pro Bowler in 14 seasons as a Saint, was 8-3 as a starter last year and is 162-111 overall, including 132-83 since joining New Orleans as an unrestricted free agent in 2006.
His likely return to New Orleans possibly will end the Saints' tenure of free agent quarterback Teddy Bridgewater, who led New Orleans to a 5-0 record last year during Brees' absence. Brees tore the thumb ligament in his throwing hand and Bridgewater, who hadn't started since his first two NFL seasons in 2014-15, performed admirably during his stint.
Bridgewater completed 67.9 percent of his passes for 1,384 yards and nine touchdowns, with two interceptions, as New Orleans beat Seattle, Dallas, Tampa Bay, Jacksonville and Chicago and posted three of those wins on the road.
But Bridgewater, who became a beloved figure on and off the field in New Orleans, enhanced his stature as a desired NFL starter. And after serving as the Saints' No. 2 quarterback behind Brees for the last two seasons – including as the NFL's highest-paid backup in 2019 – the 27-year-old understandably could be looking for his own team to lead in 2020.
That should leave Brees and, possibly, Taysom Hill, in the Saints' quarterback room, perhaps joined by another quarterback via the draft or free agency. Hill is a restricted free agent to whom the Saints can extend a one-year tender offer that will earn the franchise draft-pick compensation if another team makes Hill an offer that New Orleans chooses not to match. Such an offer also could allow New Orleans time to work on a longer deal.
But even with Hill in the fold, the Saints very well could be searching for a No. 2 quarterback because of the myriad roles Hill fills. His versatility – in addition to quarterback, he rushes punts and covers kickoffs and returns kickoffs if needed on special teams, and takes snaps at tight end – allows New Orleans roster flexibility. A third tight end, or an extra linebacker, often is unnecessary on the 45-man gameday roster because Hill can handle those roles on offense and special teams.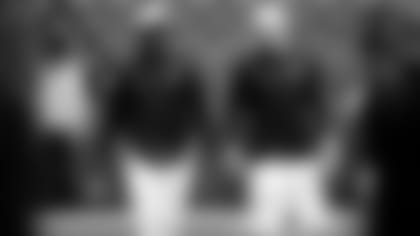 Last year during the regular season, Hill completed three of six passes for 55 yards, ran 27 times for 156 yards and a touchdown, and caught 19 passes for 234 yards and six touchdowns. He also had three special team tackles and deflected a punt.
If Hill moves strictly to the No. 2 quarterback, the Saints would be less inclined to use him in multiple roles, which was the case for Hill when Bridgewater started. His usage rate declined given his increased value as the player who would step in if Bridgewater suffered an injury.
And given his increased importance offensively, Coach Sean Payton likely will be looking for ways to increase Hill's touches. Only receiver Michael Thomas and tight end Jared Cook, with nine touchdowns each, topped Hill's seven touchdowns scored.
That likely opens the door for the Saints to find another quarterback to fill in at No. 2 via the draft or free agency, while Hill continues his multi-purpose role. Then, if New Orleans again would need a fill-in for Brees for an extended period of time, Hill could ease in as the starter while the new quarterback – much less experienced in New Orleans' offense – could remain the backup.
Loomis and Payton will lead the decision-making on those scenarios.
On Tuesday, Brees led the decision-making on one of the most significant scenarios for the Saints this offseason. The free agent quarterback will add at least one more season to his resume.
The chase is for the ring, not the records.