"New Orleans is like no other place," said Saints middle linebacker Curtis Lofton. "All of my buddies call and ask me what I think, and it is really tough to explain."
Understandably so. Lofton had complex feelings about coming to New Orleans this offseason as an unrestricted free agent after spending four seasons with an NFC South rival, the Atlanta Falcons, where he was selected in second round of the 2008 NFL Draft.
The former Oklahoma standout started 66 of the 67 games he appeared in as a Falcon, totaling 599 tackles (402 solo), four sacks, three interceptions, seven forced fumbles, one fumble recovery and 17 pass defenses with his best year to date coming in the 2011 season where he rang up double-digit tackles in ten regular season games. He registered 19 tackles (nine solo) with two for a loss against the Saints last season.
As do all division opponents, Lofton and the Falcons traveled to New Orleans and the Mercedes-Benz Superdome once each season to compete in a battle for division standings.
"We knew that once we came to New Orleans, it was going to be a tough place to play," said Lofton as he recounts his four trips as a Falcon. "Their fans were going to be loud and active in the game. I never really understood the love of this team by their fans."
In just three months, Lofton went from competing in a Falcons uniform against the Saints to donning the Black and Gold. The Kingfisher, Okla., native made a quick transition to his new city and his new team.
"I was really surprised how easy the adjustment was," said Lofton. "I met the coaches and got to meet some of the players. The players were great, and they welcomed me with open arms. If I needed any help with anything, questions, places to go eat, any of that, they were there."
He had some friends on the team but quickly became acclimated with his new teammates. He spoke with linebacker Jonathan Vilma and safety Roman Harper before signing with New Orleans but has become close with each individual in the locker room since his arrival.
Lofton began to learn more about the city of New Orleans and the fan base very quickly as well. Within a few weeks, the linebacker was being recognized in restaurants and stores by the Who Dat Nation all over the city.
"I hadn't played a snap," said Lofton. "I hadn't stepped on the field or anything, and people would know my name. I just thought, 'how does anyone know me?' This community just loves their Saints."
Lofton immediately began work to become more attached to the community and the supportive fan base. He wanted to connect with the people of the city he now called home. He started eating at new restaurants across the city, attending community events and participating in charitable endeavors all over the area. He attended everything from concerts at Champions Square to autograph signings to school visits to teammate's fundraisers, all while interacting with the people of New Orleans.
"The community and these people give so much to this team that I think it is our duty and our responsibility to give back to this community," said Lofton. "It is important for them to see you outside of football, for them to get to know you not only as a football player but as a person. That is what I do."
While he wanted to learn everything about his new city, Lofton remembered the reason he made the move was for the action between the white lines. He said that he chose to come to New Orleans because of the strong foundation in place and for the opportunity to compete for a Super Bowl. He cited that the strength of the organization was a key factor in his decision.
"I want to go win a championship," said Lofton. "I wanted to play with great players and go to a great organization. When I came here, it was a perfect fit for me."
Since his arrival, Lofton has gone through Mini-Camp, OTAs, Training Camp, the preseason and the first three regular season games. He has become acclimated to a new system put in place by Defensive Coordinator Steve Spagnuolo and has worked hard each and every day to move closer to his goal.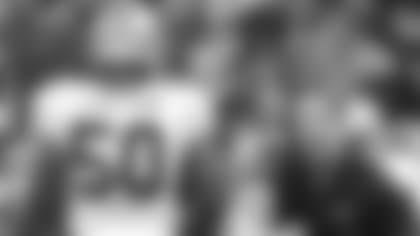 Lofton has registered 34 total tackles (22 solo) this season while leading the team in tackles the past two games. Lofton also recorded 14 tackles (eight solo) and a fumble recovery in three preseason contests with limited play while establishing himself as a leader on the defensive side of the ball.
"He has grown to be a leader over the years," said linebacker David Hawthorne. "He leads by example and it means something to him to go out there and be as prepared as possible so we can all count on him."
Even with a new group of coaches, teammates and fans, Lofton knows that his daily preparation and work ethic will allow for a smooth transition to his new team. His work ethic has allowed Lofton to start all but one game in his professional career. It allowed him to appear in 38 games as a three-year letterman at Oklahoma while being named the Associated Press Big 12 Defensive Player of the Year in 2007.
His effort helped mature his skills when he was a three-year letterman at Kingfisher high school where he helped lead the team to the 3A State Championship in 2003 and garnered All-State honors by *The Oklahoman *and first-team Coaches All-State in 2004 as a linebacker and fullback while also competing in basketball and track.
The hard work won't faze Lofton.
In fact, to Lofton, one of the biggest impacts of the transition came when he suited up in the Mercedes-Benz Superdome as a member of the home team for the first time in his career.
"It was kind of weird for me. I was excited, but it was a tough feeling to describe," said Lofton. "Once that ball was kicked off, it was extremely loud, and I was ready to go. I just have to go out there and give it my all."
Even with the long hours working between the lines, watching tape and in the weight room, the Saints linebacker has been able to come to appreciate some of the greatest characteristics of the city while not wasting any time.
"The things that stand out to me are the food and the culture," said Lofton. "You can go to the best restaurants and they are only 15 minutes from your house. I love that. It is a great place to come visit and a great place to come live."
More than anything though, Lofton has connected with the truly dedicated fan base that makes up the Who Dat Nation. His relationship with the community has blossomed in his short time here and continues to grow each and every day. Now, six months into his time as a member of the Saints, Lofton has fully embraced the Crescent City as his home.
"This community is so loving of their Saints," said Lofton. "I haven't seen anything like it. As a player and as a part of this team, it makes you want to put your everything out there on Sundays. There is no other place like New Orleans."