"Obviously, we didn't finish the game the way we would have liked to. Congratulations to Tampa. It was an impressive two-minute drive. There will be a handful of things we'll look at quickly to get cleaned up and then here we go, we get started. There will be a good week of preparation and we start kind of a whole other season right now."
On winning the NFC South Division:
"I think as you start the season, it's one of the objectives. You look at the division and you say Carolina, Atlanta, New Orleans, and – it was strong this year. It was strong this year. Congratulations to all those teams, they did a good job."
On Alvin Kamara kickoff return touchdown:
"It was pretty impressive, it was well-blocked. Mike [Westoff has] done a good job creating the confidence. We almost had a few earlier a few weeks back. To hit that seam and quickly change field position, it was a big play."
On if Kamara's stutter step was planned as part of the return:
"No. I think there's just that minute of – and then he went with it. So, no."
On if he'll talk about this game or move onto the playoffs:
"We'll make the corrections. Not just the end of the game. There was a number of penalties. I thought we were sloppy offensively early on. We'll look at this tape tomorrow and we just can't shove it away. I think you got to make your corrections and then quickly get onto the opponent."
On struggles defensively today:
"I thought early on we gave up too much in the rushing game. I thought, offensively, we didn't possess the ball. Our third downs early weren't real good. We had two different wide receiver penalties from guys moving. I mean it is stuff that needs to be cleaned up because it will get you beat."
On performance by Marcus Williams:
"We came up with some takeaways and obviously the one he had in the end zone was significant. We'll look at it all and come to work tomorrow with the idea that we got to see this, prepare, and recover to get ready to play and practice on Wednesday."
On calling timeout on Buccaneers final drive:
"It was probably just to get the right call on the field. That wasn't a concern. There was another reason though. I think it was just to make sure we had the right call and the right personnel."
On if he was aware of Atlanta vs Carolina score:
"You're focused on your own game. You see the score but you have no idea where it's at. At halftime maybe, but our focus was really on winning this game. Honestly."
On emotions after losing but winning the division:
"It's a second season. There's that element of winning the NFC South and there's the other element of we got a lot of work to do here to get ready to play at our best starting next week at home. We expect a real good crowd. A home playoff game in New Orleans on Sunday. I think it's Sunday, they tell me it's the late afternoon game. We'll be excited and we'll be ready to go."
On what this Saints team is made of:
"The stretch after those two losses were important. Those next two weeks, at Carolina and in London, to get back to even. Generally, if you have a decent team, at some point you stack some wins together and we were able to do that at that point. Now it's about playing your best football and understanding that playoff football is different."
On struggles offensively today:
"We had a handful of penalties. We run the ball, we gain 12 yards and all of sudden that's coming back because we weren't set. Things that, at this stage in the season, we have to get cleaned up."
On Tommylee Lewis' fumble:
"Ball security is important. It's not okay. Obviously, he is trying, but you got to be smart."
On if it's an advantage to play a divisional opponent right out of the gate:
"I know if it's an advantage or disadvantage but I think it happens all the time though, right? I mean, I can think of all the years I was in New York and we played the Eagles a couple times. It's pretty common. Carolina is a tough opponent and I'm sure both clubs feel like they know each other to some degree, but I think it's pretty normal."
On amount of preparation for playing a divisional opponent in the playoffs:
"All the same. We're working late. We're crossing the T's and dotting the I's. The players are the same way. There's a sense of urgency knowing that it is a single-elimination tournament. So, everything that is pertinent to that game."
On if they celebrated the division title:
"Listen, we had hats and shirts and talked about the accomplishment and where we're at. I think it's significant and yet, it really just starts now. You just flip it over, everyone does."
On duo of Alvin Kamara and Mark Ingram II:
"The production and the way those guys compete is significant and you don't take it for granted. It's a big part of our team. We're going to lean on them in the playoffs just like we're going to lean on the rest of the starters. Obviously, those two give us a spark in the rushing game and the receiving game."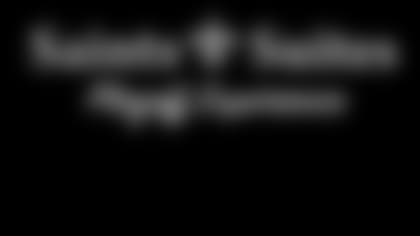 ](http://www.neworleanssaints.com/tickets-and-stadium/suites.html)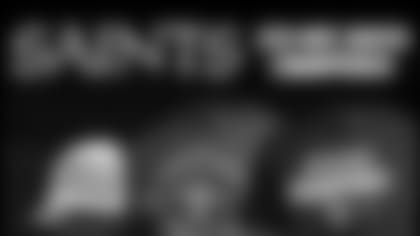 ](http://shop.neworleanssaints.com/source/bm-Saints-Comad-180x150-DivClinch)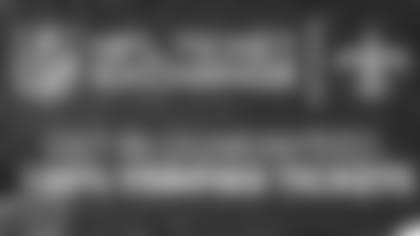 ](http://www.ticketexchangebyticketmaster.com/NFL/new-orleans-saints-tickets/?intcmp=tm108101&wt.mcid=NFLTEAMNOPERMUNVTELINKSIDEBAR_NAV)