On Tampa's offense converting on third down:
"We couldn't get off the field, nothing else. Lack of heart to get off the field. We got to execute. That's what it is. Got to clean it up."
On still celebrating the NFC South title after tonight's loss:
"There's still a bad feeling in my stomach about the loss, but our number one goal of the year was to win the division. So, you still have to be blessed for that and the opportunity. I'm just cherishing this moment, but it's not what we turned out to be after this loss. We'll clean it up and get ready to play Carolina."
On winning the NFC South:
"Yeah, it's tough, it's huge, very competitive. Like you see today, that team [Tampa Bay] is not going anywhere, but they came out there and fought. They gave us a run for our money. We're going to have to clean it up after watching film. We have to come out with a swag on our feet."
On preparing for Carolina:
"It's hard to beat a team three times, so we have to study harder, prepare harder, get in the book and let's go get it."
RUNNING BACK ALVIN KAMARA**
On what the difference was in the game today:
"We just got to finish. We got to execute. A lot of things we did were self-inflicted, so we got to correct that."
On the challenge of playing Carolina next week:
"We got to prepare. Preparation is key. That's what we got to do."
On his kickoff return for a touchdown:
"It was blocked up perfect. We worked it all week. We knew it would be open, so kudos to those guys upfront blocking. My job is easy. They're the ones that have to get up there and block and do the dirty work. I just run."
On if it's hard to celebrate a division title after a loss:
"[We're] champions."
DEFENSIVE END CAMERON JORDAN**
On winning the division:
"That was one of our goals. That was great to do. We have higher goals. We can't go out and overlook a team like this. At the end of the day, they gave us their best punch and we just acted like they weren't there and that's on us. Everything that went wrong today – that's on us. Again, I have nothing to say about this one. We have to look beyond this. We have to look to whoever we're playing in the playoffs next week."
On "overlooking" Tampa Bay:
"At some point in the game, I feel like whatever their best punch was – it should not have been enough for them to get a win against us. Again, that's on us. Everything that we did – we weren't able to capitalize on some turnovers. At the end of the day, there were turnovers left on the field and that's on us. I think I missed a sack. I could've had a couple more pressures – that's on me. There's a chance to make more plays and I take pride in everything that we do as a defense. I think we played well in some aspects of the game and we have to watch this film, clean up some stuff (because) again, it's on us."
WIDE RECEIVER MICHAEL THOMAS**
On whether he expected to have a successful season receiving the football:
"I just knew that with a quarterback like Drew Brees behind center and this offense and the fire power and [with] a guy like [Head Coach] Sean Payton, you just want to do what you're asked and catch the ball. The sky's the limit and see where it takes you. That's just what I did, just tried to do my job."
On still celebrating the NFC South division title after tonight's loss:
"I've never been in a situation like this. I'll just listen to my coaches and see how they tell me what it is. It's time to start winning again. That's just how I am."
On his accomplishment of 100 receptions this season:
"Like I said, now it's time for the playoffs. We're on a mission. It's a lot of guys on this team that's counting on me to add value and to do some special things, so once I'm done with that run and it's the offseason, I'll look back and see what I did. But, right now, I'm trying to win games."
On winning the division after a 0-2 start to the season:
"It's a blessing, That was our goal, to win the [NFC South] division. That is what Coach [Sean Payton] set as our goal from the start of training camp. It sucks when you lose, but we still accomplished our goal and that's a blessing. We get to hang the banner and wear the gear and stuff. We have a banner now, so that's a blessing. This organization hasn't had one in a couple years, but now things are starting to go in the right direction, but we need more."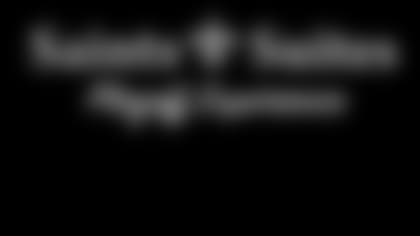 ](http://www.neworleanssaints.com/tickets-and-stadium/suites.html)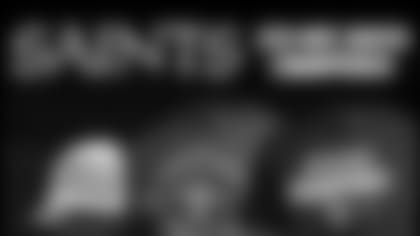 ](http://shop.neworleanssaints.com/source/bm-Saints-Comad-180x150-DivClinch)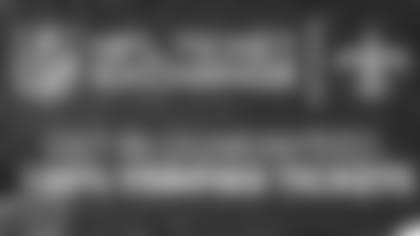 ](http://www.ticketexchangebyticketmaster.com/NFL/new-orleans-saints-tickets/?intcmp=tm108101&wt.mcid=NFLTEAMNOPERMUNVTELINKSIDEBAR_NAV)