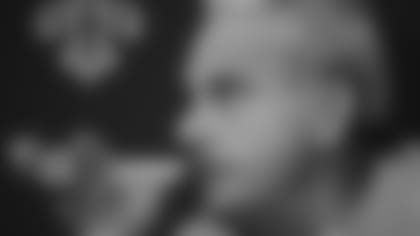 New Orleans Saints Assistant Head Coach/Linebackers Joe Vitt
Wednesday, August 08, 2012
With all the injuries at cornerback, it's given a lot of other guys opportunities to step up.
"Listen, I thought our cornerbacks did a good job last week. Our two starting cornerbacks were down. This is a game of opportunity, so the next man is going to have to step up and do the job. Listen, we'll evaluate where we are personnel-wise when we get back to New Orleans."
Are you happy with Courtney Roby?
"I thought he really played well in the first half of last week. We knew his leadership, his coverage ability on special teams, we know that he can return kicks, he's returned them for touchdowns, and he's an elected captain on our special teams."
How's Jimmy Graham and will he be able to play tomorrow?
"He's fine. I haven't been inside yet. There's been no report from the trainers. If there was anything, I would get a report from the trainers."
Do you know who won't be able to play tomorrow?
"We're going to have a personnel meeting this afternoon. It's a short turnaround this week, so that's going to go into detail this afternoon with playing time, who's going to be available, the guys, the guys who are getting treatment right now, so to give you an update would not be good if we're trying to be accurate."
Is it a different dynamic after practicing with a different team for two days?
"They know what we do, we know what they do. This has always been a game about execution and players. Both teams execute very well. Both teams have won a lot of games. They're the defending AFC Champions. They're body of work speaks for itself, so we're excited about it."
What did you see from the tight ends today?
"I think you see the ability of all the tight ends in this group right here. They can run down the field and stretch the field. Also come out of their breaks, drop their weight, catch the ball outside the framework of their body. I'm not so sure that this era in football right now doesn't have some of the best tight ends in the history of the game. I really do. When you're talking about these guys, I think you're seen some of the best out on the field these past couple of days."
Can you talk about David Hawthorne?
"He's got a hip flexor. He's been getting treatment all week long. He didn't practice today, so he has the potential to be out this game."
Any update on Adrian Arrington?
"Adrian Arrington got a second opinion yesterday. We're waiting for the results today. So I would say that those two guys are not going to play."
Can you talk about Devery Henderson and him being back out today?
"We'll talk about his status this afternoon. He continues to get better. It's an ankle. He's had this before. He's played with it before, but we just have to be smart with it."
It looked like Patrick Robinson was doing a little bit of running today.
"He's coming a little bit faster than we thought. He's a young guy. He hasn't been nicked up a lot in his career, so he'll continue to get the treatment. He's been diligent with that. That's good news for us."
Did you guys intend for this to be a quick practice today?
"Yes. The day before a game, situational stuff, in and out, up and down, on and off, working on personnel groupings, working situational periods in shells. We're on a short week, so you kind of want to be smart on a short week. We're playing tomorrow night. We played Sunday night, so this is the way we scripted it out."
Can you talk about Jimmy Graham's fall?
"I saw him take a fall right here. If there was anything serious, it would've come to me. He's going in there to get it stretched out. He's fine."
Do you feel like you got out of this week what you wanted to?
"Absolutely. We got a lot of situational work yesterday. We were able to go through all the film with our players last night. Again, you're going against some great skill here and another great quarterback. Absolutely, we got a lot out of this."
What did your defense do differently today?
"It's a different situation today. Today, we were in the red zone a little bit more. We had a two-minute drill yesterday. Today was working personnel groupings. Getting on and off, moving the ball, first, second and third downs and moving the ball. Listen, we were happy with the tempo yesterday, our angles to the ball and our intent. As I looked at practice with a blind eye, I'll go back and look at the film and we got the same out of it today."
Will Johnny Patrick or Patrick Robinson be able to play tomorrow?
Is there any concern that the referees in the preseason will be an issue?
"I've addressed that before. No, we're going to play the hand that we're dealt. We're out here to get better. We're not going to complain about the officials, we're not going to talk to the officials. Do your job. If there's a bad call, we'll see it and we'll give you a mulligan somewhere down the line. Just get better at what you're doing."