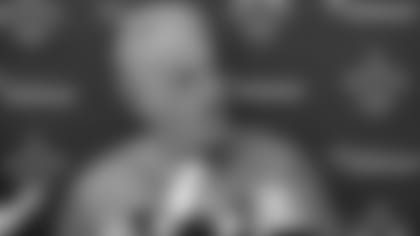 New Orleans Saints Assistant Head Coach/Linebackers Joe Vitt
"We were a little late getting in here last night. It was probably about a two hour delay, so we probably got in here around 5:30am so we kind of moved things back today. Starting out the day, we wanted to be able to evaluate the film as coaches and then get our players to get a good run and a good lift. We went over five situations today. While our players were getting their run and their lift, we met with the New England staff to go over tomorrow's itinerary. I am going to announce that tomorrow morning myself, Mickey (Loomis), Spags (Steve Spagnuolo), Ken Flajole and Caoch (Bill) Belichick will be attending the memorial service for Andy Reid's son. We'll get back here hopefully in time for the afternoon practice. We did make some roster moves today. We signed WR Kevin Hardy and LB Ramon Humber, who was on our team last year. We waived Laron Scott and Scott Winnewisser. Today so far has been a very productive day. Tonight, we have to get into meetings. We have to go grind the film with the players on yesterday's game. We'll have a 9:30 snack and an 11:00 bed check and then we'll start tomorrow."
After getting your first game under your belt, how do you feel going into tomorrow about what you need to emphasize these next two days?
"Today, we got some good work on situational things. When you're going against New England, they're a real good screen team which we're going to get work on. They're a real good empty team, which is no backs and potentially two tight ends and three wide receivers, which we have not gotten work on yet. I think for our defense, they face Drew Brees every day and now they get a chance to go against Tom Brady and a quality set of wide receivers. Defensively, they're going to give us an even front and an odd front, which is going to give us great work. Obviously, we're going against a class and elite football team and a class organization. We had great work with them before, so we anticipate the same now."
Do you put down the ground rules with the coaches from New England prior to practice like full contact?
"(It will be) full go up. This is a game of angles and timing, so we want to practice quick, we want to practice with a great tempo, we're staying away from the quarterbacks and then proper angles to the ball. We want to practice smart. I anticipate these practices against New England to be the same as you see when we go against one another."
"No, we'll be in full pads tomorrow and then we'll be in shells on Wednesday. We'll back our practice up, and probably go about 10:00am on Wednesday."
Have you given any thought as to how you want Thursday night to unfold?
"No, we will have that meeting Wednesday night when we talk about play time. Injuries are going to come into play and stuff like that. We'll do that Wednesday night."
Do you have anything further on Adrian Arrington?
"No, he was evaluated and he's going to get a second opinion. We'll wait for that second opinion and see where he is. But we did sign (Kevin) Hardy just in case."
What is the status on Elbert Mack?
"He's fine. They were cramps"
Can you talk about going up against New England and the respect you both have for one another?
"I think Sean (Payton) has made this statement before when we come up here and play. When you take a look at the body of work of this organization, they're like the Microsoft of our industry. The head coach, the scouting department, the class players that they draft. In the early stages of our program, we wanted to try to emulate them some by bringing in the right people and practicing the right way. So we look forward to it."
With the possibility of Jonathan Vilma's lawsuit coming down in his favor, would there be a spot on this team for him if he was able to come back?
"I don't know. I went to bed this morning at 7:30am and I was up at 10:00am. I have not seen anything. I don't know what's being said today. What I can say is there's always a spot for Jonathan Vilma. All the other stuff, I just don't know about. I haven't kept up with it. We've had a full docket today, but Jonathan Vilma's an elite player and there's always a place for him."
If he's able to come back, how difficult would it be for him to transition back into this system?
"I think a system like this is tailor made for Jonathan Vilma. It's a system where linebackers do a lot of checks. Jonathan Vilma is obviously one of the smartest players that I've ever been around. This is really kind of tailor made for him."
Can you estimate how much you blitzed last night?
"No, I can't. When you're saying blitz, are we sending five or are we sending six? I would say we send five maybe 25 percent of the time and then we send six with two or three deep zone probably 15 percent of the time."
The whole thing with Andy Reid and his son must really hit home for you considering that you have a son that is involved in the Saints organization like Andy Reid's son was with the Eagles.
"It really does. As a parent, you're raising your children and you're moving from town to town, and you're taking your children out of one school and you put them into another, you're hoping you're making the right decision with the next community that you move into. Are they going to have a good core of friends? Is it a good high school? Is it a good church that we're going to attend? I find myself one of the blessed ones. You agonize over those decisions as a parent, but my son got into the industry and my daughter married a football coach. I'm blessed that happened. Again, our thoughts go out to Andy and Tammy and the whole family. We just want to be there tomorrow and support any way we can."
Are you traveling with Coach Belichick?
"Mr. Benson has offered his plane and we had a couple of extra seats. We invited Bill is he wanted to go and he jumped at the opportunity."
It seemed like there was one set where you shifted some players into the defensive line and secondary, but you stuck with the starting linebackers. Is that because you haven't had as much of a chance as you want to look at that unit?
"No, I think if you take a look we had a pitch count for the secondary, especially for Roman (Harper) and Malcolm (Jenkins). We want the linebackers to feel comfortable in this system. That's where the communication is going to begin. To the front and to the back end, it's going to start with the linebackers. We wanted to get a good look at them. Defensive line, you're always trying to rotate those guys in and out so they don't get gassed. I would say this, at the end of the game as we evaluate it, we call it phase one, two and three. We got the people looked at that we wanted to look at without sacrificing overplaying our veterans, so from that standpoint we think it was a success."
Since you're juggling more responsibility, do you think you need to see more of the linebackers?
"No, I don't know that I'm good enough that you could do a spur of the moment switch. Those things all have to be choreographed and scripted before the game ever starts. There's a set number that we have in our mind and we stuck with that set number last night. We'll see how the practices go, but I would anticipate the same is going to happen this week too. There will be a set number of snaps we want for every group."