New Orleans Saints Running Back Adrian Peterson
Conference Call with New Orleans Media
Tuesday, May 2, 2017
Opening statement:
"Thank you for talking the time (to talk to me). I'm honored to be a part of the New Orleans Saints. I'd like to give thanks to the ownership, Coach (Sean) Payton, Mickey (Loomis), everyone that played a role in bringing me here and making me a part (of this organization) and giving me an opportunity to be a part of this organization. Just give those people thanks."
Why are you confident you have good years left of football to be played?
"You know, because it's me. It's kind of crazy to hear people even comment on how many years I have left and compare me to other running backs when I'm just my own individual. There's a different mindset, work ethic, body type. This is one thing that I really just dislike about the NFL and kind of how a lot of people try to put guys in a box. Especially running backs after that 30 (year old) mark. One, they make it seem like guys are going downhill and that's not necessarily the case and so in my mind I feel like I have a lot of years left. I feel like I will have an opportunity to retire when I feel like I'm done playing ball and that's just the mentality that I have. Yeah, I have several years left to play."
With your level of confidence how are you okay with playing a complementary role here with Mark Ingram and other backs as opposed to maybe holding out for a starting job?
"It was a good situation for me. Obviously I visited Seattle and New England and there were a couple visits that I had written down in pencil for after the draft, but ultimately what it came down to for me was the comfort level I had when I visited here in New Orleans. Just the feel that I had for the city and the organization being in the building and being around everyone. The love and just the energy that I felt. I could have easily said you know what I'll wait till the draft and take these other couple visits and I actually got two calls during the week of the draft from two separate teams, two additional teams as well. I could've went that route, but ultimately in my heart, in my soul, in my spirit playing for the Saints is what felt right for me and my family as well and yeah like you said with my confidence, I bring that here as well. I feel like I'll be able to go out and show my work and things will go as planned for me and how I envision things. I'm going to play whatever role they ask me to play and I'm going to do it to the max."
What does that do for you knowing you will play in an offense with so many weapons?
"Oh man, that was something that was intriguing to me. Just envisioned being in the backfield with Drew Brees and a great offensive line that finished ranked number two overall as a group, number three in some polls and number two as well in scoring. It's a potent offense and that's something that has been shown for years now. Me envisioning myself being behind Drew Brees is just like wow what would the opposing team do. I'm just excited for week one and just to start the journey and see how teams try to defend us."
When you look back over your career, even dating back to college, can you remember when you had the opportunity to play on a team like this?
"I can't remember. It's funny you say that because the first thing that came to my mind was in 2009 when Brett Favre was there. As the season went on, I thought it was a fluke the first couple of weeks, because they continued to stack the box. They put eight men in the box and week by week it pretty much kind of stayed the same. I am looking forward to that not being the situation this go around."
How comfortable do you think the competitor in you will be if you do have to split that workload and carries, compared to what you're used to in the past?
"That is something that we have discussed coming in and everything was about complementing each other. Mark (Ingram) is a guy that I like. I watched him when he was at Alabama. He has done great things since he has been here in New Orleans as well. I am going to put my arm around that guy and teach him all I can teach him. We are going to do this thing together. Obviously, I know what type of offense New Orleans runs and it has kind of been that way for years now, and there has always been multiple backs in their system. I knew what I was getting myself into and I am comfortable with that. That is why I ended up signing. I am just excited to get going and play my role to the best of my ability."
Was there any lingering pain with what you had to go through with your knee last year?
"No, none at all actually. I came back Week 14 and felt good and everything. Obviously, I didn't play the last two weeks of the season but that had to do with an abductor injury that had occurred after my third day of practice leading up into that Week 14 game. I am feeling good and at 100 percent. I am back to doing everything that I did before the injury, but better."
Does it help being close to Houston?
"Yes, of course. It's a 45-minute flight and that's not bad at all. With family being right there in Dallas, Houston and Palestine, Texas, (home games) will be fun on Sundays."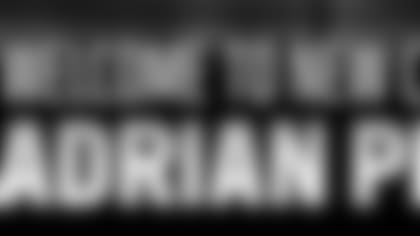 ](http://shop.neworleanssaints.com/search/AdrianPeterson/pg/1/ps/72/so/newestitems "Adrian Peterson Gear")