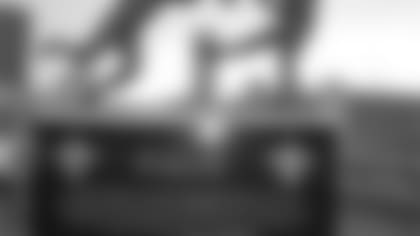 After being used for shelter and as a last resort, the Superdome was severely damaged after the devastation brought on by Hurricane Katrina. The Saints spent the entire 2005 season away from the Superdome. In Sean Payton's first season as head coach, the Saints had moved to 2-0 before returning to the Superdome in front of 70,003 fans for the first game in over a year.
The Saints were set to take on a NFC South rival, the Atlanta Falcons on September 25, 2006 on Monday Night Football.  The Falcons first drive went three-and-out and Atlanta punter Michael Koenen came out to punt. Saints special teams star Steve Gleason busted through the middle of the Atlanta line to block the punt and send the Superdome into a frenzy. Curtis Deloatch fell on the ball and recorded a touchdown for the Saints, the first given up by the Falcons in 2006.
The Saints continued to put the pressure on the Falcons. WR Devery Henderson scored the Saints second touchdown of the day on an 11-yard double-reverse. Henderson took the handoff from RB Reggie Bush and got the ball inside the pylon with a block from QB Drew Brees. Kicker John Carney added three field goals as the Saints went on to win 23-3.
A single play sent a message that New Orleans had returned from the wreckage and provided hope and entertainment to thousands effected by Hurricane Katrina in the Gulf Coast region.