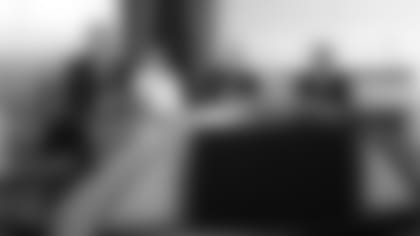 New Orleans - New Orleans Saints, Hornets and FOX 8 owner Tom Benson cut the ribbon to a high-tech studio in the newly renovated Benson Tower, overlooking the Mercedes-Benz Superdome, the New Orleans Arena, and the live entertainment venue, Champions Square, on Thursday.
"This is another piece of progress for our city, especially as an addition to Champions Square," said Benson. "The new state-of-the-art studio will be a centerpiece at Benson Tower and will not only service our local market but also provide us the unique opportunity to provide services to national and regional networks coming into our city. The bottom line is that this is another step in the right direction and a positive one for our city."
Tom Benson's local television station will air FOX 8 LIVE TAILGATE from the new studio on Friday, August 17th, with three hours of pre-game coverage beginning at 4pm.
FOX 8 will also televise the New Orleans Saints versus the Jacksonville Jaguars game beginning at 7pm. And starting in early September it will be the home of several FOX 8 weekday newscasts and weekend sports programs.
"The investment and construction of the state-of-the-art studio, in the city's largest LEED certified building, is a testament to the substantial ongoing redevelopment opportunities for downtown New Orleans." said Owner/Vice Chairman of the Board Rita Benson LeBlanc. "'This will provide a window to New Orleans and allow viewers, locally, nationally and internationally, to witness the continued growth and progress of our home. New Orleans, as a destination for sports excitement, culture and quality of daily life, gets better every day and we are proud to be a part of the New New Orleans."
"This is just another enhancement and investment by our company to better serve the local news and sports viewer," said FOX 8 President and General Manager, Joe Cook. "This studio will become a front row seat for all sporting events and the place to be for Superbowl coverage as well as coverage of any event that is occurring in the Mercedes Benz Superdome, New Orleans Arena and Champions Square."
After being neglected for four years following Katrina, the 26 story skyscraper was purchased by Benson in September 2009 and renamed Benson Tower. A portion of the 2nd floor has been converted into a 5800 square foot production facility featuring a live, active set designed to reflect the unique location. The facility also houses robotic cameras, control room, audio room, multiple edit rooms and additional workspace. Fiber lines run to and from the control room to the dome floor and remote cameras sit atop the surrounding buildings, along with a state of the art HD satellite uplink.
The studio space will be a significant resource for outside syndication and production companies as well as regional and national networks. Management of the studio will be handled by Louisiana Media Company which was established in 2008 and owns WVUE – FOX 8.
In addition, LMC's production arm caters to all aspects of the production industry, including studio and stage rentals, post production, production management and production office rental, both at the new facility in Benson Tower as well as the primary FOX 8 studios on South Jefferson Davis Parkway.