Newly signed RB/KR Darren Sproles walked up to a group of media members after he finished his first practice as a member of the Saints in the team's Indoor Practice Facility Friday night.
The five-foot-six running back looked up and down the mic stand and joked "You might have to lower this a little bit."
Despite his small stature, he wasn't short on highlight plays Friday night as he demonstrated his playmaking ability on a number of runs, screen passes and in the return game. He showcased his jaw-dropping speed when he caught a screen pass from QB Drew Brees and blazed down the right sideline.
"It went pretty well for me," said Sproles of his Saints debut. "It felt good to get out there and run around and take my first hit."
Sproles had spent the first five practices as a member of the Saints watching from the sidelines as he and other unrestricted free agent signees waited for the new CBA to be ratified.
Sproles said that Friday night was a faster and more physical practice than he was used to but that those characteristics made it more competitive.
Sproles didn't shy away from the physicality of his first Saints practice, even going head-on with 6-foot-1, 227 pound LB Jonathan Casillas on a run up the middle. One thing was clear about the five-foot-six Saint, he plays bigger and stronger than his frame.
"Oh no, it's football – you can't be afraid of contact," said the all-purpose threat. "That's why we lift weights."
Saints Head Coach Sean Payton was impressed.
"You can see his quickness and agility," said Payton. "He's someone that is explosive through the line of scrimmage."
Sproles joins the Saints after playing for the Chargers for the first six years of his career. He's carried 249 times for 1,154 yards (4.6 avg.) with six touchdowns and recorded 146 receptions for 1,400 yards with 11 touchdowns. On special teams, Sproles has returned 258 kickoffs for 6,469 yards (25.1 avg.) with two touchdowns and returned 114 punts for 935 yards (8.2 avg.) with two scores.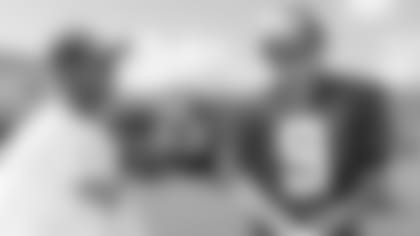 Brees was a teammate of Sproles during the tailback's rookie year in San Diego. Brees and Sproles worked out together on the West Coast during the offseason and the Saints signal caller said he recruited the multi-purpose talent hard during their workouts.
"When it really came down to the last few weeks and it seemed like there could be a realistic chance of getting him, I started letting him know what a great place this is, what a great environment it is, what a great team it is, and what a great city it is," said Brees. "I felt like this was as good of an opportunity for him as any to achieve his individual goals and help us win another championship."
Sproles said he felt during the free agency process that New Orleans was the right place for him and that sharing the backfield with his former teammate made his decision easier.
"Brees is one of those players who makes whoever is with him look good," said Sproles with a smile. "It was good to be out there with him again."
Sproles joins an already talented backfield that includes Heisman Trophy winner Mark Ingram, veteran Pierre Thomas and second-year standout Chris Ivory.
"We have some exciting players and I have the best seat in the house," said Brees.