New Orleans Saints head coach Sean Payton
Post-OTA Media Availability Transcript
Tuesday, June 11, 2013
Opening Statement: "These players did not practice: Benjamin Watson, Ryan Steed, Terron Armstead, Roman Harper, and Patrick Robinson. We are obviously in our last week of organized team activities, and we have two left.  Today we put a little bit of the emphasis on some third down and some heavy personnel groupings."
Can you discuss Victor Butler's status after leaving practice?
"I think he is going to be fine actually, so we are fortunate."
Was it a head injury?
"No, he banged knees with Mark Ingram and I think he will be alright."
How tough is it to kind of scale back from full speed in these unpadded practices without contact?
"I think they have done a good job, the tempo has been pretty good and guys have worked together.  For the most part, guys have stayed off the ground, and have handled that part of it pretty well."
Do you anticipate going the next two days or getting the players out early at all?
"No, our plan is (to work on) Wednesday and Thursday, just like it is on the calendar and we will be finished up until players come back for training camp."
Are you going to give the guys any kind of instructions before they leave?
"Pretty typical of what we would normally do in regards to the last day (of OTAs), (where we) hand out packets of information, reporting times and weight, pretty standard (policy)."
We saw how competitive it was that last sequel with the offense and defense. How have you seen the progress of this defense?
"I think that's what we do every year. We try to create that environment and it prepares them for what it's going to be like and how the team periods are when we get into training camp before you ever get to go against another opponent."
After a normal offseason, is there high confidence that the team could get back to the results of the 2009-2011 teams?
"Every year is different, I never talk with this team about us being like the 2009, 2010, or the 2011 teams, so there is nothing promised.  There is a process of working hard and obviously there are a lot of things that we have to improve on and that is what we are working on, but outside of that, shoot we haven't even put on pads yet.  We are working to make the improvements and we are working to get ready for the opportunities when we are in full pads."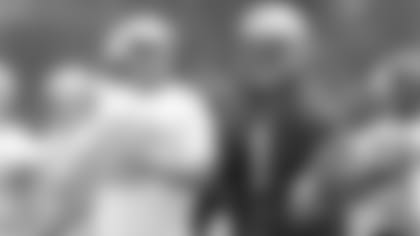 What are some of the best things you got out of these offseason on-field workouts?
"Well, on-field we were able to install a new defense.  I think, most importantly though, time spent in the weight room and the conditioning I think have been one of the better offseasons in regards to players lifting and training. Our attendance has been outstanding. Those would be some specifics."
Is there a reason to why you think it was one of the better ones?
"Coming off a disappointing year, I think we have enough veteran leadership on this team and players recognize that we can be a lot better and we need to be better.  I think it starts with that."
Last week you talked about the early struggles of Marques Colston in 2006 and not overevaluating these offseason workouts. Do you have a sense of where the 45 new guys are and what do you like about them?
"I think it's ongoing, certainly for me.  I have been able to put the names with faces and also the video in what they are doing, and again it is still early in the process, but that's kind of been taking place for the last couple of months."
We saw Charles Brown get all the snaps in minicamp and then Jason Smith getting another look, would you still label that as an open competition?
"Absolutely."
How well do Jonathan Vilma and Curtis Lofton work together?
"Well they are both veterans and smart players, and I think their experience being at another defense, from a learning curve standpoint, they pick things up pretty quickly.  Obviously one of them is playing the mike over a guard bubble and the other is playing weakside (middle), talking about Jon Vilma now, there are some nuances to the inside linebacker positions, but both of them have handled it well (as well as) the transition of this defense and I think their experience has really helped."
Have you been pleased with the running backs?
"Yes, it's predominately a veteran group besides a couple of players, so I think those guys obviously understand the system, the protections and all of the things that go into being versatile at that position.  So I think they are in good shape, they are healthy and that's been encouraging."