NEW ORLEANS SAINTS POSTGAME QUOTES
OAKLAND RAIDERS VS. NEW ORLEANS SAINTS
August 28, 2011
O.co COLISEUM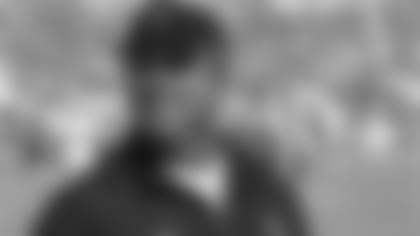 I don't have all the injury report right now but we will know more on a few of these guys when we get back to New Orleans tomorrow. We will be on a day off schedule and we will have treatments for them and then we will kind of have a Tuesday meeting, weight lifting session and a little bit of a walk thru in the afternoon but you know we have a good plane ride home here tonight and we have to get back to kind of our schedule when we get back home. I was pleased with the effort and I was pleased with our energy. That is something that was a goal of ours in this game; just playing hard and spending more time about each play then the final score or the score at any point. I felt again that we played well in the kicking game. Hartley was the only one that had a hip injury, I don't think it is serious, a pull. So rather than attempt extra points with Morestead instead I just went for two. Any questions?
ON DREW BREES AND THE FIRST TEAM
I thought he had good tempo. I thought we were in and out of the huddle quicker than we have been and that is something that we always have been pretty good at and I thought that we were back at that tempo a little bit tonight.
ON DREW BREES LEAVING THE GAME EARLY BECAUSE OF LENGTHY DRIVES
He had enough snaps. It was kind of similar if you remember two years ago to I think it was the third preseason game that you want to have an idea of how many snaps you want guys to play and you have to use some game day awareness in regards to where guys are at. We substituted [John] Vilma, and a few others and then gradually got into our second phase, probably early part of that third quarter.
ON DEFENSIVE PERFORMANCE
Oh I thought, listen I thought we battled well, third down there was a tip ball caught by an offensive line men and he rushed and I thought we settled in. I thought we had great effort and energy to the ball. You know we got a turn over later. Like I said I was pleased with the effort and the energy, the guys handled the week out here, the trip up here, and it was an important play. Every once in awhile you have to…especially with the veteran players as well as the younger players you have to see it and I thought tonight that a number of guys got a lot of good reps and good playing time for us to evaluate.
ON SHORT WEEK
Well without getting ahead, we took it on that they will not play a lot anyway. We are playing the following Thursday so it be limited to probably a lot of them.
ON THE IMPROVEMENT OF TACKLING
I think so, I think it certainly improved. I don't know if there is ever a complete satisfaction as a coach, but listen I thought that there is going to be a lot of good tape for us to watch and I thought our effort to the ball was good. It is a real good running team that we played and you know again overall without looking at the team I was pleased with the way that we came in here and responded after last wee
ON CHASE DANIELS
He did good, you know he handled a few different situations. He is getting more and more comfortable with what we are doing. Then you can see that he moves the ball and I think that he is beginning to do some things. He threw a couple of passes away and managed the game and that is one of the things that he is working on and I thought that he handled it well.
ON DEVRY HENDERSON
Well it is all of the positions and he is very smart, experience, and he made some big plays for us tonight. He certainly had the big scoring play. He is a real good route runner. He has some similarities to Marcus [Colston] in regards to his skill set and it was good to see him playing and it was a good game for him.
ON MITCH KING ALWAYS AROUND THE FOOTBALL
Yeah, well each year but he has played with real good effort and energy and there is a few of those guys that played more snaps because of maybe the depth overall at that position. There is a hand full of guys had maybe more snaps than anyone else and handled it.
ON SCOUTING DEPARTMENT MAKING IT HARDER TO CUT PLAYERS
Well you're always looking and trying to improve your depth. We feel like this off season was uniquely different than any other. I think the challenge that every team is going to face in the upcoming week and a half is making roster decisions with less time than normal to evaluate and that is going to be different for us than anyone else so we really have to study at the practice tapes, the practice one on ones, all the preseason films. You just have less time to make a decision. For a number of these guys, Thursday will be important. It will be a number of guys getting a lot of snaps and a few important ones in the evaluation process. Alright guys thanks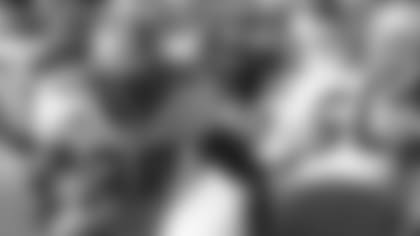 ON PLAYING TONIGHT
I thought we went out as a team and we played hard and we played fast. Sometimes like coach says you have to fill up the tank and take it on the highway and go as fast as you can. You know we played hard and played fast and that is what we were looking for tonight and we will make our adjustments and correct our mistakes when we watch the film Tuesday.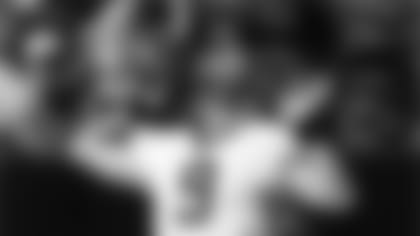 *ON THE GAME *
The third preseason game is obviously the one where the starters get a majority of the playing time. It's really a dress rehearsal going into the regular season, so you definitely want to leave that game feeling good about where you are, even though we have almost two weeks of preparation prior to opening up against Green Bay. There are a lot of similarities to two years ago when we came out here. It felt like we were very efficient offensively running the football and throwing it. Obviously, there are some mistakes and some things you could have done better. But for them most part, I was pleased with what we were able to accomplish.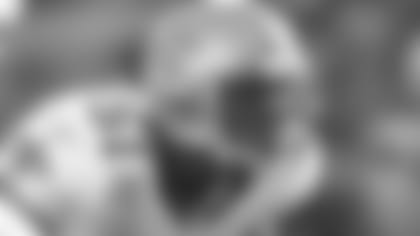 ON THE GAME
I think our effort was better. I think our intensity was better. Right, wrong, or indifferent, when we're on the field, we try our best to make it right. We had missed tackles, we gave up a touchdown in the first series, but we didn't let that affect the game. We came back and kept fighting and you see the score.